Personal Giving
The Christchurch Art Gallery Foundation is still on a mission: to build a collection of great art that Christchurch is proud of.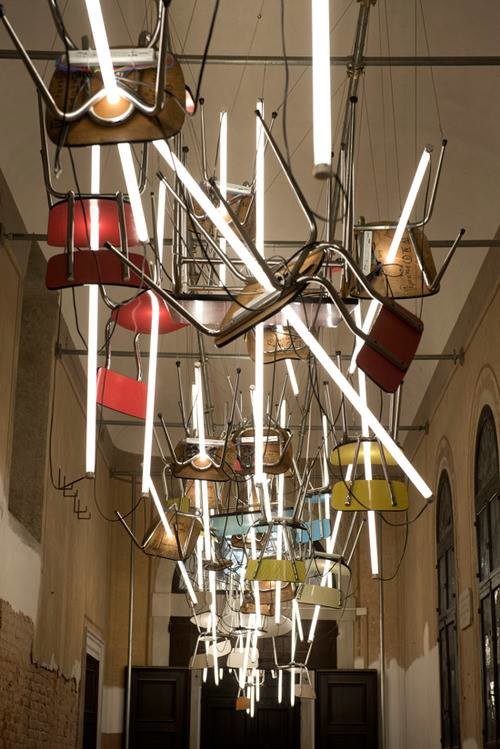 Bill Culbert's BeBop was purchased with funds raised by Foundation Partners.
A collection of opportunities. Art that tells stories and honours the past, that reveals the present and compels us to imagine and debate the future. This regenerating city has multiple and complex priorities so we want to partner with people and families who can help protect our core business – collecting.
The new Christchurch will be a city of opportunity and renewal; we have the chance to shape its culture and we'd like you to help us. We have all benefited from past gifts to Christchurch Art Gallery Te Puna o Waiwhetū. Now it's your chance to speak to the future and make wise investments for those who come after us. Help us to tell the Christchurch story with art – our past, our current transition and the re-imagination of our future.
Supporter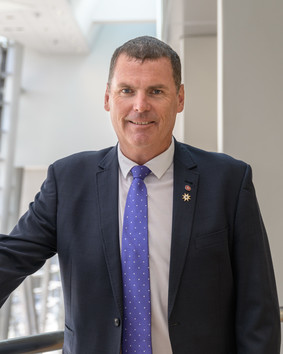 Ross Ditmer QSM
Art is a very important medium that captures moments both in time and expression, I have a piece from a local artist that was commissioned in 2005 of Banks Peninsula and now its meaning has more significance post-earthquakes.
The new Christchurch will be a bright, modern environment with cutting architecture, brilliant landscape design and functional spaces. However we are also steeped in rich history and Christchurch Art Gallery Te Puna o Waiwhetū will be the vehicle to capture all these aspects of our heritage.
Gala Dinner 2020 – more details coming soon
In October 2018, over 450 party people gathered together at our inaugural Art Do and enjoyed an immersive night of creative experiences, bringing together the greats of art, fashion, food, design and music. In doing so they raised an incredible $90,000 towards Christchurch Art Gallery Te Puna o Waiwhetū's bold mission of becoming a catalyst for ambitious creativity in Ōtautahi.
National Crowd-Funding Record
The Foundation pioneered the successful Back the Bull campaign in 2013 for Michael Parekowhai's magnificent Chapman's Homer, ensuring this work remained in Christchurch. And in 2017 we beat our own record & captured the hearts & minds of Cantabrians to purchase a Ron Mueck work for Christchurch
Foundation Board Members
Board Chair
Mike Stenhouse

Director
Blair Jackson

Board Members
| | |
| --- | --- |
| Alison O'Connell | Monica Ryan |
| Penny Gough | Gabrielle Tasman |
| Charlotte Gray | Jim Borthwick |
| Rosa Carter | Brent Williams |
Together Partners
Level One TOGETHER Partners
Heather and Neville Brown
Philip Carter Family
Chartwell Trust
Sandra and Grant Close
Ben Gough Family Foundation
Grumps
Joanna and Kevin Hickman
Gabrielle Tasman
Sheelagh Thompson
Waiwetu Trust
Small Business TOGETHER Partners
Alex Malone Ltd
Cakes by Anna
Caxton Print
The Cosmetic Clinic
Cowdy and Company
Crane Brothers
Fendalton Eye Clinic
McCarthy Design
Mod's Hair
Orari Boutique Hotel and Apartments
Tavendale and Partners
Level Two TOGETHER Partners
Jo and Andrew Allan
Katrina and Mark Anderson
Paul Archer
Heather Boock
Janette and Jim Borthwick
Catherine and David Boyer
Mel and Marcel Brew
Hall Cannon and Miles Refo
Stephen Collins Family Trust
Merle Cooney
Christelle and Paul Dallimore
Patsy Dart and Michael Norris
Rosie and Nick Davidson
Louise Edwards
Lisa and Garth Gallaway
Gaye and Kent Gardener
Dame Jenny Gibbs
June Goldstein
Charlotte and Marcel Gray
Nicola and Ben Hardy
Catherine and Ernest Henshaw
Juliana Hilson and James Anderson
Sir Christopher and Dayle Lady Mace
Lynette and John McFadden
Leaanne O'Sullivan and Andrew Vincent
Annette and Michael Potter
Sue and Ron Pynenburg
Dave Richards and Ollie Harrow
Debra and Humphry Rolleston
Jenny and Andrew Smith
Benesia Smith
Sue and Mike Stenhouse
Barbara and Robert Stewart Charitable Trust
Fiona Timms and Richard Laing
Margaret and Carey Wood
Anonymous Partner
Anonymous Partner
Level Three TOGETHER Partners
Melanie and Nicholas Abbott
Nina and Richard Acland
Chris Anderson
Eleanor and Tim Anderson
Lynda and Grant Anderson
Gillian Archbold
Kate Arnold
Margaret Austin
Catherine and Peter Baddeley
Nicole Bailey
Jocelyn and Stewart Barnett
Bruce Baxter
Caroline Billing and Roger Carran
Jo and Alistair Blair
Anna and Ben Bridge
Sarah and Cameron Bryant
Brigid Buckenham and James Baines
Josephine Burdon
Kate and Richard Burtt
Dianne and Paul Chaney
Anna and Tim Chesney
Juliet Collins and Michael McGuinniety
Annabel Cropper and David Pillbrow
Rt. Hon. Lianne Dalziel and Rob Davidson
Karen Dennison
Kia Dirkson
Karen and Hamish Doig
Hannah and Lewis Donaldson
Maxine and Hamish Douch
Liz Douglas
Margaret Duncan and Tony Lynch
Andrew and Margie Fairgray
Nicola and Rob Farrell
Karen Fincham and Michael Aitken
Anna Fox and Michael Flatman
Lucy Gain and George Cooper-Dixon
Kirsty Gregg and Dominic Feuchs
Jo-Anne George
Jannie and Brian Gillman
Honour Sadie Gomez
Lisa Goodman and Stu Myles
Caroline and Roger Gray
Juliet and Hamish Gray
Sarah and James Gray
Stephanie Grieve and Bill Willis
Hugh Hamilton
Marianne and Guy Hargreaves
Jenny Harper
Kate and Mark Harris
Anne and Iain Harvey
Lynda and Rick Hill
Annabel and John Holland
Georgie and Kris Inglis
Jo and David Jessep
Lew Johnson and Paddy O'Brien
Rebecca Keen and John Frye
Jane Keenan and Jonathan Smart
Debby and David Kerr
Margaret and Max Luisetti
Emma and John Luxton
Kim Macintosh and Blair Jackson
Pippa MacKay and Paul Stanley-Joblin
Julie and Matt Maling
Prue Manji
Raf Manji
Sam Martin
Jenny May and Julie King
John McCormack
Deborah McCormick and Bruce Baxter
Kirsten and Peter McFaull
Cameron McPherson and Partners
Jacq Mehrtens
Leigh and Donald Melville
Joanna and Jason Millar
Nadene Milne and Family
Charlotte Montgomery
Stephen Montgomery
Louise Moody and Thomas Wilson
Denise and Rob Murfitt
Alasdair Murrie-West
Joanna Norris and Blayne Slabbert
Alison and Ian O'Connell
Gail and Bernie O'Fagan
Laura Palomino de Forbes and George Forbes
Nell and Simon Pascoe
Kristina Pickford and Michael Wolfe
Jo and Brendan Prendergast
Lisa Roberts and Saxon Connor
Sue and Richard Robson
Leigh Rodgers and Roger Armstrong
Kirsty and Felix Rueppell
Monica Ryan and Mike Laney
Jo and Phil Sewell
Lisa and Richard Sinke
Jonathan Smart
Mary Smit and Nick Brown
Sarah and Damon Smith
Sebastian Stapleton and Max Hoffman
Alexandra Stewart
James Stringer
Lara Strongman and Neil Semple
Jenny Todd
Anne Todhunter
Edith Tripp
Nicholas and Tracey Tyler
Chris and Sarah Wakeman
Renee Walker
Kate and David Walton
Robert Watson
Lenore West
Sue and Paul Williams
Anna Wilson
Susan and Michael Wilson
Bridget Woodham and Tim Kenny
Founding Building Donors 2003
Major Gifts Fundraising Committee
Ros Burdon (Chair)
Hon. Margaret Austin
Chris Brocket
Tony Preston
Cr Barbara Stewart
Dr Susan Wakefield
Sammy Wong
Fundraising Administration
Alex Davis
Peter Gregg
Anne Watt
Community Gifts Fundraising Committee
Hilary Langer (Chair)
Charlotte Brough
Vanessa de Castro
Kim Ding
Jan Hamer
Marianne Hargreaves
Jill Harman
Kate Hartnell
Gendy Hazlett
Jackie Hlavac
Sara Newman
Gay Rutherford
Margaret Sweet
Marianne van der Lingen
Robyn Walker
Foundation Donors
Barbara L. Allison
Paul Archer
Jan and Sid Ashton
Dr and Mrs S. R. Ayling
Mr and Mrs C. Ballantyne
John Boardman
Le Café
Christ's College
Paul and Lien Chuang
Ian and Marion Clark
Clifford Family
Ian and Beverley Cocks
Professor and Mrs I. E. Coop
Anna and Guy Crozier
Colin and Catherine Ding
Rick and Gennie Donald
Mr and Mrs M. McD Eaton
G. and B.T. Fitzgerald
Forsyth Barr Ltd (Sharebrokers)
E. J. Godley
Sir Lawrence Govan
The Griffin Press Ltd
Peter Guthrey
Marianne and Guy Hargreaves
Peter and Fiona Harman
Colin and Jill Harman
A. Hill
The J.L. Hay Charitable Trust
Dick and Jackie Hlavac
Jane Huria, Ian Knight
and Cameron Knight
Barbara Lee
Dr Doug and Jo Lewis
Rod and Jan Mcleod
Lady McCombs
Noeline McIlroy
Joan Millward
Lesley and Ken Nesbit
P. Anthony Preston
Mr and Mrs William Veness Preston
Rotary Club, Christchurch East
C.V. Sansom
Barbara Stevens
Mr and Mrs B.W. Stokes
Mr Nelson and Mrs Doreen Sue
Edith Tripp
C.E. and P.J. Turland
U3A
Pat and Ralf Unger
Robyn and Peter Walker
Dr and Mrs Shailer Weston
Mr and Mrs Don L.M. Yee
Mr and Mrs Sun Nam Yee
Gold Foundation Donors
Rick and Angelique Armstrong
Gendy Brown
Dr and Mrs J.T.S. Buchan
Carson Group
Cavalier Bremworth
Chapman Tripp
Barry Cleavin
S.J. Collins Family Trust
Deloittes Touche Tohmatsu
Garden City Bowl
General Cable NZ Ltd
Glass Tower Strategic
Communications Ltd
Holcim (New Zealand) Ltd
The John Robert Godley Memorial Trust
Kauri Trust
The Keith Laugesen Charitable Trust
Keath Lee and Sandy Liao
Bertha Miles Family
Montana Wines Ltd
Pyne Gould Corporation / Perpetual Trust
Mr David Seay
Alan and Jenny Shadwell
Spicers Portfolio Management Ltd
Strategy Advertising and Design
Sheelagh Thompson
The Todd Foundation
Tourism Facilities Development Grant
Versatile Buildings
V. Luisetti and Co. Ltd
Sir Miles Warren
Silver Foundation Donors
J. Ballantyne and Co. Ltd
Rata Foundation
Colin, Ann and Elizabeth de Lambert
Dr Alex Fu and Mrs Lina Ma
CWF Hamilton and Co Ltd
Annie and Vivian King Wah Lee
Margaret and Tony Lee
Selwyn Robinson Foundation
M. and S. Stenhouse
Ron, Gwen and David Wilton
---
Bronze Foundation Donors
Buddha's Light International
Mr and Mrs J.R.M. Davidson
Kim and Les Ding
Dobson Bashford Gallery
Edward Grandi
Reinhart and Hilary Langer
Lochmaben Charitable Trust
Rosemary Perry
Taiwan Hwa-hsin Society of New Zealand
Temuka Potteries
Faye and Ewan Yee
Vialls Goldstein Family
---
Founder Donors
Margaret Austin
Kiri Borg and Brian Henry
Philip and Ross Burdon
Philip Carter
The Community Trust
Ben Danis
Cameron and Rosemary Greenwood
Sir Neil and Lady Isaac
Diane McKegg Family
Ministry of Culture and Heritage
New Zealand Lottery Grants Board
PDL Industries Ltd
Ravenscar Trust
Monica Richards
Robert and Barbara Stewart
Sir Robertson and Dame Adrienne Stewart
The Stout Family
William A. Sutton
Tait Electronics Ltd
Adriaan and Gabrielle Tasman