Support
A collection of opportunities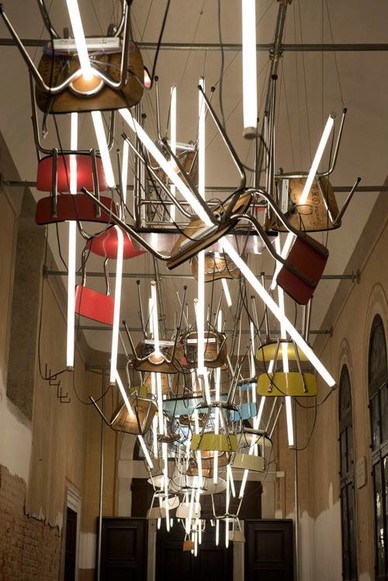 Bill Culbert's BeBop was purchased wih funds raised by Foundation Partners.
The Christchurch Art Gallery Foundation is still on a mission: to build a collection of great art that Christchurch is proud of.
A collection of opportunities. Art that tells stories and honours the past, that reveals the present and compels us to imagine and debate the future. This regenerating city has multiple and complex priorities so we want to partner with people and families who can help protect our core business – collecting.
The new Christchurch will be a city of opportunity and renewal; we have the chance to shape its culture and we'd like you to help us. We have all benefited from past gifts to Christchurch Art Gallery Te Puna o Waiwhetū. Now it's your chance to speak to the future and make wise investments for those who come after us. Help us to tell the Christchurch story with art – our past, our current transition and the re-imagination of our future.
Supporter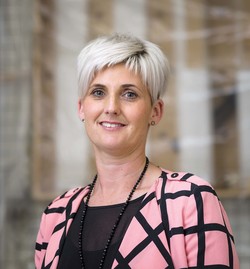 Renee Walker
Christchurch Art Gallery Foundation
I joined the Foundation in 2014, not because I'm an art aficionado or collector, but because it was a chance to contribute to our city's regeneration. As a Foundation, we didn't want to follow the traditional way of doing things. Instead, we concentrated on using our diverse networks to build relationships based on loyalty and art. We asked people to engage and believe. As a result, we've preserved art in the hearts and minds of long-standing Christchurch residents as well as a new generation of Cantabrians. I'm incredibly proud to be part of that.
Fundraising Dinners
In 2013 the Foundation held the first annual fundraising dinner to help reconnect with the visual arts community while the Gallery remained closed for repairs. As well as introducing the Gallery to new friends, each dinner has raised close to $100,000 towards a key work of art for Christchurch. Our fifth dinner will be held on 30 September 2017.
Please email Hannah for further information: together@christchurchartgallery.org.nz
---
TOGETHER Level One
Philip Carter Family
Sandra and Grant Close
Ben and Penny Gough, trustees of the Ben Gough Family Foundation
Grumps
Joanna and Kevin Hickman
Gabrielle Tasman
Sheelagh Thompson
Chartwell Trust
National Crowd-Funding Record
The Foundation pioneered the successful Back the Bull campaign in 2013 for Michael Parekowhai's magnificent Chapman's Homer, ensuring this work remained in Christchurch.
Foundation Board Members
Board Chair
Mike Stenhouse

Director
Jenny Harper

Board Members
| | |
| --- | --- |
| Garth Gallaway | Monica Ryan |
| Penny Gough | Gabrielle Tasman |
| Charlotte Gray | Renée Walker |
| Stephen Montgomery | Brent Williams |
TOGETHER Level Two
Katrina and Mark Anderson
Juliana Hilson and James Anderson
Heather and Stephen Boock
David and Catherine Boyer
Mel and Marcel Brew
Stephen Collins
Rosie and Nick Davidson
Louise Edwards
Lisa and Garth Gallaway
Dame Jenny Gibbs
June Goldstein
Charlotte and Marcel Gray
Fiona Timms and Richard Laing
Dayle and Chris Mace
Jacqui and Steven McDonald
Lynette and John McFadden
Patsy Dart and Michael Norris
Mavis Francis Potter
Sue and Ron Pynenburg
Hall Cannon and Miles Refo
Humphry and Debra Rolleston
Anu Pratap and Harsh Singh
Benesia Smith
Jenny and Andrew Smith
Sue and Mike Stenhouse
Barbara and Robert Stewart Charitable Trust
Sheelagh Thompson
Leaanne O'Sullivan and Andrew Vincent
David Wilton
Anonymous Partner
Anonymous Partner
Anonymous Partner
Christchurch Art Gallery Staff and Families
TOGETHER Level Three
Melanie and Nicholas Abbott
Richard and Nina Acland
Gillian Archbold
Margaret Austin
Catherine and Peter Baddeley
Nicole Bailey
Deborah McCormick and Bruce Baxter
Helen Bradley
Penelope Naish and Nicholas Brown
Mary Smit and Nick Brown
Cameron Bryant
Josie Burdon
Kate and Richard Burtt
Caroline Billing and Roger Carran
Anna and Tim Chesney
Dianne and Paul Chaney
Lisa Roberts and Saxon Connor
Merle Cooney
Lucy Gain and George Cooper-Dixon
Nerita and Grant Coulter
Murray Crane
Annabel and David Cropper
Lianne Dalziel
Karen Dennison
Deanna Didovich
Karen Doig
Hamish Doig
Liz Douglas
Charette and Peter van Eekelen
Nicola and Rob Farrell
Michael Aitken and Karen Fincham
Laura Palomino de Forbes and George Forbes
Michael Flatman and Anna Fox
Rebecca Keen and John Frye
Jo George
Brian and Janie Gillman
Honor Sadie Gomez
Stu Myles and Lisa Goodman
Juliet and Hamish Gray
Christchurch Art Gallery Guides
Marianne and Guy Hargreaves
Kate and Mark Harris
Iain and Anne Harvey
Lynda and Rick Hill
John and Annabel Holland
Bill Luff and Monica Hunter
Georgie and Kris Inglis
Jo and David Jessep
Bridget Woodham and Tim Kenny
Donna and Jesse Kenton-Smith
Monica Ryan and Mike Laney
Margaret Duncan and Tony Lynch
Cameron McPherson and Partners
Prue and Raf Manji
Sam Martin
Julie King and Jenny May
Juliet Collins and Michael McGuinnity
Leigh Melville
Stephen Montgomery
Charlotte Montgomery
Sarah Hopkinson and Danae Mossman
Robert and Denise Murfitt
Jessica Close and Richard Mulvey
Alison and Ian O'Connell
Lew Johnson and Paddy O'Brien
Aaron Pero
Richard and Sue Robson
Leigh Rogers
Kirsty and Felix Rueppell
Jo and Tony Sewell
Lisa and Richard Sinke
Joanna Norris and Blayne Slabbert
Sarah and Damon Smith
Jonathan and Jane Smart
Sebastian Stapleton
Alexandra Stewart
Jenny Todd
Anne Todhunter
Edith Tripp
Tracey and Nicholas Tyler
Renee Walker
Chris and Sarah Wakefield
Kate and David Walton
Alisdair Murrie-West
Lenore West
Sue and Paul Williams
Stephanie Grieve and Ben Willis
Anna Wilson
Susan and Michael Wilson
Louise Moody and Thomas Wilson
Kristina Pickford and Michael Wolfe
Small Business Partners
Cakes by Anna
Caxton Print
Cowdy & Company
Fendalton Eye Clinic
McCarthy Design
Mods Hair Merivale
Potsticker Dumpling Bar
The Colombo
Tavendale and Partners