Education
We run art education for schools. Let us help your class discover art with hands on learning experiences based on our exhibitions and works in our collection.
Our art education programmes offer students first-hand experience with real works of art whilst developing their creative and critical thinking skills. We make links to the English, social science and arts curriculum as well as providing students with great opportunities to develop key competencies in a social context. Discussions and activities can be adapted to suit all levels.
Gallery tours and visits are free.
Art lessons take 90 minutes, involve a hands-on activity and cost $2 per student.
Bookings are essential. Our programmes are popular and we can only teach one class at a time. So get in early. To book lessons, arrange tours or simply find out what the Gallery can offer your school, contact our educator, Bianca van Leeuwen:
(+64 3) 941 7373
schools@christchurchartgallery.org.nz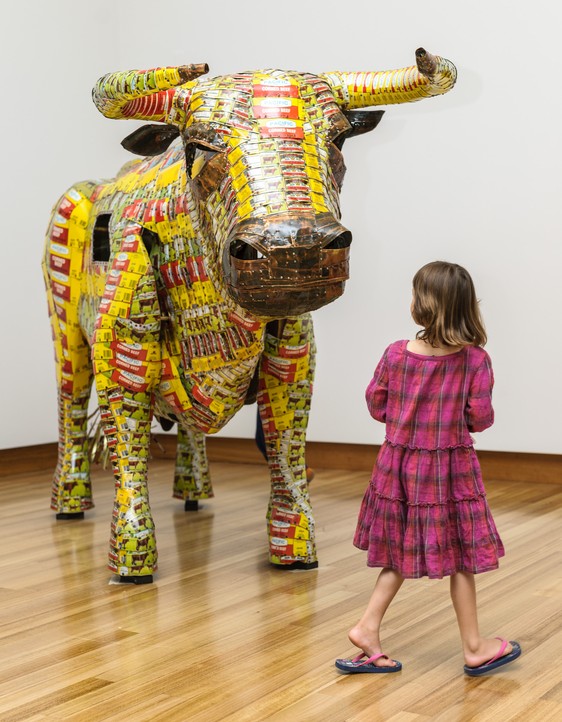 Installation view of Povi Christkeke by Michel Tuffery 1999
PROGRAMME
Select a programme for more information on our art lessons.
All year
All Levels
Guided Tours
+ Description
Lesson time: 30-60 minutes
Class Limit: 25 students
Students will take away an appreciation of art and consider a selection works that can cover a range of subjects, styles, media and purposes. The works viewed will be a selection from our current exhibitions. Students are expected to discuss and question what they see. Tours can be tailored to all levels.
Bookings essential.
We'll be offering these as soon as we re-open!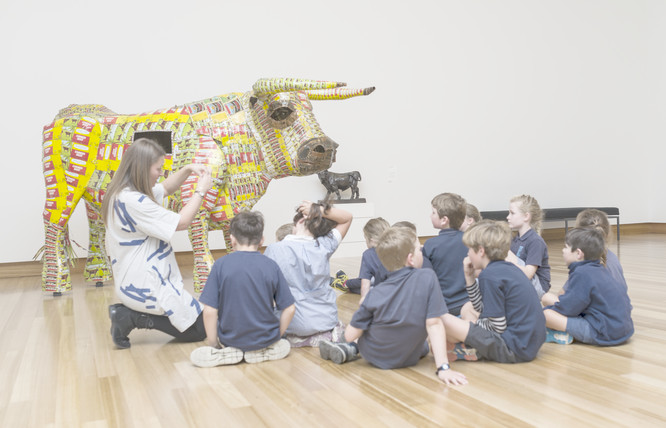 At Home 2020
All Levels
Activities and Resources
+ Description
Lesson time: as long as you like!
Class Limit: any students