Education
We run art education for schools. Let us help your class discover art with hands on learning experiences based on our exhibitions and works in our collection.
Our art education programmes offer students first-hand experience with real works of art whilst developing their creative and critical thinking skills. We make links to the English, social science and arts curriculum as well as providing students with great opportunities to develop key competencies in a social context. Discussions and activities can be adapted to suit all levels.
Gallery tours and visits are free.
Art lessons take 90 minutes, involve a hands-on activity and cost $1.00 per student.
Bookings are essential. Our programmes are popular and we can only teach one class at a time. So get in early. To book lessons, arrange tours or simply find out what the Gallery can offer your school, contact our educator, Bianca van Leeuwen:
(+64 3) 941 7373
schools@christchurchartgallery.org.nz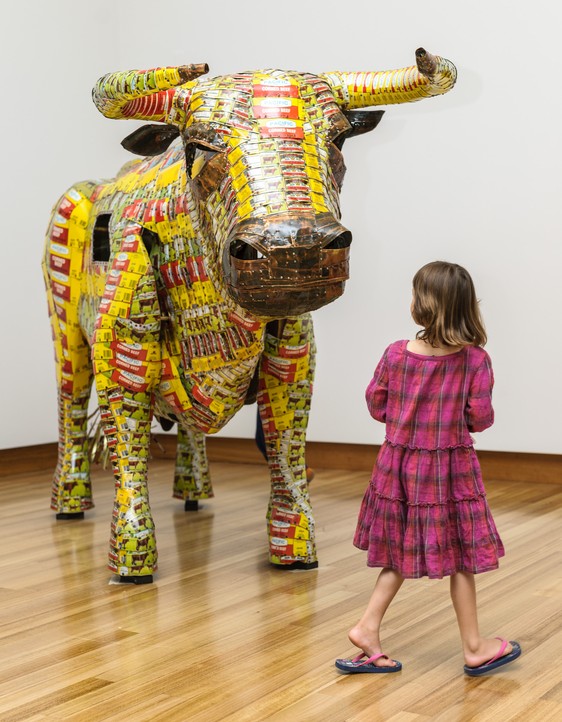 Installation view of Povi Christkeke by Michel Tuffery 1999
PROGRAMME
Select a programme for more information on our art lessons.
Term 2
Years 0 – 10
Dry-brush Painting
+ Description
Lesson time: 90 Minutes
Class Limit: 35 students
Students will look at and discuss a selection of landscape paintings from the Gallery's collection, and then consider how the artist has used colour, line and mark-making in their work. This tour is supported by a practical lesson in the education centre, where students will learn simple tips and tricks to help them manage paint and use brushes correctly. Students will create their own dry-brush painting of a Canterbury landscape to take back to school.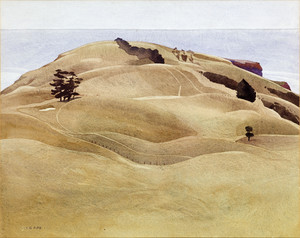 A Waka We Are All In
+ Description
Lesson time: 90 minutes
Class Limit: 35 students
Students will discuss ideas like identity, immigration, multiculturalism and local history, presented in the exhibition He waka eke noa. In the education centre, students will learn about symbols, motifs and patterns and how these can be used as tools to communicate a story. They will then make their own waka, which tells a story of who they are. A great lesson for exploring personal identity or Canterbury and Christchurch history.

Flip-out World
+ Description
Lesson time: 90 minutes
Class Limit: 35 students
Create your very own dream home. Students explore the lively exhibition by Canterbury artist Wayne Youle. A show that threads together ideas about family, cultural identity and nostalgia. Your class will discuss how their day-to-day lives are shaped by family, school and the world around them. In the classroom they create a simple 3D pop-out house then decorate and draw into it to create a fantasy space just for them.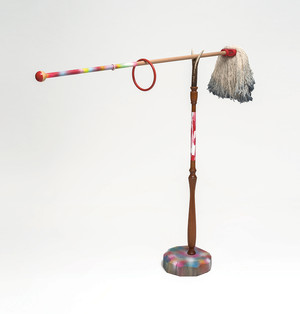 Francis Upritchard: Jealous Saboteurs
+ Description
Lesson time: 90 minutes
Class Limit: 35 students
Students will be guided through internationally acclaimed New Zealand artist Francis Upritchard's major survey exhibition Jealous Saboteurs, exploring the eccentric and enigmatic figures and animals it contains. In the education centre, the class will make their own puzzling and quirky puppet character to take home.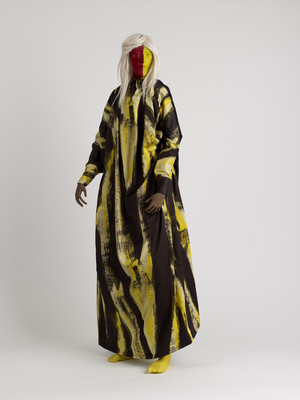 Term 2 and 3
Years 0 – 10
Collograph Prints
+ Description
Lesson time: 90 minutes
Class Limit: 35 students
In this lesson, students will create beautiful patterns with colour and shape and learn an easy printmaking technique. Students will discover the works of two veteran New Zealand artists, Don Peebles and Carl Sydow, using their works as inspiration to create a colourful collograph print in the education centre.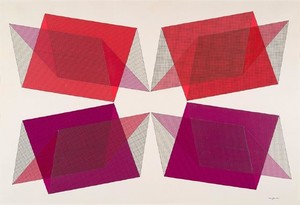 Years 3 – 10
Bridget Riley: Cosmos
+ Description
Lesson time: 90 minutes
Class Limit: 35 students
This lesson offers a rare opportunity for your students to see two significant international artists in one show. Your class will have a guided tour of the Gallery and see paintings by British artist Bridget Riley as well as French artist Georges Seurat. In the Gallery they will see how Riley was inspired by Seurat and learn about each artist's influential practice. In the classroom the students will create their own masterpiece of collaged and woven colour.
Available from 3 June 2017