B.
Bill Culbert, radishes, Hut #2, Bluff Oysters, eccles cakes, The Hendersons, and 250 people.
Behind the scenes
On Saturday night artist Bill Culbert and chefs Margot and Fergus Henderson helped raise the bar for another extraordinary fundraiser from the Gallery and its Foundation
As well as launching a new way for individuals to connect with the Gallery, the Foundation dinner raised over $80,000 for an important new acquisition. Thanks to an amazing auction led by Art + Object's Ben Plumbly, Bill Culbert's Bebop will appear high above the stairwell of the Gallery when it reopens at the end of 2015. (Here's Bebop installed in Venice, where it was an element of the official presentation for New Zealand at the 2013 Beinnale.)
Bebop is the second purchase within a five-year plan to buy five great works for Christchurch. Last year's dinner saw the Foundation spearheading the fundraising for the purchase of Michael Parekowhai's Chapman's Homer (which is currently installed on Worcester Boulevard).
The mission?
To build a $5m endowment fund and target five great works of art in five years to express the changing DNA of Christchurch.
The method to our madness?
Bring one of Britain's most respected chefs, Fergus Henderson, and his wife, New Zealander Margot Henderson, to Christchurch via Singapore Airlines, to cook a meal of epic proportions from local produce.
Team them up with one of New Zealand's most celebrated contemporary artists, Bill Culbert, and ask him to theme the room.
Throw a little Don McGlashan into the mix...
And add a killer speech by Gallery director Jenny Harper on why the city's art collection matters more than ever for Christchurch, and you've got a recipe for a very good and unusual evening.
Bring on the 2015 event! Maybe it could even be held in the Gallery?
Related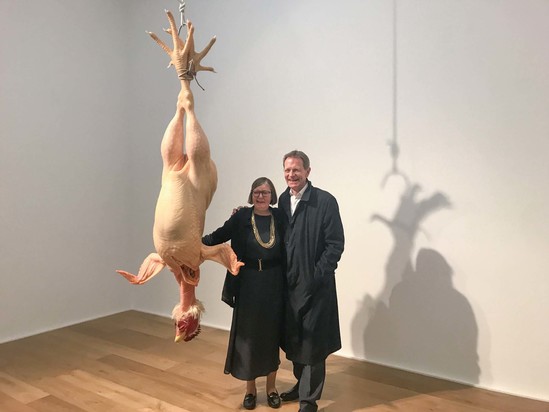 The London Club
In September 2017, Gallery director Jenny Harper, curator Felicity Milburn and Jo Blair, of the Gallery Foundation's contracted development services, Brown Bread, went to London, taking a group of supporters who received a very special tour of the city's art highlights. While there, they further developed the Foundation's new London Club. Recently they sat down together in Jenny's office…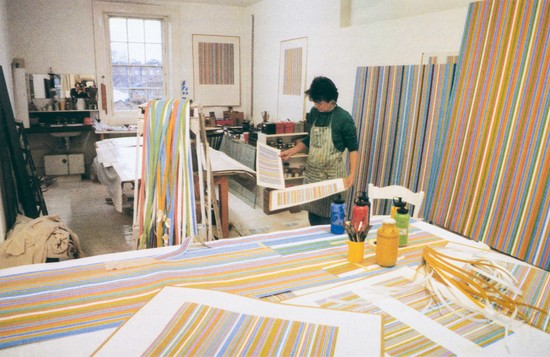 Anticipation and Reflection
This is a time of considerable anticipation at the Gallery: Bridget Riley's new work for Christchurch is due for completion in late May 2017. A wall painting, it's the fourth of five significant works chosen to mark the long years of our closure for seismic strengthening following the Canterbury earthquakes of 2010–11. It has been paid for, sight unseen, by a group of wonderful women donors, with further support for costs associated with its installation secured by auction at our Foundation's 2016 gala dinner.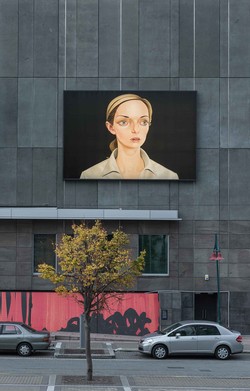 Peter Stichbury's NDE
Anna Worthington chooses her favourite work from the Gallery collection.