Visit
Welcome to Christchurch Art Gallery, home to one of New Zealand's most important public art collections.
Open 10am until 5pm daily
Late night Wednesday until 9pm
Free entry
Corner Worcester Boulevard and Montreal Street
Christchurch, New Zealand
info@christchurchartgallery.org.nz
Tel (+64 3) 941 7300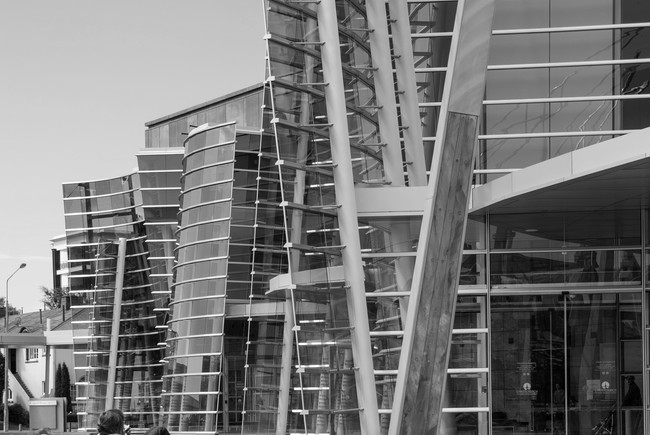 Free guided tours
Free guided tours with our knowledgeable guides. Tours last 45–60 minutes. No need to book. Meet at the front desk on the ground floor.
Introduction to the Gallery
11am and 2pm daily
Late-Night Tour
7.15pm Wednesday
Group Tours
To book a private group tour call +64 3 941 7374
Oh Baby it's Art
9.30am first Thursday of every month
starting on Thursday 4 February 2016
Free guided art tours especially for parents with babies. Buggies welcome.
Tours with a Sign Language Interpreter
7.15pm late-night tour Wednesday 3 February, Wednesday 4 May, Wednesday 3 August, Wednesday 2 November
Audio Guides
As you explore the Gallery you will see many works have icons indicating audio guides. These guides feature artists, poetry, music and other responses to the art. Click here to play our audio guides.
You can use your smartphone to play the audio guides. If you need headphones you can ask for a set at the front desk on the ground floor. If you do not have a smartphone you can borrow one at the front desk.
Getting here
Bus
The Gallery is a pleasant ten minute stroll from the central bus interchange. Bus 17 crosses Montreal Street one block south of the Gallery, approximately a two-minute walk from the Gallery. You can plan your bus trip here.
Walking
The Gallery is situated on the corner of Worcester Boulevard and Montreal Street, easy walking distance from the central bus interchange and central city attractions.
Cycling
Christchurch has a network of cycleways and cycle lanes; bike racks are available on the Gallery forecourt.
Driving
We have the most colourful underground car parking in the city. Probably the country really. And at only $1 per half hour, now there's absolutely no excuse not to visit us. And did we mention that first hour of car parking being free at the Gallery until end of January 2019?
Tram
If you are sightseeing in Christchurch the tram stops right outside the Gallery.
In the Gallery
Accessibility
The Gallery has wheelchair access and accessible toilets. We also have two wheelchairs available for visitors to borrow. A lift takes you to the upstairs galleries and down to the underground car park. The auditorium has wheelchair seating.
Families
We're family-friendly and we're here to help – if you need more information or assistance just come to the front desk or ask one of our visitor hosts.
You'll find a parenting room on the ground floor

Toilets are located on both floors
Strollers and bags can be stored in the cloakroom behind the front desk for free
Pick up a free copy of Making the most of Christchurch Art Gallery with your kids and a copy of our kids' art trail at the front desk.
We run fun art classes all ages during the school holidays. Check out our event listings or ask at the front desk for more information.
We run free guided art tours especially for parents with babies on the first Thursday of each month, starting on Thursday 4 February 2016. Buggies welcome.
Photography
You're welcome to take photographs in the Gallery, however please don't infringe copyright. Some works cannot be photographed and you will see a no photography label by the work. Please respect this. Find out more about copyright here.
If you wish to reproduce a work in the Gallery's collection you may find out more and apply for a license here.
Café
Universo brasserie and bar is now open. Every day 10am till late.
Design Store
The Design Store brings you an ever-changing range of creative products inspired by the Gallery's collection and exhibitions. From thoughtful books and delightful cards to gorgeous jewellery, sweets and imaginative gifts, we help connect people to art in surprising and compelling ways.