Art Do 2018
In October 2018, the first ever Art Do brought together world-leading chefs, designers and rockstar artists to create New Zealand's biggest art party.
It was an immersive night of experiences, all in the name of celebrating great art in Christchurch.
Think contemporary food stands created by the coolest international and local chefs – including Jake Kellie from Singapore's Burnt Ends; a bar styled by Karen Walker featuring her signature cocktail; artists spinning vinyls that made us dance; architecturally designed party spaces designed by the Warren and Mahoney team; and the launch of our new art beer and an art wine by New Zealand artists Zina Swanson and Judy Millar.
Related reading: Foundation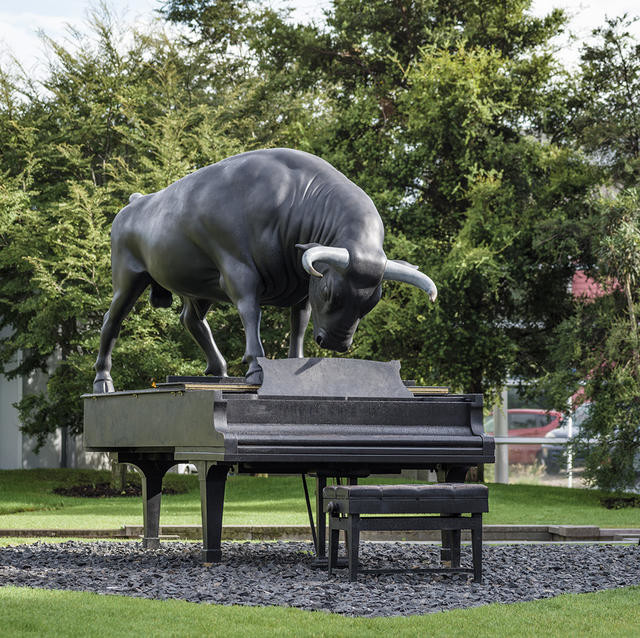 When 'Chapman's Homer' was exhibited at the edge of the devastated central city in 2012, it was positioned between ruin and rebuild just outside the cordon in an empty lot on Madras Street. Our bull stood beside his seated brother while a red carved Steinway piano was played upstairs in an adjacent building. Over thirty days, Parekowhai's work caught the public imagination as a symbol of the resilience of local people. At once strong and refined, a brutal force of nature and a dynamic work of culture, Chapman's Homer resonated with local audiences. Subsequently, a public fundraising campaign kept the bull in Christchurch.
Chapman's Homer was first exhibited in Venice, where Parekowhai represented New Zealand at the 2011 Venice Biennale. It travelled to Christchurch after being shown at the Musée de quai Branly in Paris. Over the past year, we've shown it at a number of sites around the city as part of the Gallery's Outer Spaces programme, including Worcester Boulevard, Placemakers Riccarton, New Regent Street, and most recently at Christchurch International Airport. And now the bull is back – standing strong in its permanent home at Te Puna o Waiwhetu Christchurch Art Gallery, welcoming visitors to our reopening exhibitions.
(December 2015)