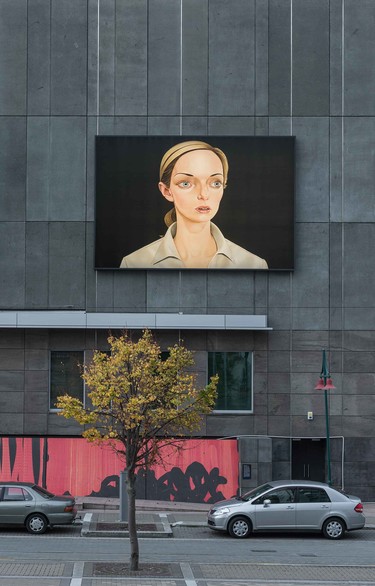 Peter Stichbury's NDE
Anna Worthington chooses her favourite work from the Gallery collection.
'Art should comfort the disturbed and disturb the comfortable'
It's difficult to choose a favourite thing, no matter what it is. A favourite artwork for me can depend on my mood, the weather, or how hungry I am. I imagine it's like a parent being asked to pick their favourite child. So, I'm going to change the assignment slightly and tell you what artwork comes to mind when I think of art and Christchurch.
I grew up in Christchurch, but it wasn't until returning to this city in 2012, post Auckland university degree and post-quake that it finally began to feel like home. During my four years at Elam, I became much better acquainted with the Auckland art galleries than the ones back home. I recall spending mid-semester holidays in Christchurch a little bored. I didn't give the city much of a chance, and was quick to label it conservative, adamant that all the exciting stuff was happening in the North Island.
One place that provided some comfort and excitement for me was Christchurch Art Gallery. I would walk down Riccarton Road from my parent's house in Ilam, through the park, and spend the afternoon wandering around the exhibitions, recognizing artists that had been discussed in tutorials. Spirits would lift and I would leave feeling great about life. On the walk home the heavens would usually open and I would arrive home drenched, grumpy, and moaning about Christchurch weather.
Fast forward to 2015 and Christchurch has become my precious home. I think its chaotic and unpredictable nature has lured me in. The city has come alive and is a living gallery space. We no longer have to venture inside a gallery to view art. Passengers on a bus can be treated to public art on their way to work. Other cities may boast an abundance of white walled galleries, but Christchurch has something more exciting for its people and visitors to the city. I love turning corners and discovering art in unlikely places.
Stichbury's NDE on Worcester Boulevard has become a familiar face during my walks through town. She's almost become the guardian of the city centre, her watchful eyes have looked over us as we have continued with our day-to-day lives amongst the rebuild. This is one of my favourite artworks in the collection because it has been with me almost every day during the past few years and I imagine those wide eyes will continue to pleasantly haunt me for years to come.
Cesar A. Cruz said: 'Art should comfort the disturbed and disturb the comfortable'. Thank you Christchurch Art Gallery and Stichbury for providing some comfort to a tired baker on her walks through the city. I look forward to seeing what is waiting for us around the next corner.
Since Anna wrote this piece NDE's time as guardian of Worcester Boulevard has come to a close. The south facing wall of the Gallery is now home to Martin Creed's Work No. 2314. The original painting by Peter Stichbury is in the Gallery's collection and will be in the reopening exhibition Unseen.
Related reading: Foundation, My Favourite, Unseen: the changing collection, Outer Spaces