Purchased 1959
Oil on canvas on board
630 x 775mm
69/111
1954
About the artist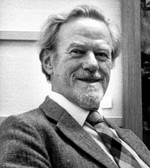 Prominent Christchurch painter Bill Sutton was an influential teacher from 1949 to 1979 at the University of Canterbury School of Fine Arts. Sutton has chosen here a restricted palette – ochre, brown and black – to portray this aged wooden façade under streetlight glare, with a reflected neon glow of red.
The Manchester Private Hotel, already rundown when Sutton painted it in 1954, was a somewhat disreputable boarding house on the corner of Manchester and Southwark Streets on the outskirts of central Christchurch. Belonging to a series of paintings that Sutton made depicting old, inner city buildings, it conveys the imprint of memory and the local past.
(Above ground, 2015)
earlier labels about this work
Known as the Manchester Private Hotel, this was a private boarding house on the corner of Manchester Street and Southwark Street. During the early 1950s William Sutton worked on a number of paintings of building façades in Christchurch's inner city. Rather than accurately representing the building, Sutton was interested in the abstract patterns caused by the shapes of its features and the effects of the street lighting. Private Lodgings was the first Sutton painting to be acquired for the Robert McDougall Art Gallery, the then public art gallery of Christchurch. Born in Christchurch, Sutton studied at the Canterbury College School of Art. He was tutored by many well-known Christchurch artists, including Colin Lovell-Smith (1894 -1960), Archibald Nicoll (1886 -1953) and Cecil Kelly (1878 -1954). Sutton began exhibiting with the contemporary art artists, The Group, in 1946. He travelled to Britain in 1947 but returned to New Zealand in 1949 to take up a teaching position at the School of Art, which he held until 1979. Sutton was awarded a CBE in 1980.
Related

R. P. Moore ascends the cathedral's spire to put his swivelling Cirkut camera to its familiar task. Up the narrow spiral stone staircase, a breezy ladder, past the bells, he reaches the balcony with its clear view facing west. A heavy morning frost means it is cold; the coal smoke of home and office fires lend partial soft-focus to the view.
The Square below has a single horse carriage and thirteen motorcars neatly parked. A tram beside the Clarendon Hotel curves right towards the Square. Tram tracks cut sweeping lines in the frost. None below have noticed the elevated cameraman, who turns the switch. it's five past nine as the camera begins its mechanical roll.
(Above ground, 2015)