B.
The Queen's visit by Ivy Fife
Collection
15 July 2013. Posted by Ken Hall
This article first appeared as 'Hello and goodbye' in The Press on 5 October 2012.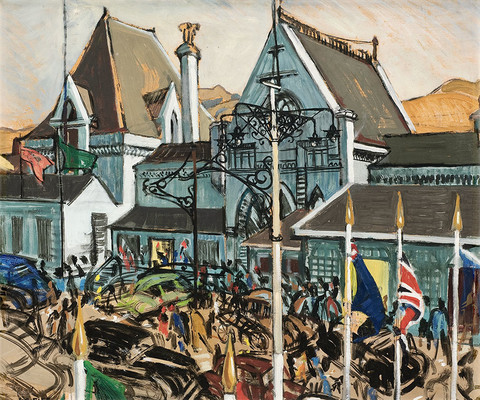 Christchurch's first 'proper' railway station on Moorhouse Avenue was designed in 1876–7 by Canterbury Provincial Railway chief engineer James Godfrey Warner. A handsome brick structure with pointed arch doors and windows, it was one of a significant number of buildings in the city to embrace Venetian Gothic, the style drawing inspiration from John Ruskin's The Stones of Venice (1851-3). By 1954, when local artist and teacher Ivy Fife (1905–1976) painted Queen's Visit, the station was tired and much less romantic; its Gothic arches hidden by shed-like, lean-to additions and its brick warmth covered in paint. Ivy Fife's exuberant display of brushwork and colour further obscured the building's original form, with flags, cars and crowds combining to convey the excitement of the arrival of the young, newly-crowned Queen Elizabeth II.
The building was demolished just five years after being painted by Fife, to be replaced by a boldly modern statement by Wellington architect William Gray Young (1885-1962), designer of the Wellington Railway Station. Young's more radical design for Christchurch was inspired by Dutch Modernist architecture (particularly the work of Willem Dudok) and was first presented in 1938, but its construction became delayed by war and its financial aftermath. The new station finally opened in 1960, by which time its avant-garde 1930s origins were more distant and the heyday of the railway had already passed. With its substantial brickwork forms massed into dramatic, asymmetrical blocks including a massive clock tower, it was, however, a landmark enjoyed by many, including in its most recent years as home to Science Alive. Following damage sustained during the Christchurch earthquakes of 2010 and 2011, the decision was made to demolish, which started this month and continues to this moment.
Ivy Fife's painting is readily appreciated for its historical associations, but probably even more so for its bold and painterly lyrical qualities. Queen's Visit was purchased by the Christchurch Art Gallery Trust with funds from the Community Trust and gifted to the Gallery and people of this city in 1996.
Ken Hall
Related reading: Above Ground