Purchased 2001
Etching and aquatint
370 x 265mm
2001/137
1925
Christ Church Cathedral, a defining symbol of this city since its consecration in 1881, was designed by the English architect George Gilbert Scott, with input from the local supervising architect Benjamin Mountfort. In its present earthquake-damaged state it represents a significant challenge for this city's church, civic and cultural leaders.
James Fitzgerald and the younger John Mills Thomasson were both British-born commercial artists who settled in Christchurch: Fitzgerald in 1923, after twenty years in Auckland, and Thomasson after serving in Mesopotamia (Iraq) during World War I. Both produced etchings of local Christchurch views and exhibited with the Canterbury Society of Arts.
(Above ground, 2015)
Related reading: Above Ground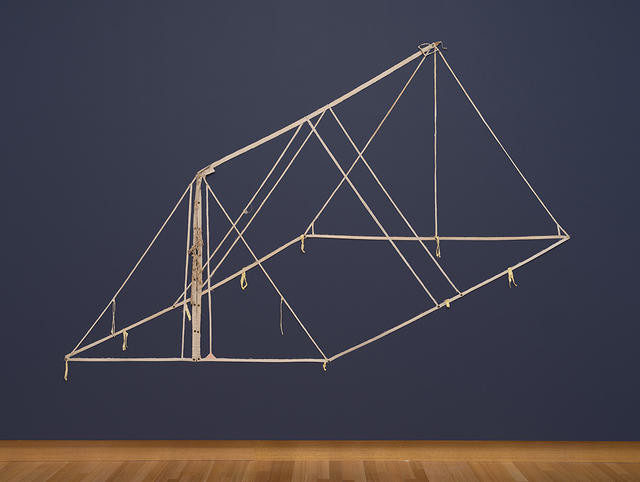 The tent, one of the most basic architectural structures, is also a symbol for temporary shelter and a metaphor for the body. Pip Culbert has investigated its essential form by removing everything but the reinforced stitching, laying out its structure like an isometric plan. The tent is denied perspective but retains a spatial sense.
Culbert was a British artist based in France who graduated from the Royal College of Art in London in the early 1960s. Culbert showed her work extensively in solo and group shows internationally, and first exhibited in this country in 1993.
Christchurch Art Gallery acknowledges with sadness the recent passing of Pip Culbert.
(Above ground, 2015)