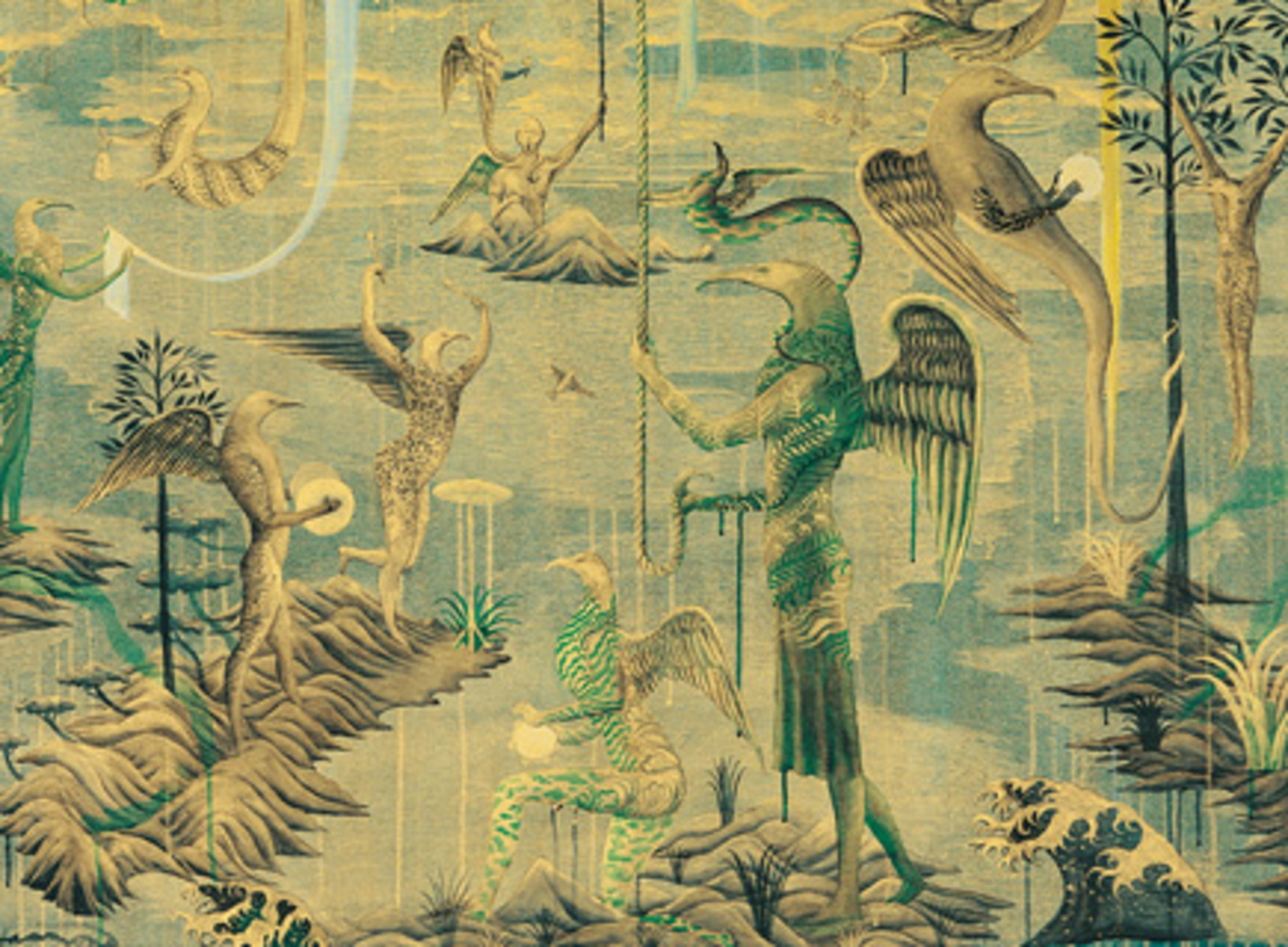 This exhibition is now closed
The long-awaited exhibition is a spectacular survey of more than two decades of work by one of New Zealand's leading contemporary painters.
Jingle Jangle Morning, taken from a verse in Bob Dylan's song Mr Tambourine Man, is the title of an opulent Bill Hammond painting depicting majestic avian musicians and serpentine creatures who sing, dance and play instruments upon a floating world of golden clouds and mountainous divides. It is also the title for Christchurch Art Gallery's long-awaited exhibition of more than two decades of Hammond's work and the accompanying catalogue, designed by Aaron Beehre, with texts by Jennifer Hay, Ron Brownson, Chris Knox and Laurence Aberhart.
Bill Hammond is one of New Zealand's most influential contemporary artists. He was born in Christchurch in 1947 and attended the University of Canterbury School of Fine Arts. During the 1970s, he worked in a sign factory, made jewellery and designed and manufactured wooden toys before returning fulltime to painting in 1981. Birds first began to populate Hammond's paintings after he visited the Auckland Islands in 1989, as part of the Art in the Subantarctic project. The three-week trip to the remote, windswept islands, where the severity of the climate has allowed little human impact on the natural environment was something of a revelation.
In an interview with Gregory O'Brien for Lands and Deeds (Godwit, Auckland, 1996), Hammond spoke of the islands as a kind of lost world, ruled over by beak and claw: 'The Auckland Islands are like New Zealand before people got here. It's bird land.'
Bill Hammond's compositions encompass humour, beauty, and lyricism while reflecting a unique expression of New Zealand's cultural landscape. This spectacular exhibition includes early music inspired paintings, as well as Hammond's Walter Buller series painted after his visit to the sub-Antarctic, through to the startling zoomorphic paintings, ancestral studies and recent work that takes the extinct Giant New Zealand Eagle as its theme. Hammond's luscious palette of inky blues, his signature use of emerald green and gold and his endlessly inventive combination of anthropomorphic birds, horses and hybrid creatures will offer viewers a unique insight into the oeuvre of this singular artist.
Principal Exhibition Sponsor: Ernst & Young.
The exhibition and accompanying publication are supported by the Friends of Christchurch Art Gallery.
Date:


20 July – 22 October 2007

Curator:
Jennifer Hay
Exhibition number:
774
Collection works in this exhibition
5 items