B.
What did you just call me?
Behind the scenes
22 June 2011. Posted by Justin Paton
Let's talk titles. Or, if the title's a bad one, let's not.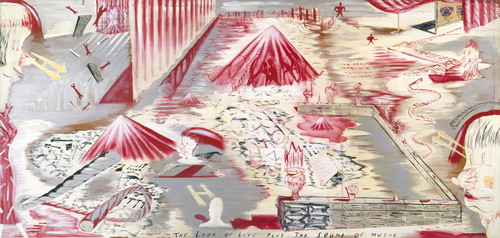 Contemporary art contains plenty of perfectly tolerable paintings that have been ruined or at the very least hobbled by dodgy or straining titles.
The artist Marcel Duchamp called the titles of paintings their 'invisible colours' and that's a beautiful way to think about them. A great title can flood a work with just the shade of meaning it needs. The worst titles talk over the paintings they accompany, like anxious parents prompting their children. You see (or hear) a lot of this when 'research' starts driving art, as it does in today's PBRF-crazed tertiary art departments.
Over-explanation of this kind is what drives abstract painters toward the tight-lipped 'Untitled', which as much as says: shut up and look. As New Zealand painter John Reynolds has said, a title can also be used to 'unhinge' a painting – send it into poetic overdrive. His own Acacacacademy of anthropopopometry shows how that's done.
Best title in the Christchurch Art Gallery collection? For me the honours go straight to Bill Hammond for The look of love plus the sound of music, the flayed-looking landscape seen at the top of this post. Best title ever in New Zealand art? I'd hand the prize here to Allen Maddox for Finer and finer and more gutless – the perfectly pissy title he gave to this brilliantly sarcastic variation on the abstract grid, from Auckland Art Gallery's collection.
Related reading: Bill Hammond