B.
Shag Pile by Bill Hammond
Collection
This article first appeared in The Press on 15 December 2004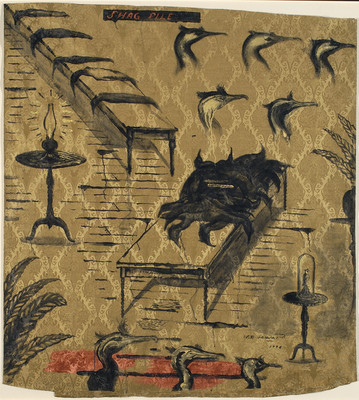 An encounter with Bill Hammond's Shag Pile (1994) feels a little like stumbling unannounced into a taxidermist's private workroom, where piles of dead birds, draped limply over tables, await one last indignity. It's an appropriate response, since the anxious, claustrophobic interior alludes to the work of New Zealand's most notorious 'bird stuffer', the noted New Zealand ornithologist Sir Walter Lawry Buller (1838 - 1906).
Arguably one of New Zealand's most influential contemporary artists, William (Bill) Hammond was born in Christchurch in 1947 and attended the University of Canterbury School of Fine Arts. During the 1970s, he worked in a sign factory, made jewellery and designed and manufactured wooden toys before returning fulltime to painting in 1981.
Birds first began to populate Hammond's paintings after he visited the Auckland Islands in 1989, as part of the 'Art in the Subantarctic' project. The three-week trip to the remote, windswept islands, where the severity of the climate has allowed little human impact on the natural environment, was something of a revelation. In a interview with Gregory O'Brien for 'Lands and Deeds' (Godwit, Auckland, 1996), Hammond spoke of the islands as a kind of lost world, ruled over by beak and claw: "We would see groups of birds congregated on the shoreline, gazing out to sea. You could walk past yellow-eyed penguins with their heads back, their eyes rolled up strangely, their wings raised, then come back three hours later and they would still be there, in exactly the same position, in a beautiful, trance-like state. [...] The Auckland Islands are like New Zealand before people got here. It's bird land." The watchful faces of these birds would later appear in many subsequent paintings - impassive, unreadable and distinctly un-human.
While researching the islands, Hammond came across a copy of Sir Walter Buller's lavishly illustrated 'History of the Birds of New Zealand" leading him to discover more about the darker side of Buller's ornithological work. Certain that New Zealand's native flora and fauna were doomed to extinction, Buller in fact contributed substantially to their demise, sending specimens to Europe as curios for Victorian display cases. Hammond's 'Buller' paintings of the 1990s provide a sardonic commentary on this profitable and macabre side-business. The teetering tables, dripping floorboards and sinister pot plants in Shag Pile are accompanied by references to Buller's ornithological work, with several birds depicted in profile as though part of an identification chart and the scientific name for the New Zealand spotted shag - Phalacrocora(x) Pu(n)ctatus - slapped authoritatively on a pile of entwined corpses. The deafening cacophony of birdsong that greeted the earliest visitors to this land has dwindled to this - a silent and flightless mausoleum.
The unexpected contrast between the lifeless birds, rendered starkly in funereal acrylic, and the lustrous gold fabric wallpaper on which they are painted plays up the Jekyll and Hyde aspect of Buller's career. Unusual material are a common element in Hammond's practice, which has seen him painting on coffee tables, metal signs and old tent canvas. His treatment of compositional space is also unconventional - pitchy and askew, with errant ground lines and uncertain perspectives, his paintings are anxious and difficult environments where anything seems possible. "A good painting is a complete thing that exists on its own terms, " he once said. "You make a little world with its own air and its own atmosphere." (Bill Hammond, quoted in 'Lands and Deeds')
The purchase of Shag Pile for the Gallery's Permanent Collection was made possible through the generous support of the Christchurch Art Gallery Trust and the Friends of the Christchurch Art Gallery.
Felicity Milburn