B.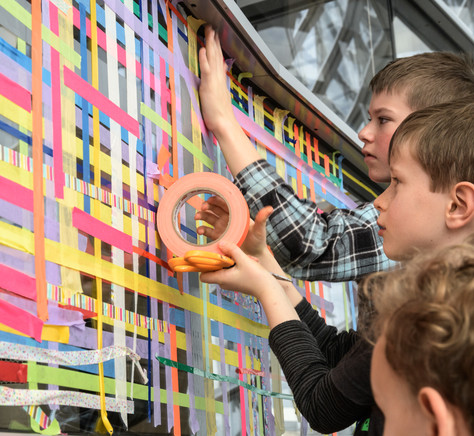 Public programmes take centre stage at the Gallery this spring
Note
Visitors to the Gallery will be spoilt for choice this month, with some of the best art in New Zealand on display alongside a rich calendar of public programmes.
In addition to amazing art and exhibitions, our impressive spring events calendar brings together a range of artist talks, films and activities, so there's bound to be something for everyone to enjoy.
The top must-attend events on our list are:
For a night to remember, join us for We Are Not Prepared, a time-stretching mini-festival of night art performance events: sound performance, artist interventions and actual film with artists including Michael Morley, Audrey Baldwin, Séraphine Pick and Marie Shannon, from 6pm until 9pm on Wednesday 16 October.
Join Gallery curators Felicity Milburn and Ken Hall at 6pm on Wednesday 9 October for a special Heritage Festival talk in Turn, Turn, Turn: A Year in Art, an exhibition of work from the Gallery collection exploring the history of Christchurch.
Got plans with the family on Labour Weekend? Cancel them, bring the kids and join artist Judy Darragh in a massive take-over project involving a riot of colour and a heap of paper-based tape. Judy Darragh: The Grid runs from 26–28 October from 11am – 3pm.
Prepare for some wild sounds from the talented and exploratory University of Canterbury Percussion Ensemble who will perform from 3pm on Sunday 27 September in celebration of the exhibition Bill Hammond: Playing the Drums.
Let your inner and/or outer feminist run free and bring your mothers, sisters, friends and Tamariki to the screening of New Zealand filmmaker Louise Lever's Revolt, She Said, a new documentary that asks "what is the female voice?". The screening is at 2pm on Sunday 13 October and entry is free.
And if cult horror films are your thing, you simply mustn't miss the Canterbury Film Society's Halloween Spook Night Special on Thursday 31 October, featuring Dario Argento's gore-geously coloured Suspiria(1977, 92 mins. R16) and Stuart Gordon's schlock-classic Re-Animator (1985, 105 mins. R16). Entry is $10 for both films.
Click here for details and screening times for the Eighteenth Latin American and Spain Film Festival, running from 23–27 October and featuring a selection of beautiful, funny and poignant films including Little Secret (Pequeno Segredo) and Why Do My Friends Cry.