B.
Untitled 1956 by Gordon Walters
Collection
15 July 2013. Posted by Peter Vangioni
This article first appeared as 'Balancing act' in The Press on 17 August 2012.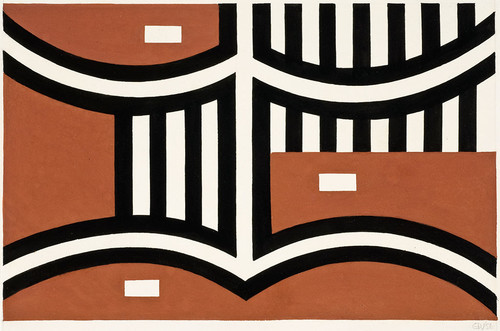 Gordon Walters (1919-1995) was a real pioneer of abstraction in New Zealand art and is most well known today for his koru motif paintings. While Christchurch Art Gallery cannot claim to have a comprehensive collection of his work, the recent purchase of an early gouache study, Untitled (1956), provides an important example of this distinguished painter's work. Purchased late in 2010, we have not yet had the opportunity to exhibit this work it, but for me it will be one of the highlights in the upstairs collection galleries when we finally re-open .
Although he lived and worked for many years in Christchurch, Walters has a greater reputation in the North Island, where Te Papa and the Auckland Art Gallery hold extensive collections of his work. Untitled was painted in 1956 when Walters was first developing his koru motifs – the vertical black and white bands in this study point to the similar horizontal bands that the artist employed in his koru series. At this time Walters was moving away from his surrealist-influenced compositions towards more formal abstraction. Untitled is a perfectly-balanced work with sweeping curved lines protruding from either side of the top and bottom of a central vertical bar of white and black. It is a simplified human figure, its spine and outstretched arms and legs reduced to a curvilinear geometry .
Walter's inspiration for this work came from a visit he made to Pleasant Point, South Canterbury in the winter of 1946 when he stayed with Theo Schoon who was then recording Māori rock art in the region. He visited the Opihi river, returning for a second visit in early 1947 to view Māori rock art sites at Raincliff. Christchurch Art Gallery's gouache study is one of several completed by Walters in 1956, highlighting the artist's developing interests in abstraction and economy of form and colour, limited here to ochre, black and white. These interests ultimately led to the refined minimalism of his koru series.
Untitled was purchased with the assistance of the W.A. Sutton Trust and, although small, its importance lies in that it represents an early, but remarkably resolved example of abstract painting in New Zealand by one of New Zealand's most respected painters. It is an important addition to gallery's collection, one that will assist us to tell the history of New Zealand art. I can't wait to see it on display.
Related reading: Op + Pop