B.
Japanese Planes, Rekata Bay, Santa Isabel by Russell Clark
Collection
This article first appeared as 'Wings of war' in The Press on 21 September 2012.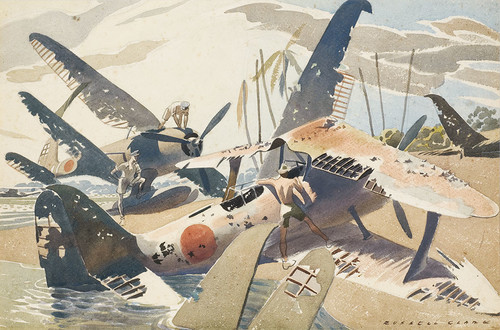 The decaying, skeletal remains of several Japanese seaplanes on the beach at Rekata Bay, Santa Isabel in the Solomon Islands provides a stark reminder of the battles that raged in the Pacific during the Second World War. Completed by Russell Clark, 'Japanese Planes, Rekata Bay, Santa Isabel, 1945', is part of his large body of work focusing on New Zealand forces in the Pacific completed when he was appointed an Official New Zealand War Artist. Clark sailed for New Caledonia and then on to the Solomon Islands in early 1944 and although most of the intense fighting between Japanese and New Zealand troops was over by this stage he set about recording New Zealand troops and the many remnants of previous battles.
Rekata Bay was the site of a Japanese Imperial Navy seaplane base which was established in May 1942. After intense Allied bombing over several months the base was abandoned in August 1943 with damaged aircraft being left behind. It is not known if Clark actually visited the bay during his time in the Pacific, most likely he relied on photographs of the scene which he used as his source for this watercolour. In any case he returned to Wellington in November 1944 and began developing his field sketches of New Zealanders in the Pacific into more finished paintings.
There are two records of New Zealanders visiting Rekata Bay during the Second World War. On August 5, 1945 the crew of a Royal New Zealand Air Force Catalina flew to the bay to inspect the wreck of a RNZAF Lockhead Hudson which had crashed in the area on December 18, 1942. A few weeks later the crew of another RNZAF Catalina also visited Rekata Bay to take a closer look at the Japanese seaplanes. This visit ended in tragedy when one of the crew members, Lance Corporal Leslie Ellen, was taken by a salt water crocodile while swimming back out from the beach to the Catalina.
'Japanese Planes, Rekata Bay, Santa Isabel, 1945' catches a rare glimpse of New Zealand forces off duty, some of the men clamber over the remains of the seaplanes perhaps on the look-out for souvenirs. But Clark's work is also highly symbolic as he portrays the wings of the Japanese planes reaching for the sky in vain and also contrasts machines of war slowly decaying in the midst of a Pacific paradise.
The Christchurch Art Gallery Te Puna o Waiwhetū holds a large collection of works by Russell Clark and the acquisition of 'Japanese Planes, Rekata Bay, Santa Isabel, 1945' in 2010 through the Norman Barrett bequest provides a stunning example of his work as an Official War Artist.