2006
Mixed media on aluminium laminate
Gift of the artist, 2008
2800 x 2400mm
2008/043.a-l
Julia Morison's Tootoo was created as part of a brim-full series of multi-panelled paintings called Gargantua's Petticoat. The series is an array of riotous provocation, full of abstracted sensual forms that allude to corsetry and piercings, petticoats and hula hoops, bed springs and bandages. Julia was painting lecturer at the University of Canterbury from 1999–2007. This followed eight years living in France, an originally unanticipated outcome of being awarded the one-year Moët et Chandon Fellowship artist residency in 1990.
(Perilous: Unheard Stories from the Collection, 6 August 2022- )
earlier labels about this work
[Op + Pop, 6 February – 19 June 2016] (https://christchurchartgallery.org.nz/exhibitions/op-pop)

Like a Gordon Walters painting doing the cancan, Julia Morison's Tootoo makes ready to kick the high-minded formalism out of abstract painting and take the viewer on a wild, exhilarating dance. Folding and reversing on itself, and playing with positive and negative space, the work's elaborate structure creates a powerful visual conundrum.

(Op + Pop, 6 February – 19 June 2016)
Related reading: Op + Pop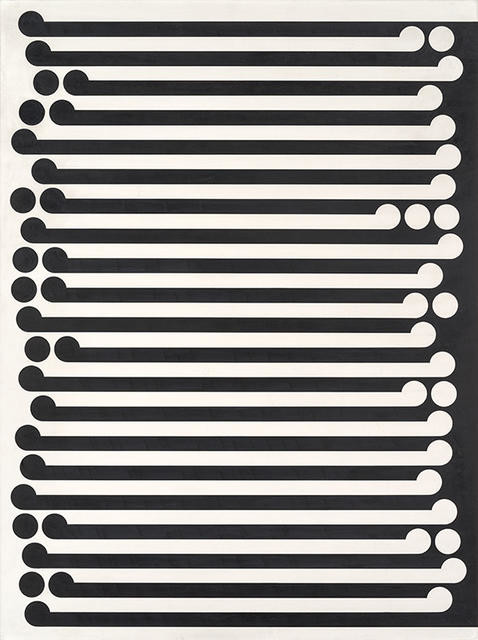 Gordon Walters is best-known for work that fused the influence of European modernist art and Māori and Pacific art forms, particularly the koru motif of painted kōwhaiwhai rafter designs. Walters' influences from European modernism included the hard-edged geometric abstractions of Victor Vasarely and Auguste Herbin, seen while in Europe in 1950–51. Walters made his first optically charged 'koru paintings' in 1956, but didn't show them until 1966 when he first exhibited this painting in Auckland.
Walters' adaptation of the koru has been both admired and criticised by cultural commentators. Walters himself, when discussing the motif, increasingly focused on the fine mechanics of abstraction:
'What I've done to the form is push it more in the direction of geometry. So that I can have in my painting not only a positive/negative effect of black and white, but I can also have a working of vertical and horizontal, which is equally important.' (Op + Pop, 6 February – 19 June 2016)