B.
Cathedral Square, Christchurch by John Mills Thomasson
Collection
This article first appeared in The Press on 25 January 2013.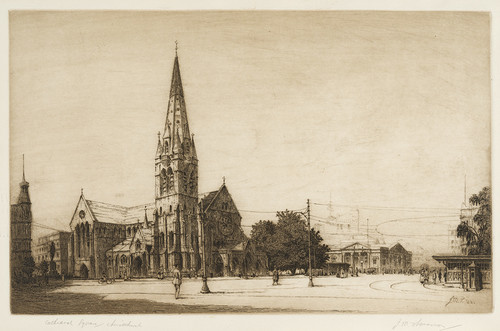 The four-year-old daughter of a colleague, on recently viewing an enlarged early photograph of Christchurch Cathedral, enthusiastically exclaimed to her mother, 'Mummy, there's Christchurch! Can we go there one day?' I'm not sure how the request was handled, but it's a reminder nevertheless of how (even seemingly straightforward) images can sometimes confound or surprise.
Historical images of this city, whether early or recent (and whether primarily artistic or documentary), will remain important for both remembering and learning. When seeking out such pictures, however, it is surprising to realise how very few non-photographic images include the Cathedral. A large, framed etching titled Cathedral Square, Christchurch by John Mills Thomasson (1893-1969) is therefore a valued recent addition to the Gallery's collection. Dated 1922, looking towards the Cathedral from the north-west, it's an uncommon view, likely due to the Square having been a difficult space to transform into a convincing artistic response. This charming etching, however, with its finely engraved detail including scratchy figures, bicycles and cars, is well crafted and well composed; the Cathedral dominating the left half of the composition, and darker shapes of the Press Building, trees, and sweeping, diagonal foreground shadow anchoring the image and holding it together. In contrast to the Cathedral's towering spire, the squat, neoclassical form of the old Bank of New Zealand building (demolished in 1963) is seen in the distance at right.
A graduate of the Manchester Municipal School of Art, Thomasson was born in Bolton, near Manchester, England and settled here after serving in World War One. Based in Christchurch for most of his career, he was primarily an illustrator and commercial artist, working for The Sun newspaper, and from 1926 teaching at Christchurch Technical College. Thomasson's lecture notes are held in the Gallery library archives; the territory he covered included the (now rare) arts of wood-engraving, lithography and bookplate design. His exhibited etchings in Christchurch included city views and North Canterbury landscapes, but few of his works are known. Among the small number of his etchings that survive with relatives in England are some made in Mesopotamia (Iraq) during World War One. It becomes possible then to recognise this composition as the response of a recent arrival to his still new home; a sedately peaceful, distant contrast to the fields of war.
Ken Hall