Ivy Fife - The Queen's Visit
The Queen arrived in Christchurch on 19 January 1954 at Christchurch Railway Station, the scene depicted in this painting. She then moved up Colombo Street by car through crowds ten deep. Commentator Bernard Kearns describes the scene in Cathedral Square and then at the Clarendon Hotel when the public in Christchurch had their first sight of their new monarch.
Audio supplied by Ngā Taonga Sound and Vision.
Related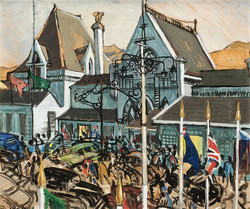 Many artists have depicted this city's urban spaces, including Ivy Fife, who studied at the Canterbury College School of Art from 1920 to 1931 and taught there from 1936 until 1959. Fife's studio apartment was in the nearby St. Elmo Courts, from where the bird's-eye view was painted.
Fife also captured the clamour of Christchurch's railway station on Moorhouse Avenue during the new Queen's royal visit. Opened in 1877, the station had been a handsome structure, but by 1954 its Venetian gothic arches were under lean-to additions and its brick warmth covered in paint. Demolition came five years later; its replacement, a landmark modernist building, was itself demolished after the Christchurch earthquakes.
(Above ground, 2015)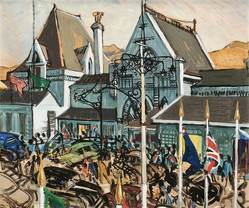 This article first appeared as 'Hello and goodbye' in The Press on 5 October 2012.