Event
The Mix: (Un)familiar Forms
Special Events
Past event
NZI Foyer
Free
Rediscover the Gallery after dark with the Mix - a vibrant, changing calendar of special events combining people and art with music, great food, beer and wine, pop-up talks and demonstrations, debates, films and live performances.
Design your own evening adventure at the next edition of the Mix - (Un)Familiar Forms!
- Explore our incredible exhibition Len Lye: Stopped Short By Wonder after dark.
- Help create a giant city in our foyer with our Imagination Playground as we get out both sets for you to get creative with.
- Check out a pop-up talk with some of New Zealand's most interesting designers and architects including: Dr Kevin Scally, founder of Number Eight Enterprises a research and development company focused on sustainable shelter; co-founder, designer and maker for the global open Wikihouse movement and Christchurch-based social enterprise Space Craft Systems (SCS) Martin Luff; Experience Awesomist/Christchurch Ambassador Erica Austin (Ministry of Awesome, TEDxChristchurch, Te Pūtahi - Christchurch centre for architecture and city-making); architect and 'intrapreneur' Camia Young (Development Manager at Development Christchurch Limited - DCL, Director of Ohu and Exchange Christchurch - XCHC); architectural historian Dr Jessica Halliday (Director of Te Pūtahi - Christchurch centre for architecture and city-making and Festival of Transitional Architecture) and designer Craig Scott (Head of Design Otago Museum, Dunedin Host for The Design Kids).
- Watch a screening of Ever the Land (an awarding winning documentary that tracks the birth of New Zealand's first 'living building' and details how the building connects the Tūhoe Māori tribe to the land).
- Join in on a late night tour and get the low down on our new exhibitions from one of our knowledgable volunteer guides.
- Hit up the pop-up bar for a glass of something from Three Boys Brewery, Greystone Wines and Karma Cola or get ready for summer with a gin and tonic.
- Eat something delicious from some of Christchurch's best food trucks including the incredible Vagabond Chefs, Arin Sushi and Dumplings and Utopia Hot!


The full schedule for the evening is below:
5pm-9pm Food Trucks, Pop Up Bar & Imagination Playground / NZI Foyer and Gallery Forecourt
5:45pm Beyond the box - biomimicry in the development of new shelter systems: Kevin Scally and Martin Luff discuss prefabs, wikihouse and sustainable shelter / Philip Carter Family Auditorium
6:15pm Started from the Bottom Now We're Here: Otago Museum Head of Design Craig Scott discusses climbing up the design food chain and the lessons he's learned / Philip Carter Family Auditorium
6:45pm The Ripple Effect: Social Architect Camia Young, Festa Director/Architectural Historian Dr Jessica Halliday and Social Intraprenuer Erica Austin-Knopp discuss their respective community minded projects and how they are intertwined / Philip Carter Family Auditorium
7:15pm Gallery Tour / Meet at Front Desk
8:05pm Ever the Land screening: documentary exploring the sublime bond between people and their land through a landmark architectural undertaking by one of New Zealand's most passionately independent tribes, Ngāi Tūhoe / 90mins / Philip Carter Family Auditorium
Related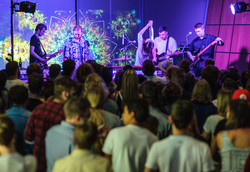 Now's your chance to help create a cool event for you and your friends!
The Mix is Christchurch's Art Gallery bi-monthly late-night event – an interactive mix of art, music, film and good people. We want to run a Mix designed, curated and for under 18s – ReMix.