B.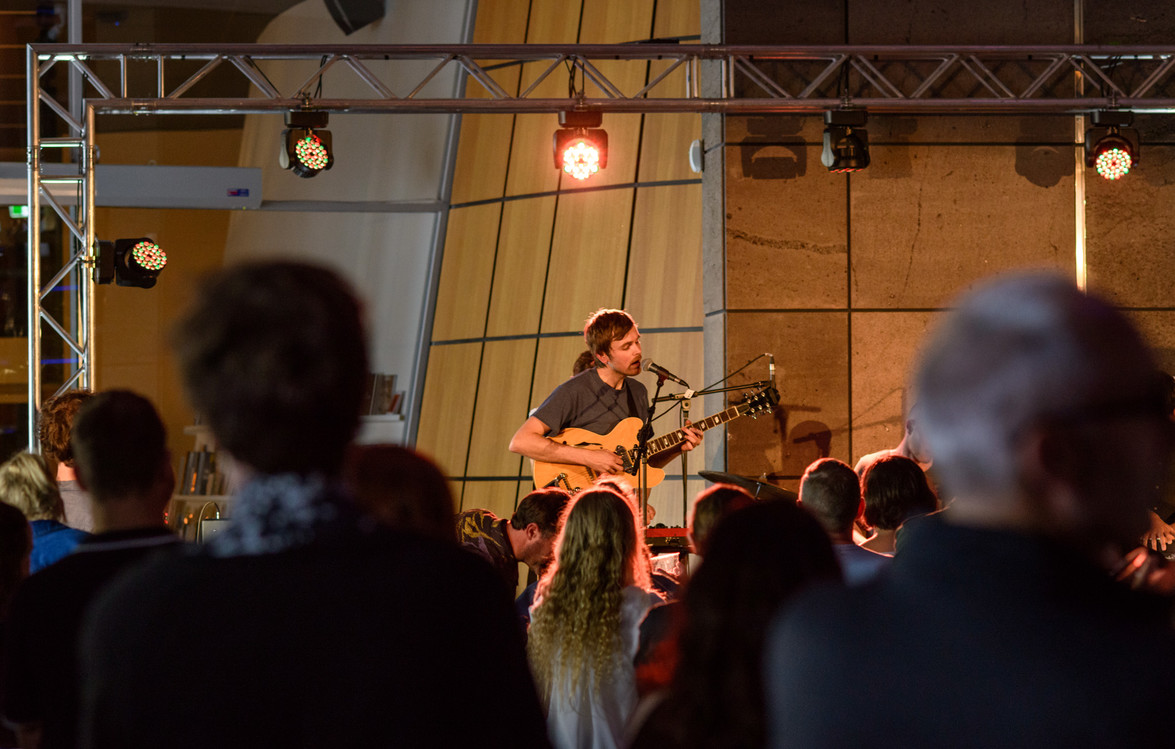 Gallery Happenings: Grayson Gilmour
Note
In early March we were lucky enough to have the incredibly talented Grayson Gilmour performing at the Gallery, supported by the equally talented Purple Pilgrims and New Dawn. I love these gigs, but there is a lot of work to be done behind the scenes to make sure that, by the time the public walk in the door, the foyer is gig ready. The process normally feels like a long, slow marathon with a sprint at the final corner. So here's a guide to how you too can get the NZI Foyer gig-ready in five (or six) easy steps.
Step One: Come up with the idea
I have a pretty qualitative approach to planning events – plainly put, I try to book things I'm enjoying and am excited about, things that I also think other people would enjoy/be excited about. It's so much easier to maintain enthusiasm in the stressful build up to a large-scale public event when you are really passionate about the project. I have been a big fan of Grayson's music since my days at Victoria University in Wellington. He's one of the most exciting musicians working in New Zealand and I'm always pleasantly surprised to hear how his sound has developed with each new album he releases. Buoyed by the success of our gigs with Doprah and Kane Strang earlier in 2016 I had been weighing up asking Grayson if he would be interested in playing at the Gallery for a while. I finally bit the bullet around September, and sent him a very polite Facebook message. He, equally politely, replied that he would be very interested in doing a show with us later that year. Conveniently, he was planning to visit Christchurch in a couple of days, so while he was down he swung past to check out the foyer and its acoustics. We discussed the perks and pitfalls of playing in the Gallery (the acoustics in a foyer full of glass and concrete can be a bit challenging) but Grayson was sure it could work and we were both excited that gig would probably coincide with the release of the new material he had been working on. After this meeting I ran the idea past the Gallery's deputy director Blair and got the big go ahead.
Step Two: Have lots of meetings
Steps two and three are pretty interchangeable but either way meetings and emails are central to getting making sure you get across the finish line. And there are a lot of them. Meetings with other Gallery staff are very important as they ensure the transition from art gallery foyer to music venue is smooth and seamless. They help make sure everyone is on the same page about dates, time, liquor licences, marketing, design, staffing, budgets, filming and who will look after what on the night. The two staff members I depend on most during the meeting stage, and again on the night, are our project coordinator, Vicky (who knows everything about everything going on at the Gallery and is an all-round handy lady who will jump in to help wherever needed), and our functions coordinator, Lynn (who does an incredible job of looking after the running of the bar on the night so I can focus on the music side of things). Meetings with the visitor host team are especially vital, and particularly so for Grayson's gig, because the downstairs galleries were to be open to the public from 7pm until just before Grayson took the stage at 9pm. Gigs, while hopefully fun for the public, can be a bit of visitor host nightmare as no food or drink is allowed in the gallery spaces. We had to ensure the all the open galleries would be adequately staffed to guarantee both the public and the art would have a good night.
Step Three: Send Lots of emails
As I mentioned above, while you are having lots of meetings you will also be sending lots of emails. Sometimes you will even send emails during meetings! Grayson and I exchanged what would amount to a small novella worth of emails before the gig took place. It took us months actually to find a date where the Gallery foyer wasn't already booked that worked for all the members of his band, but we finally settled on a Friday, 3 March 2017. This date was a bit later than what we had originally planned but seemed to be a good fit as the students would be back in the city and the warmer weather is normally a good incentive to get people out of the house. I suggested Purple Pilgrims and New Dawn for the opening acts as both bands create hauntingly beautiful music that complements Grayson's sound really well. More emails were sent and slowly but surely opening acts, liquor licences and bar and security staff were confirmed, flights and accommodation were booked and alcohol was ordered.
Step Four: Social up a storm
Once you're had (most of) the meetings and sent (most of) the emails it's time to start getting the word out. For Grayson's gig I spent a lot of time on Facebook promoting the event through an event page and the Gallery's main Facebook page. I try to make sure I am not posting anything I wouldn't find interesting to read, so I always make sure that each post has a great gif, an interesting link or a music video attached. There is a fine line between reminding people an event is coming up and annoying them.
Step Five: Move lots of heavy things
The day of Grayson's gig, was (as it is for most gigs) manic – a mad dash to pick up the band from the airport and set up a whole sound system and stage while the Gallery is still open (this bit of heavy lifting is normally done by the wonderful team at Strawberry Sound, though I do always offer to help). As soon as the Gallery closes at 5pm there's more heavy lifting to be done, as the foyer furniture needs to be moved out of the way, the Three Boys Bar wheeled out and all the bar stock moved from the fridges to the bar. Simultaneously the bands are sound-checking because there are only two hours to get everything done! If you have worked your butt off during steps two and three like I did, then you'll end up having a great team around you helping make it all happen.
Step Six: Enjoy
When the doors finally opened at 7pm we had a really diverse crowd arrive which was excellent. We always seem to get a really interesting and fun mix of people at gigs we have hosted – some who might come to a gig but not necessarily to a Gallery, and people who come to the Gallery so have decided to check out the gig.
The gig itself went off without a hitch and all three bands sounded (and in the case of Purple Pilgrims looked) incredible. Thanks to Strawberry Sound's lighting the foyer felt even more moody than normal which was really special and worked well with the atmospheric soundscapes of all three acts.
While organising Grayson's gig was a lot of work it was well worth it to see people having a great night out, and to hear his incredible music reverberating through the foyer at twilight. His new single Hundred Waters (which I've been listening to on repeat since it came out) sounded particularly amazing and luckily for those who couldn't make it to the gig, we filmed it.