Event
ReMix
Special events
Past event
Bayleys Knight Frank Foyer
Free
ReMix is a free, festival-style event for 13 to 18 year olds.
Curated by young people from all over Christchurch ReMix is a youth event for young people by young people. A FREE night of artist led workshops, local bands, DJs, a silent disco, retro gaming, and a mini film-festival. This isn't your mother's youth event.
Related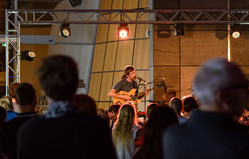 In early March we were lucky enough to have the incredibly talented Grayson Gilmour performing at the Gallery, supported by the equally talented Purple Pilgrims and New Dawn. I love these gigs, but there is a lot of work to be done behind the scenes to make sure that, by the time the public walk in the door, the foyer is gig ready. The process normally feels like a long, slow marathon with a sprint at the final corner. So here's a guide to how you too can get the NZI Foyer gig-ready in five (or six) easy steps.