Event
ReMix
Special events
Past event
NZI Foyer
Free
ReMix is a free, festival-style event for 13 to 18 year olds.
Curated by young people from all over Christchurch ReMix is a youth event for young people by young people. A FREE night of artist led workshops, local bands, DJs, a silent disco, retro gaming, and a mini film-festival. This isn't your mother's youth event.
Related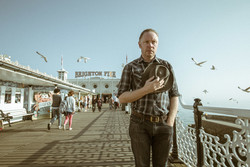 Delaney Davidson brings you his latest Magic Lightbox installation, Ship of Dreams, his latest suitcase of collections from deepest Romania, Hamburg and the salt marshes of Maldon. Using his unique and compelling live music as the soundtrack to his own short films, woven in the style of David Lynch, Bella Tar and Murnau, Delaney transports us into a flickering realm of Grimms fairy tales, Expressionist cinema, Brechtian epic theatre, forgotten values and lost stories. Delaney has set up his show with an incredible cast, including members of Hamburg's esteemed Thalia Theatre, radical photographer Miron Zownir, underground legend Reverend Beatman, long-time film collaborator Chris Martin and emerging playwright and actor Hester Ullyart.
He will also be performing songs from his latest album Shining Day with a hand picked band featuring SJD (who also co wrote songs on the record), friend and collaborator Anita Clark, and multi-talented percussionist Chris O'Connor (Phoenix Foundation).
"A Chillingly Superb Album" Nick Toczek - R'n'R Magazine. UK "A shining example of great songwriting and undoubtedly an album you'll return to often". Karl Puschmann - NZ Herald "..these songs rock, roll, get mud all over them, brush it off and start again." Nick Bollinger - RNZ "I saw him at Womad frighten children.. it was wonderful" Graeme Hill - NZ Herald