B.
It's that man again
Behind the scenes
One of the tasks our enforced closure is allowing us to do is to digitize more of our paper records of exhibitions at the Robert McDougall Art Gallery. We've reached 1962 – something of a golden era for new and imaginative shows curated by Peter Tomory at the Auckland Art Gallery – and sent to the McDougall where they collided headlong with the idiosyncratic curatorship of director William Baverstock.
In 1962 an exhibition of French prints arrived from Auckland containing all the superstars: Matisse, Chagall, Cézanne, Corot, Daumier, Delacroix, Duchamp, Dufy, Gauguin, Ingres, Picasso...
Reviewer Nelson Kenny was very happy with what he described as 'a superb show'. His only quibble was Baverstock's decision to hang next to it a newly acquired New Zealand landscape by Douglas Badcock.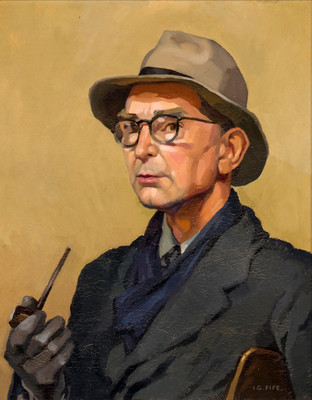 Parking this juggernaut on the French masters' exquisite front lawn 'served only to emphasise its triviality'.
I ask you! Critics? They'll find fault with anything.
Incidentally, the cover of the catalogue of this show used the very same Matisse drawing, Nu au bracelet, that is being used by the Queensland Art Gallery to promote its Matisse retrospective later this year.