Exhibition
Jacqueline Fahey: Say Something!
22 November 2017 – 11 March 2018
Overflowing with love, conflict and quiet despair, Fahey's paintings from the 1970s bristle with the intensity of domestic life.
Before 'the personal is political' became a rallying cry for feminism in the 1960s, artist Jacqueline Fahey began to survey the private realities of New Zealand women, making paintings that challenged accepted archetypes of female experience and 'appropriate' subjects for art. Often painting from the vantage point of the kitchen table, she positioned it as the nexus for the conflicts and complexities of family life. This exhibition reappraises Fahey's most influential body of work, the psychologically charged interiors of the 1970s.
Related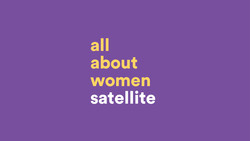 You don't need to be at the Sydney Opera House to experience the main stage action of the annual All About Women event – just watch the livestream on our big screen instead! Be inspired and challenged by remarkable guests discussing the latest thinking on intersectionality, #metoo, Trump, climate justice, and the curious and contested politics of singledom and relationships.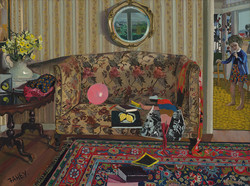 To celebrate International Women's Day, join curator Felicity Milburn as she discusses The Portobello Settee, a recently acquired work by Jacqueline Fahey currently on display in her exhibition, Say Something!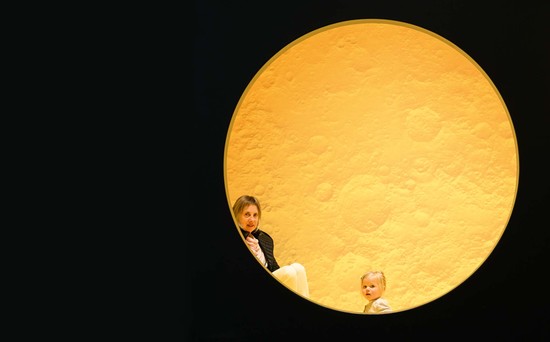 Director's Foreword
As I write this, I'm still smiling with pleasure and pride at the huge success of the Gallery Foundation's fundraising drive for our own work by Ron Mueck. Wonderful in its own right, it's amazing to finish the 2017 calendar year knowing a sculpture by Mueck is now on its way to join the other four 'great works' for Christchurch.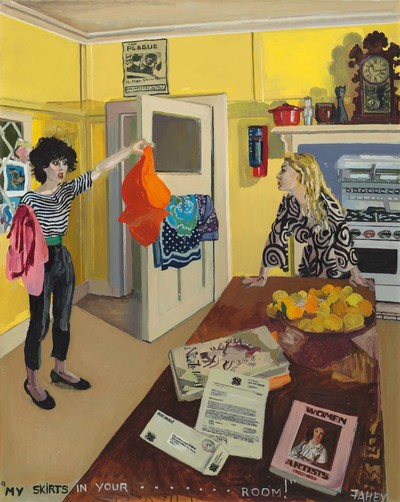 An Undeniable Promise
There is such a burden of expectation placed on Anne's painting, and on the exhibition… itself. I feel, like many women painters that she is being asked to prove an undeniable promise. This is unfair.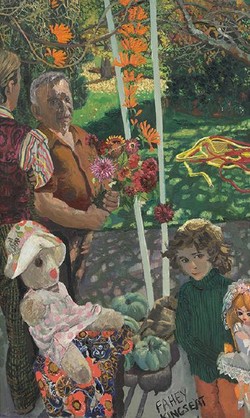 For the exhibition Jacqueline Fahey: Say Something! (22 November 2017 – 11 March 2018) this work was displayed with the following label:
Fahey's husband, the noted psychiatrist Fraser McDonald, held positions at a number of institutions throughout New Zealand, and they raised their three daughters in a series of houses on hospital grounds. In Porirua, the gardens were overseen by a patient, Mr Quickly (also known as Speedy), who had studied at Kew Gardens in England and worked on a royal estate. He supplied the family with a steady supply of produce and fresh flowers. Fahey recalled that she could cope with the flowers but that the fruit and vegetables, which he clearly expected her to make into preserves, showed up her shortcomings as a 'proper' doctor's wife. When the family moved to Kingseat Hospital, near Auckland, Mr Quickly came with them. This painting, a study in warm autumnal colours and dappled shadows, celebrates what Fahey described as 'the light he brought into all of our lives'.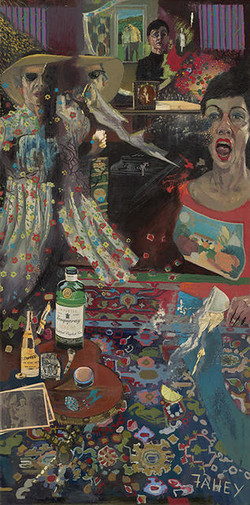 For the exhibition Jacqueline Fahey: Say Something! (22 November 2017 – 11 March 2018) this work was displayed with the following label:
'When Mum first told me not to outstrip my sisters, I felt incensed by her lack of understanding, especially when she was so creative herself. She later decreed that I must devote myself to my children and Fraser; I could no longer put myself first. And so it continued, a futile struggle. Deeply disturbing, and very common between mothers and daughters throughout history. Mothers, out of fear, are determined to confine their daughters, daughters determined to find meaning in life. Genetic matter is repeated again and again, as suggested by the Persian carpet, which rises up to compete with the genetic matter pulsing out of our heads. In the mirror my more compassionate alter ego watches, appalled at my lack of control' - Jacqueline Fahey.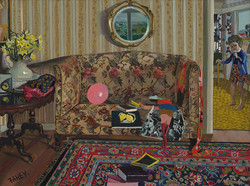 This article first appeared in The Press on 19 January 2018 as 'A settee with hidden depths'.