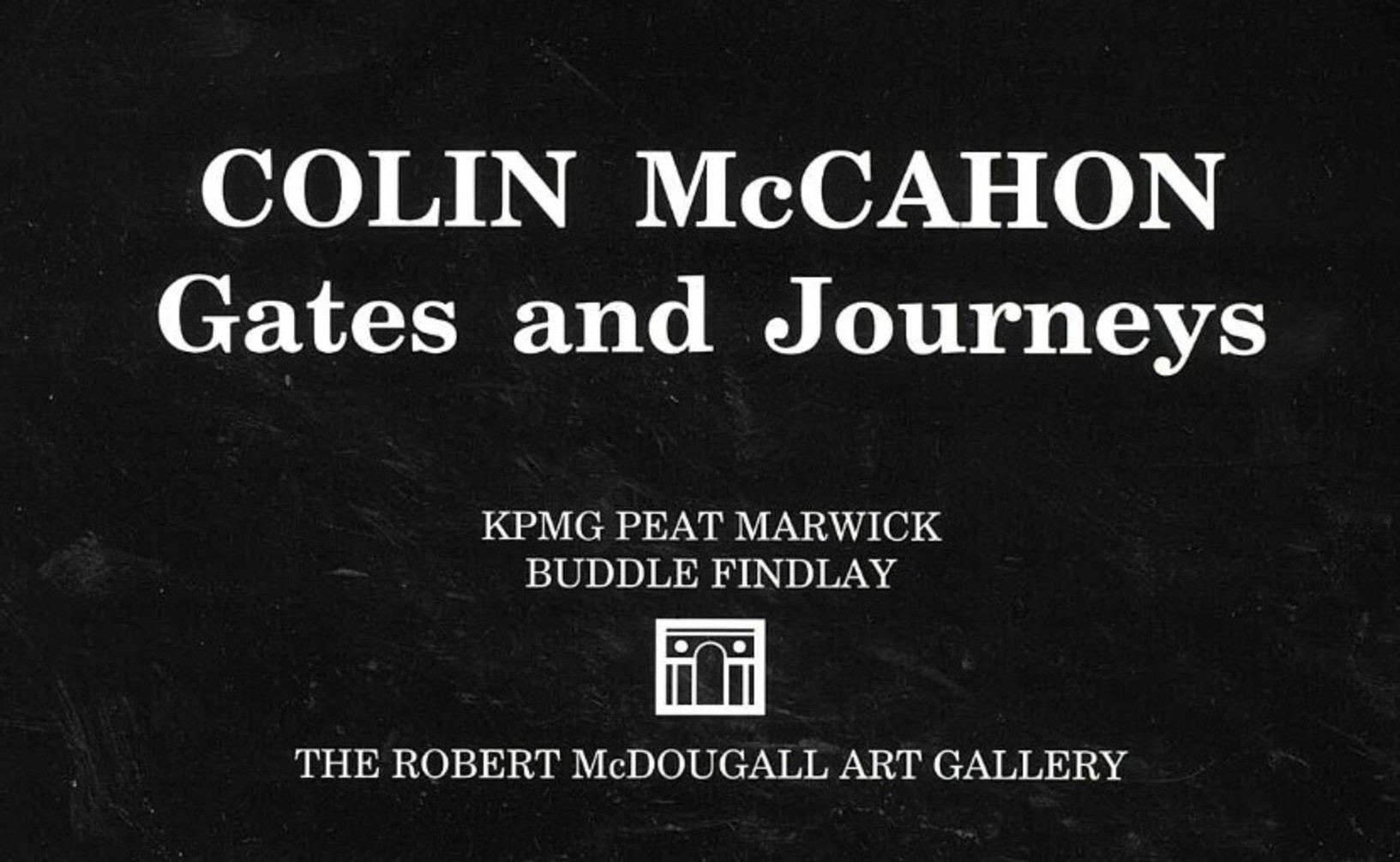 This exhibition is now closed
Our major touring show for 1989, this large exhibition of over 50 works by Colin McCahon is truely a major event of the year. It is a memorial, or tribute to Colin McCahon, New Zealand's great visionary artist of the twentieth century and internationally widely recognised, who died in Auckland in 1987.
Although it is a retrospective exhibition Colin McCahon: Gates and Journeys wisely resists the obvious chronological format. Instead it presents his works in seven separate categories: the early religious works of the 1945-59 period, Landscapes from the South, Titirangi/Kauri, Journeys, Gates, Numbers – Texts and Victory over Death.
McCahon's works have tended to either delight or to outrage. They have always challenged and confronted. His huge black canvases filled with thunderous biblical declarations, personal statements and urgent scrawling calligraphy are among his most widely known and most frequently contentious images. You will recall the levels of public outcry and vilification which greeted the 1961 award of the Hay's Prize to McCahon or the more recent acquisitions to the Gallery's collection of Tomorrow will be the same but not as this is in 1962 or As there is a constant flow of light we are born into the pure land in 1982.
McCahon was an obsessively committed artist. He saw an urgent need to depict the New Zealand landscape as he found it and to put us in touch with the spiritual and bicultural elements of our land. He was also a major catalyst in exposing us to the new techniques of American modernism and he was a brilliant teacher. He was a cultured man with an astonishing knowledge of art and as Ian Widde the art critic writes, "He was immensely ambitious. He was plagued with doubt yet he is to be the greatest discovery of the international art scene since the late Joseph Beuys".
Colin McCahon: Gates and Journeys is therefore a big show in many ways. It will occupy all the exhibition space in our Gallery. Its impact on the local art scene will be tremendous. Within its contents we will have scope to re-examine McCahon's works and personally reassess what we believe it is he's saying. This is a challenging exercise. Some will undoubtedly depart still confused and disturbed, persisting in a degree of mystification and incomprehension. Others will find Colin McCahon: Gates and Journeys a unique path towards an understanding of these fine works by an amazing artist.
This exhibition is the touring segment of the Auckland City Art Gallery's centenary exhibition and was organised with the assistance of the Queen Elizabeth II Arts Council and indemnified by the New Zealand Government. The tour to Wellington, Christchurch and Dunedin is supported by N.Z. Express Removals.
It also comes with an extensive catalogue with four major essays and a well edited biography with selected quotations from McCahon's own writings. We will also be showing a 10 minute biographical slide tape programme and a 52 minute video by Meridian Films entitled 'Victory over Dearth'. Gallery Guides will be on duty throughout the exhibition and will be pleased to discuss the works on view with our visitors.
Sadly, because of the considerable costs of bringing such an exhibition to the city we are in a situation where we will need to ask visitors for a very modest admission charge. Adults $3, Friends, Students and Beneficiaries $2. Considering the equality of the experience offered by Colin McCahon: Gates and Journeys, we know our patrons will agree with this value.
('Colin McCahon: Gates and Journeys', Bulletin, No.65, September/October 1989, pp.1-2)
On October 1, the art historian, consultant and Chairman of the National Art Gallery Council, Hamish Keith O.B.E. opened the Colin McCahon: Gates and Journeys exhibition. The text of his speech can be read in Bulletin No.66.
Date:


2 October – 10 December 1989

Exhibition number:
448
Collection works in this exhibition
5 items