B.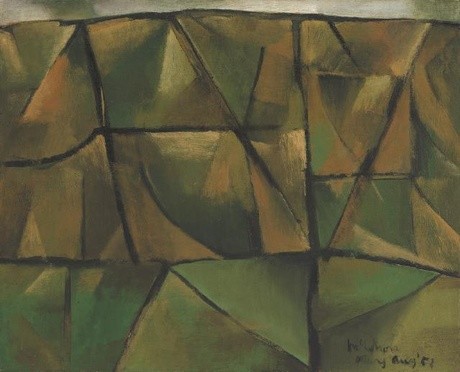 Canterbury Landscape by Colin McCahon
Collection
11 November 2015. Posted by Elizabeth Davidson
In 2014 we purchased an important landscape work by Colin McCahon. Curator Peter Vangioni speaks about this new addition to Christchurch Art Gallery's collection.
'Canterbury landscape by Colin McCahon is the first of his Canterbury landscapes from the period from the late forties until the early fifties when he was living here, to come into Christchurch Art Gallery's collection. McCahon acquisitions have been few and far between in the last thirty years, so it's a significant purchase for us. It's a really important addition to the story of Canterbury landscape painting.
'I've curated one of the Gallery's re-opening exhibitions of twentieth century Canterbury landscape paintings from the collection titled In the Vast Emptiness. There was no Colin McCahon Canterbury landscape in the collection, which was a pretty big gap really. So I found this 1952 landscape for sale and the Gallery negotiated its purchase.
'The painting had been reframed within the last five years, or so I think. The frame was OK, but it had been blinged up a bit and it was too wide for the painting. So we've had a new frame built that's more in keeping with the period and has a kind of austerity, because a lot of McCahon's frames were quite austere back in the day.
'I think the painting is possibly based on a White's Aviation photograph of North Canterbury. So he's looking down on the Canterbury plains which stretch across the canvas and there's just a thin horizon line there, which is why we've had to float the canvas in the frame, because if you set it in a rebate (the recess where the picture fits into the frame) you'd lose a lot of that top part.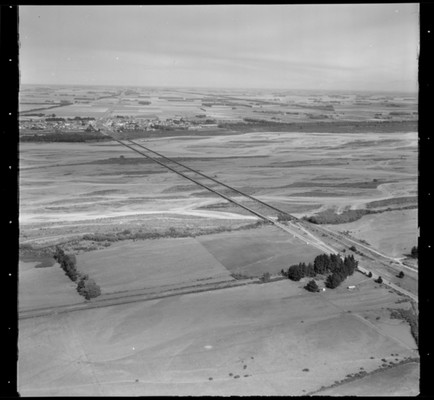 'The work is interesting because the Canterbury landscape has been cut up into sections and fragmented by these black lines which could represent shelter belts. McCahon had recently been in Melbourne and had studied under Mary Cockburn-Mercer, who in turn had studied under the cubists in France in the 1910s. That ignited his interest in cubism, and he came back here and suddenly he was painting the Canterbury landscape in a cubist manner. This work was painted in 1952 and he painted the triptych On Building Bridges that same year with the Canterbury landscape rendered in this style in the background. Then he moved to Titirangi in 1953 and went totally cubist up there, painting kauri trees and the Waitakeres. So these Canterbury landscapes are a turning point in his career.
'I think it's fascinating that before we got There is only one direction in 2013, the last McCahon the Gallery purchased was almost thirty years ago in 1982. The Gallery buying McCahons has been fraught over the years. On two occasions in the 1960s a gift of a McCahon painting to the Robert McDougall was rejected as not suitable or appropriate for the Gallery's collection, although one of the works, Tomorrow will be the same but not as this was eventually begrudgingly accepted. When director John Coley purchased As there is a constant flow of light in 1982 he was widely vilified by people who could see no merit in the work. A local radio station even invited people to paint McCahon look-a-likes and planned an exhibition of them. In the last three years we've acquired three McCahon paintings. It's good to see him better represented in our collection, though there is still a large gap, the elephant that isn't in the room, and that's a late period black and white word painting on un-stretched canvas. One day…'

Related reading: Colin McCahon, In the Vast Emptiness, McCahon and van der Velden