Event
The Mix: Razzle Dazzle
Special events
Past event
Bayleys Knight Frank Foyer
Free
It's the last Mix of 2017, so get ready to get down on November 29th! Get your glad rags on and bust out your dancing shoes for a FREE night out including a dance class with Shut Up and Dance, a rundown on what 2018 holds for the Royal New Zealand Ballet with Frances Turner, DJs, art tours, pop-up bars and food trucks.
5pm - 9pm Food Trucks, Pop Up Bar and DJs

6:30pm - 2018 for the Royal New Zealand Ballet
(Philip Carter Family Auditorium)

Frances Turner (Executive Director, Royal New Zealand Ballet) and David King (Corporate Affairs Manager, Ryman Healthcare)

Frances was born and raised in the USA, graduating from Penn State University with a Bachelor of Science Degree with a major in Accounting. She has lived in New Zealand since 1993 after relocating from Washington DC. Frances entered the arts administration world after performing as a dancing extra in King Kong in 2004. There she met and worked with some of NZ's leading contemporary dancers, and since then she has been privileged to combine her business skills with her passion for the arts. She was the General Manager of the Tempo Festival, and was co-founder (with Shona McCullagh) and General Manager of The New Zealand Dance Company. Most recently Frances' work as a strategic arts consultant has been around helping arts businesses develop and implement strategic plans. Most recently she has worked with Wellesley Studios, and the collaborative team Theatre Stampede and Nightsong Productions.Frances studied ballet when she was young and has been a lifelong lover of ballet. Being able to combine all aspects of her career and her passion for that ballet, she says that her role as the Executive Director of the RNZB, a world-class ballet company, is a dream come true.
David King joined Ryman Healthcare in 2013 following a 21-year career in journalism in New Zealand and the UK, which included editing and senior management roles. His late father and his mother were diagnosed with Alzheimer's disease, so the care of older people is a subject dear to his heart. He has lived in Christchurch since 2001 and is married to local writer Natalie Anderson, and they have four children. He worked at The Press for seven years, and his son Henry was the 100,000th visitor to the Ron Mueck exhibition at the gallery in January 2011.

6:30-7:30 James Dann DJ set (NZI Foyer)
7:15 Gallery Tour (meet at front desk)

7:45pm Shut Up and Dance FREE class with Live DJ set by Instant Fantasy
(NZI Foyer)
STOP TALKING. START SWEATING.
Get excited Christchurch cause Wellington's Shut Up and Dance are heading to the Gallery for a very special FREE class as part of the Mix: Razzle Dazzle (accompanied by a live DJ set from the one and only Instant Fantasy)! Shut Up & Dance are the first class in New Zealand to offer dance fitness classes inspired by your favourite films, musicals and music videos. Brought to you by a three lady crew: Abby, Clair and Lesa, Shut Up & Dance came about when they realised that Wellington life didn't offer Beyoncé dance classes. Apart from their bedrooms and Boogie Wonderland, there didn't appear to be anywhere else for uncoordinated fools to feel like they could moonwalk like Michael, drop it like Beyoncé and groove like JT. Now they offer nearly 10 courses in New Zealand with plans to take over the world!
So if you think you've got two left feet, or have always been that kid that kept getting the 'Most Improved' award, then Shut Up & Dance is probably for you! They welcome all ages, all fitness levels, all genders and coordination or previous dance experience is not necessary. Who cares if you move your hip the opposite way? The person you just elbowed on your right will be laughing to hard to notice!
Wear whatever you're comfortable moving and sweating in if you wanna go hard, or something razzly and dazzly if you just wanna get your groove on!
Related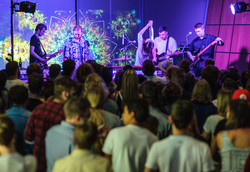 Now's your chance to help create a cool event for you and your friends!
The Mix is Christchurch's Art Gallery bi-monthly late-night event – an interactive mix of art, music, film and good people. We want to run a Mix designed, curated and for under 18s – ReMix.