British, b.1756, d.1823
Mrs Barbara Walker of Bowland
1819
Oil on canvas
Presented by the Walker family, 1984
1190 x 990 x 115mm
79/281
About the artist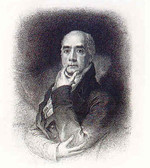 Engraving by William Nicholson, after Raeburn's self portrait in the National Gallery of Scotland.
The 55-year-old Alexander Walker (1764–1831) and his wife Barbara (née Montgomery, 1770–1831) commissioned Scotland's leading portraitist, Henry Raeburn, to paint their portraits in 1819. They had married eight years earlier; shortly after Alexander's retirement from over thirty years' service with the East India Company – mostly in India – and had two young sons. Alexander had one final Company role before him, that of Governor of St. Helena from 1823–28.
Two of their grandsons, William Campbell Walker and Alexander John Walker, immigrated to New Zealand in 1862 to farm in Canterbury; William later became Minister of Education. These impressive ancestral portraits were presented by descendants in 1984.
(Treasury: A Generous Legacy, 18 December 2015 – 27 November 2016)
earlier labels about this work
The subject of this portrait is Mrs Barbara Walker, formerly Barbara Montgomery, daughter of Sir James Montgomery and wife of Major, later Sir, Alexander Walker whom she married on 12 July 1811.

Her husband began his military service with the East India Company in 1780 and had a distinguished career before returning to Britain in 1810. From 1823 to 1828 he served as governor of St Helena and was soon after knighted.

The artist Henry Raeburn was one of Edinburgh's most celebrated painters. By the early 1800s he was in great demand for his broad, individual virtuso style of painting. He had no rival in Scotland in his lifetime and painted men and women who were prominent personalities in the vigorous Scottish society of his day. (Label date unknown)

The subject of this portrait is Mrs Barbara Walker, the wife of Major, later Sir,. Alexander Walker whom she married in 1811. The couple had an estate at Bowland, near Galashiels in Scotland, to which they retired in 1825. Henry Raeburn was one of Edinburgh's most celebrated painters and was in great demand for his broad, individual style of painting. Mrs Walker's direct gaze, and the relative plainness of her empire style silk dress and jewellery, focus attention on her face and her obviously serious and straightforward personality. Born in Edinburgh, Raeburn's parents both died when he was six and he was put into an orphanage. In 1772 he was apprenticed to a jeweller and goldsmith and remained with him until 1778, but all the while developing his talents at portraiture. Raeburn moved to London in 1784 where he spent time in the studio of Sir Joshua Reynolds. He became an Associate of the Royal Academy and exhibited there from 1792 to 1823. He was knighted in 1822. (Label date unknown)
Related reading: Treasury: a generous legacy