1942
Watercolour
Lawrence Baigent / Robert Erwin bequest, 2003
400 x 300mm
2003/58
A keen gardener, Rita Angus painted flower studies throughout her career. During the 1940s in particular she painted some very elegant and botanically exact works such as Irises. Her flower studies allude to the symbolic meanings of flowers, a common feature of Medieval and Renaissance art. She often included flowers in her portraits to represent their associated meanings. The iris stands for faith, wisdom and hope. Angus was born in Hastings. She studied at the Canterbury College School of Art from 1927 to 1933. In 1930 she married Canterbury artist Alfred Cook and, although they separated in 1934, she signed her work 'Rita Cook' until 1941. She lived and worked in Christchurch until 1955 when she moved to Wellington. In 1958 Angus was awarded an Association of New Zealand Art Societies Fellowship, which allowed her to visit England and Europe.
Related reading: A Room of One's Own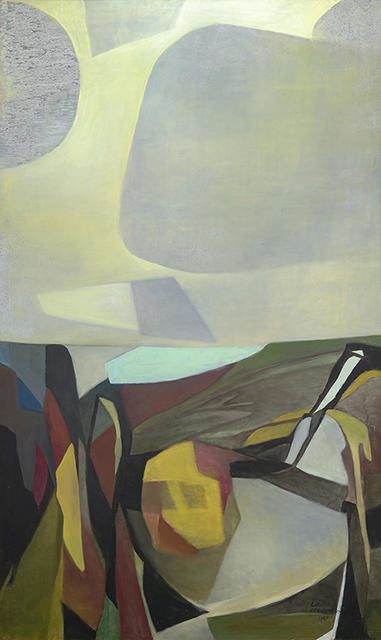 At a time in her career when many might have expected her to slow down or even retire, French-born Louise Henderson embarked upon one of her most ambitious creative projects. The Twelve Months distilled her impressions of her life in Aotearoa New Zealand into a dozen tall canvases, filtering the rhythms of the year through her 'abstract poetic of nature'. Borrowing their proportions from the elegant 'double square' of her studio windows, they combined two important aspects of her practice: the all-seeing viewpoints and organisational principles of cubism and the ability to use colour to evoke both form and atmosphere. Often inspired by the view through her window, Henderson manipulated a complex set of variables, considering how the seasons affected the weather and landscape, the changing light and position of the sun, and the fluctuating activities, rituals and moods of people in both the city and the countryside.
In the 'winter' months, June and July, Henderson skilfully balanced colour, form and movement to evoke rain-laden clouds, drenched fields and cold, boisterous winds.