2007
Tea, ink, watercolour and plant material on paper
Purchased with the support of Coffey Projects, 2007
190 x 286mm
2007/065.a-g
Zina Swanson's precise, yet poetic painted drawings call attention to the delicacy and vulnerability of nature. Plant matter, insects and other tiny objects she collected over several years take fresh life in brushstrokes that range from feathery to forensically precise. Zina's interest in her personal – and our human – relationship with the natural world led her to imagine a strange form of cross-species rehabilitation, where wilting forms are supported, a cutting grows the feet of a bird and processed timber receives new prosthetic roots. Her latest painting recounts an early foray into collecting, when she salvaged a discarded stick so large it had to be cut into three and reassembled in her studio. In an associated poem, she wrote: Making them part of my life, by making them part of my paintings Making a special shelf for them in my studio The collection keeps growing.
(Perilous: Unheard Stories from the Collection, 6 August 2022- )
Related reading: A Room of One's Own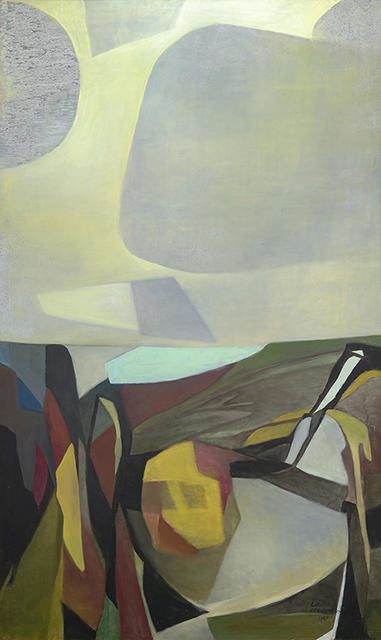 At a time in her career when many might have expected her to slow down or even retire, French-born Louise Henderson embarked upon one of her most ambitious creative projects. The Twelve Months distilled her impressions of her life in Aotearoa New Zealand into a dozen tall canvases, filtering the rhythms of the year through her 'abstract poetic of nature'. Borrowing their proportions from the elegant 'double square' of her studio windows, they combined two important aspects of her practice: the all-seeing viewpoints and organisational principles of cubism and the ability to use colour to evoke both form and atmosphere. Often inspired by the view through her window, Henderson manipulated a complex set of variables, considering how the seasons affected the weather and landscape, the changing light and position of the sun, and the fluctuating activities, rituals and moods of people in both the city and the countryside.
In the 'winter' months, June and July, Henderson skilfully balanced colour, form and movement to evoke rain-laden clouds, drenched fields and cold, boisterous winds.