Exhibition
Rita Angus: Life and Vision
6 March – 5 July 2009
This major exhibition of the works of Rita Angus, created by the Museum of New Zealand Te Papa Tongarewa, will be at the Christchurch Art Gallery Te Puna o Waiwhetū for 17 weeks in 2009.
Rita Angus is widely regarded as one of the leading New Zealand artists of the twentieth century. Rita Angus: Life & Vision features 141 works drawn from public and private collections throughout New Zealand.
The exhibition reveals the full scope of Angus's work throughout her career, both in her subject matter and in the recurring themes of identity, spirituality, and nature central to her work.
The exhibition includes a diverse range of works, from iconic paintings such as Cass, Rutu and Flight to lesser known oil paintings, watercolours and drawings, sketches and preparatory studies and unfinished works.
Exhibition number 822
Exhibition number: 822

Exhibition Supporter
Related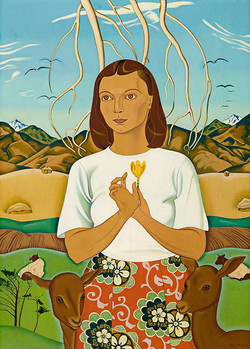 The Canterbury landscape was violently shaken by the sequence of earthquakes that began in the dead of night on 4 September 2010. Parts of the vast Canterbury Plains, including the reclaimed swampland that Christchurch was built on, were literally ripped apart, while many of the volcanic outcrops and cliff faces on Banks Peninsula shattered and fell. Memories of those scenes provide a stark contrast to the serene, idealised Canterbury landscape watched over here by Rita Angus's A Goddess of Mercy, with its green and golden pastures, ploughed fields and foothills extending to the mountains beyond. Radiating peace, order and oneness with the landscape, it offers a reassuring vision after the uncertainty, stress and loss of living through the earthquakes.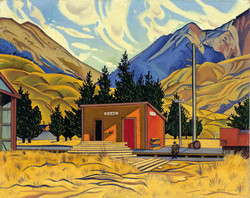 In 1930s New Zealand there was wide discussion about what was unique about the New Zealand situation; what it was that made us different from the rest of the world. Artists and writers began exploring ways to identify our national identity. A number of artists began painting the Canterbury High Country, most famously Rita Angus and her landscape painting of the railway station at Cass. One reviewer in 1936 observed that there was a new quality in the landscapes exhibited in Christchurch that seemed 'to consist in a removal of the romantic mists which used to obscure mountains and the Canterbury countryside generally. The light now is clear and hard, the colours are in flat planes, and the effect is of seeing the country through a gem-like atmosphere. There is also a new romantic standpoint – an insistence on the isolation and brooding loneliness of the hills.' It's a statement that certainly rings true with the Canterbury paintings of Rita Angus, Leo Bensemann, Louise Henderson, Rata Lovell-Smith and Bill Sutton.
(March 2018)