B.
Zipp by Frances Hodgkins
Collection
'I can't tell you the horror of the Blackout and the effects on your nerves - the want of ventilation at night is very tiring - perhaps the nastiest part of it all.' - Frances Hodgkins in a letter to her brother, William.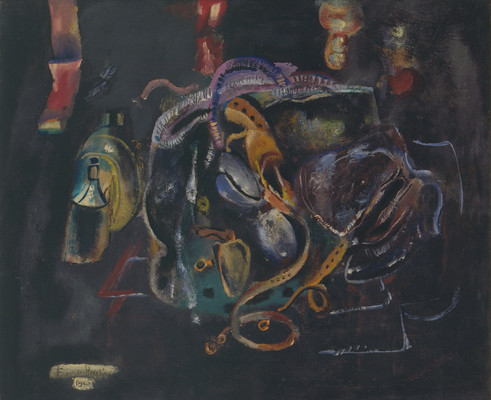 Frances Hodgkins was born in Dunedin on April 28, 1869, to a family of practising artists. Her father, William Matthew Hodgkins, was a watercolourist and prominent figure in Dunedin's art circles, and her elder sister, Isabel Field, nee Hodgkins, exhibited along with Frances in art societies throughout New Zealand in the 1890s.
Frances left New Zealand permanently to settle in England in 1913, and made a career for herself as a professional artist, rating among leading contemporary British artists of her time.
When war broke out in September 1939, Frances Hodgkins was 70 and nearing the end of a painting career stretching back to the early 1890s. Suddenly the quite village of Corfe Castle in Dorset, where she had her studio, was overrun with troops and heavy military traffic as the British war machine swung into action. She found it increasingly difficult to cope.
By June 1942 the effects of the heavy convoys had caused the stone roof of her studio to weaken, and part of it slide into the courtyard below.
Coastal gunfire and artillery practice rattled the large windows of her studio, and Frances worried that it would be requisitioned for troop accommodation or house refugees from the cities, as it was during the First World War.
Frances sought refuge at The Croft, the country retreat of one of her patrons, Geoffrey Gorer, in Somerset. Gorer also provided Frances with the Croft's caretaker, Annie Coggan, who with her daughter Nancy undertook domestic chores allowing Frances to continue painting.
Peace at The Croft was short-lived, however, as German bombers began flying overhead on their way to bomb towns in the north-west. In a letter to her brother, William, she commented "this new pilot horror makes us feel rather desperate, especially at nights - overhead both day and night doing their damnedest to keep one awake and guessing - you no doubt wonder why I stay? So do I."
Frances and the Coggans would often shelter under the stairs of the two-storeyed cottage at the sound of approaching aircraft. At one stage a landmine fell on a neighbouring farm, narrowly missing the Croft. In early 1941 The Croft was used to house evacuees from London, and this continued throughout the war. Frances returned to Corf Castle, visiting The Croft periodically. On one of these visits she had some clothing stolen by a family of evacuees. According to Nancy Moore (nee Coggan) it is these clothes which inspired the subject of Zipp.
The subject matter in Zipp is a still life of her stolen clothing, including a belt and shoes, heaped in a pile.
The dark sombre background in this work, and others from this period, reflect the depressing experiences that wartime Britain had on Hodgkins. Apart from the effects of constant wartime noise, there were also shortages in basic essentials, such as food, clothing, and heating.
Heating supplies were particularly difficult to acquire and led Hodgkins to abandon her studio during the winter months, as she was unable to heat it, and suffered badly from chilblains on her hands.
The war had a profound effect on her mental and physical health: even the blackout reshaped her vision of the world. Zipp was painted two years before her death in May 1947.
It was first exhibited at the Artists of Fame and Promise Exhibition held at London's Leicester Gallery in July and August, 1946. It was brought from a London collection in 1979 by former Robert McDougall Art Gallery director T. L. Rodney Wilson. From 1979 to 1981 Wilson actively sought Hodgkins' work for the gallery's collection and obtained four oil paintings and one gouache during this period.
Peter Vangioni