Quiet invasion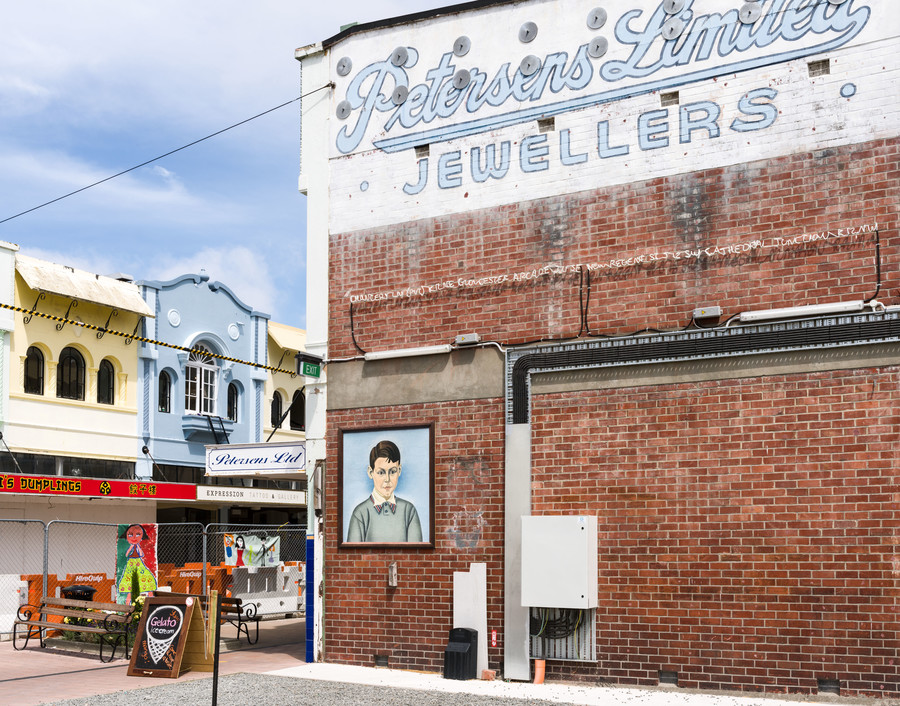 The idea of peppering the vestigial city centre with portraits from the collection became part of the Gallery's tenth birthday POPULATE! programme, intended to remind all of us that the collection is, indeed, still here and in good shape.
The city's art collection has become something increasingly elusive and rare in this last while: a part of our visual culture and heritage that hasn't completely disappeared – this despite the fact that it remains hidden away. Seen against this background, the Faces from the Collection project was to be about rediscovery and surprise. Not a difficult brief perhaps in a city that now holds such a strong sense of entering the unknown. Large, high-quality reproductions of faces and portraits – mostly oil portraits as it happened – were to be strategically placed on empty walls around the city centre in order to reinstate a sense of human presence and to offer connections between the present and past. With invaluable support from Life in Vacant Spaces and Christchurch City Council's Transitional City project, we spied out vacant lots, surviving buildings and newly exposed walls, looking for sites that offered a communicative match. Landowners were traced and contacted, and permissions politely sought. Some seemed to have vaporised – they simply couldn't be found. The project also became slightly competitive, with ideal spaces being eyed up by similarly motivated groups working to activate the central city. And we met the challenge of walls and spaces that we'd been ready to work with vanishing, turned into rubble and carried away. The job became easier once we accepted that not every attempt would work: overall, our strike rate wasn't terrible.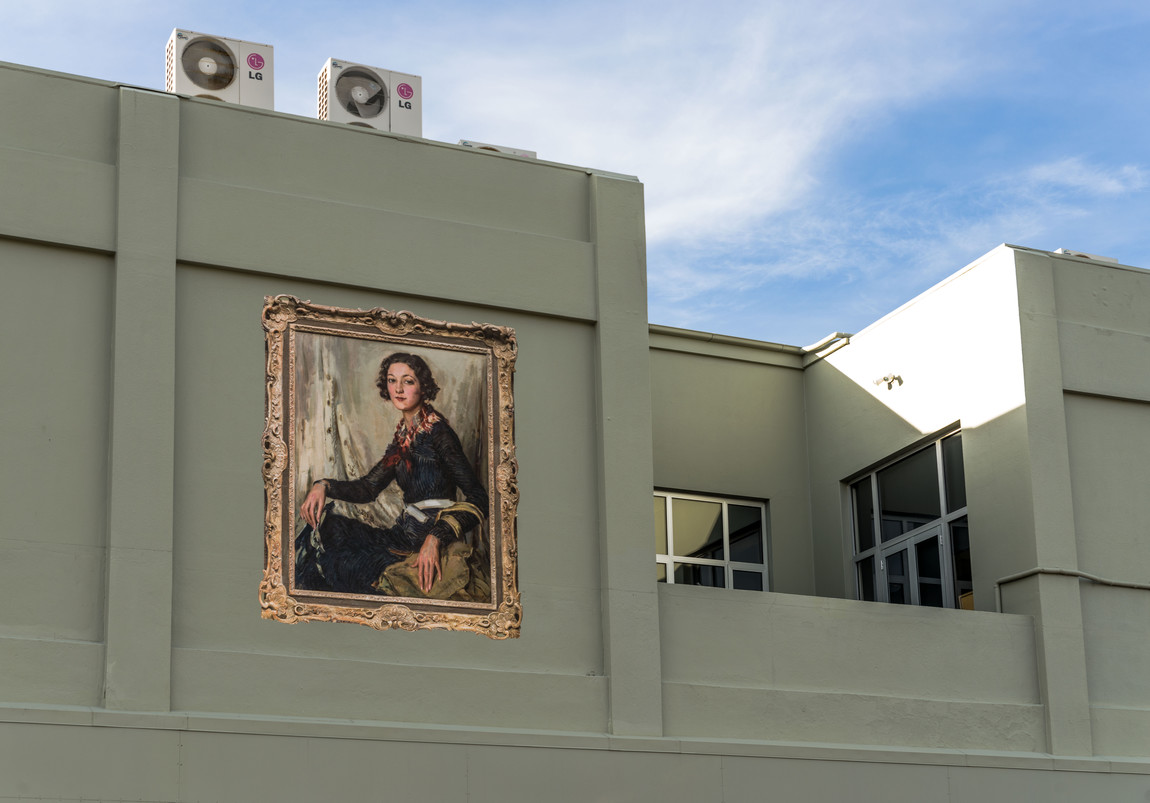 In seeking to reinforce the idea that the paintings are objects and more than purely images, we decided that, where possible, they would be reproduced in their frames, offering a possible trompe l'oeil effect when positioned on a wall. The first of these, in an elaborate gilt frame, was Elizabeth Kelly's oil portrait Margaret (c.1936), applied to a blank wall in Cashel Street's Re:START Mall not far from the Bridge of Remembrance. With her accessorised tent, rucksack and fishing rod, the model was well suited to this moment – a Christchurch woman able to add presentability and assurance to practical survival skills. Kelly had spotted the young Margaret Hatherley working in the art department of Beath's department store, not very far from here. Her likeness has been enjoyed in its new location, not least by the artist's grand-niece, who became inspired to add another portrait to the city's art collection with the gift of a striking plaster bust of Kelly's sister Laura, modelled in the late 1890s when the artist was still at the Canterbury College School of Art. It's a work we'll look forward to unveiling.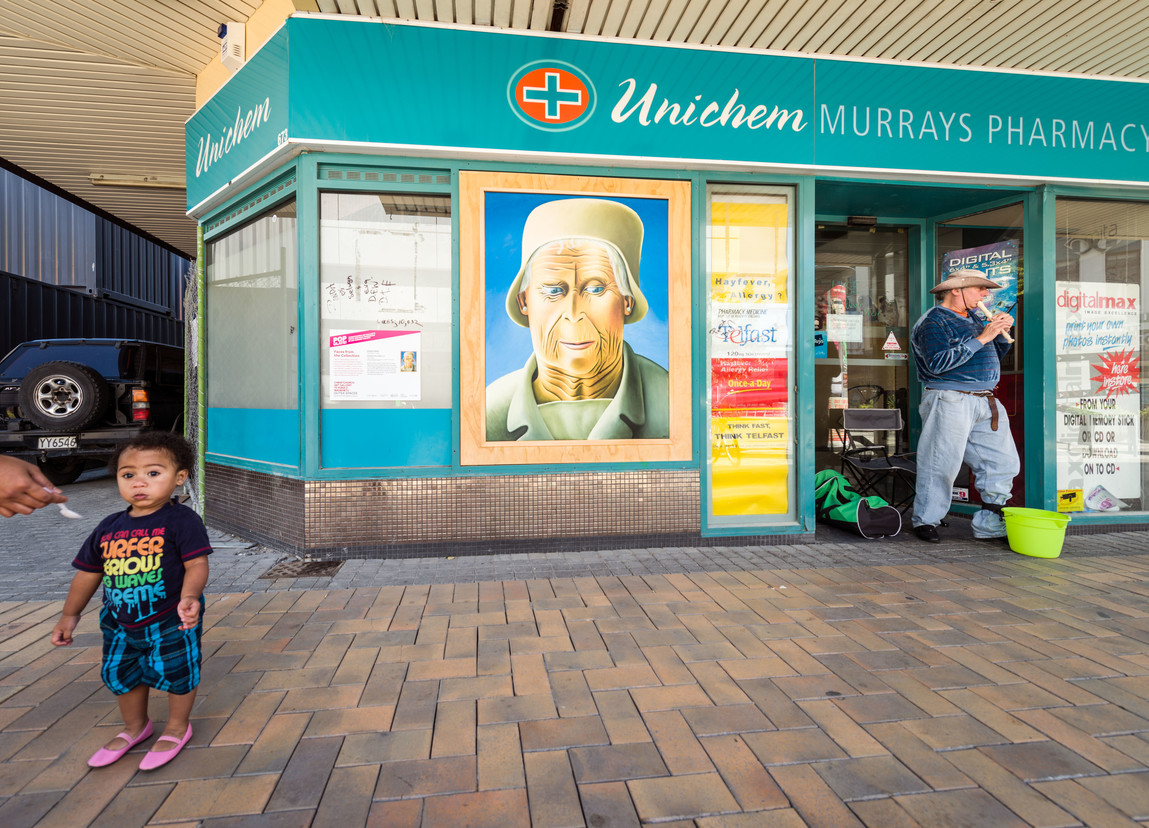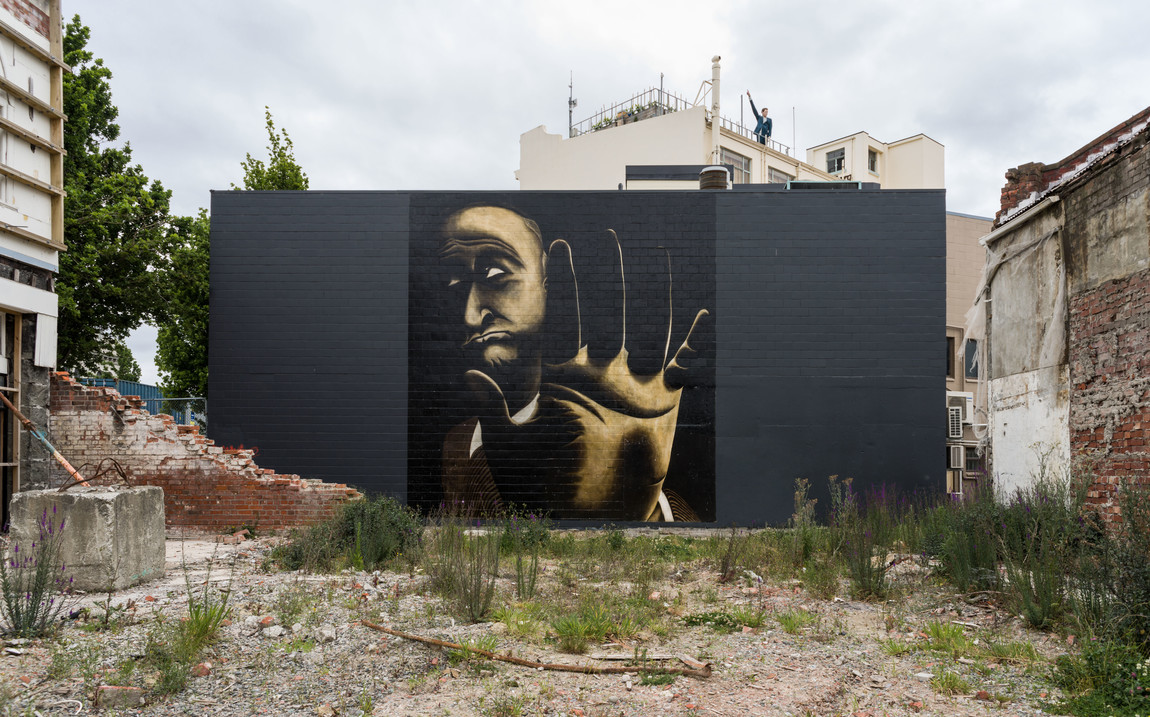 Michael Smither's Portrait of my mother (1972), the helmeted archetype of an earlier generation, offers a surprise encounter on an abandoned pharmacy on the corner of Cashel and Colombo streets. In this site, she appears the well turned-out older customer, denied her pills and lotions and forever awaiting opening time. Not far away, on a wall between High, Tuam and Manchester streets, Tony Fomison's No! (1971) is shouted large. An image originally sourced by the artist from a grainy press cutting, in the midst of this brokenness and carnage it could be open to any kind of interpretation, but seems to belong very neatly to now. A bit further down Manchester Street, Harry Linley Richardson's Cynthia's Birthday (1926–7) sings a sombre tune. The artist's children have never appeared excessively excited, rather stunned into silence, but now their state is closer to psychic shock. The cake has three candles; this work was put in place on 3 September 2013, three years minus one day after the first big shake. It's her party and we'll cry if we want to.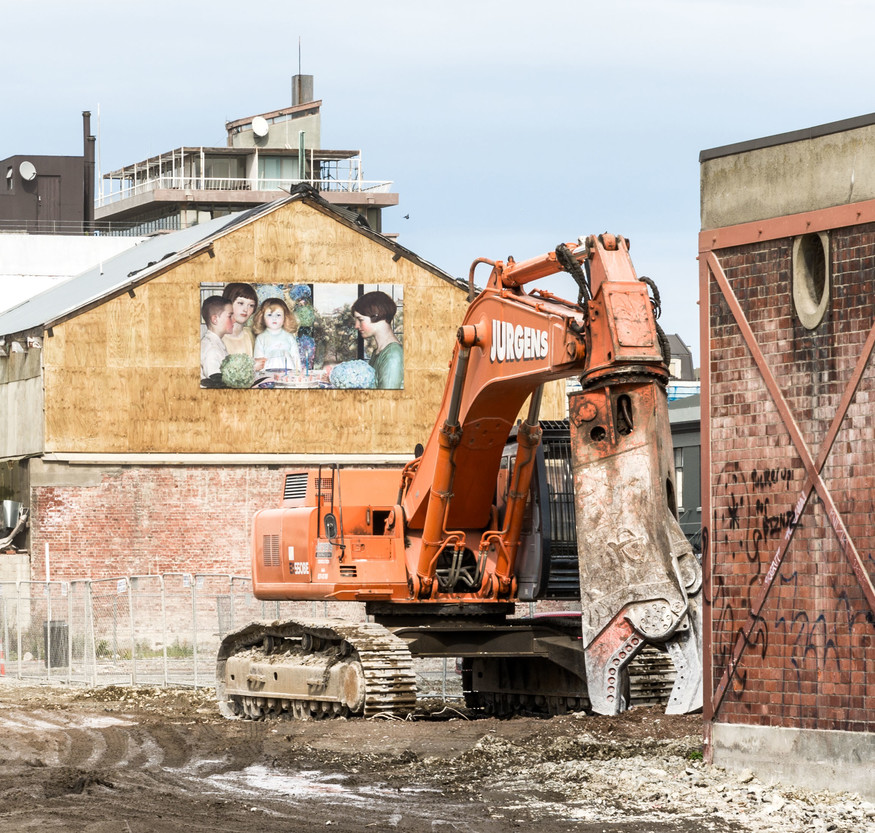 Slightly more chipper and with a crisper, more modern edge, Rita Angus's Portrait of O'Donnell Moffett (1930s) presents to us a bright-eyed boy with a great name and a cowlick. He looks at home under the old Peterson's Jewellers' sign in the miraculously intact, recently reopened New Regent Street. George Henry, a Scottish artist, offers an unexpected and lesser-known work, The Black Hat (c.1910), on Cashel Street, east of Manchester. With its sumptuous gold frame, this confident society beauty provides a rare moment of decorative elegance – a mode and standard that no longer exists. For some reason, it's at this point that I start to ache for those quiet gallery spaces with their well-arranged, carefully lit walls.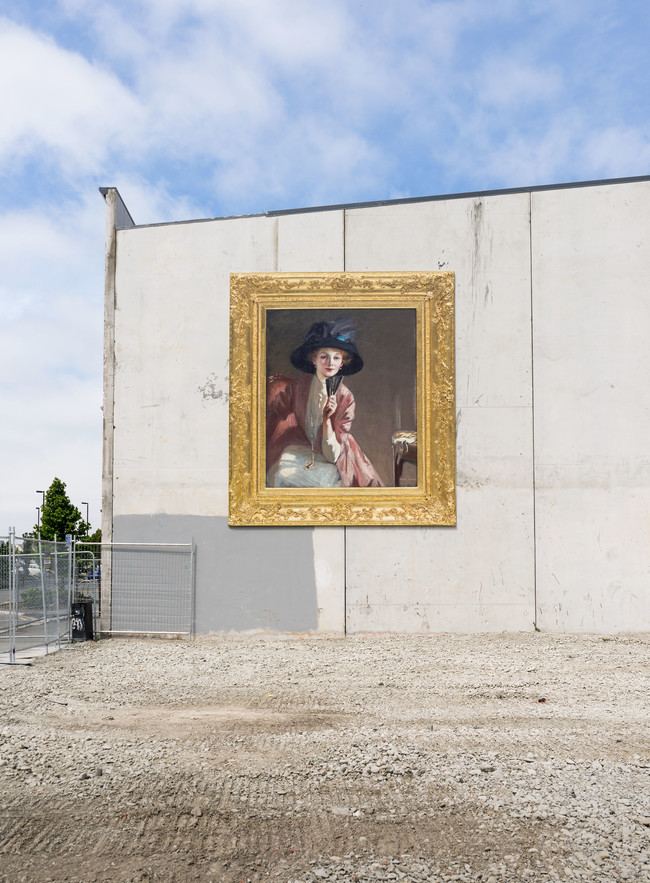 It's nearly time to return home, but perhaps not before taking a flutter with William Nicholson's H.M. The Queen (1899). Possibly teetering slightly, she has been more than welcomed to the playing-card walls of Christchurch Casino, planted firmly at the edge of the reviving Victoria Street precinct. Together, the portraits seem to chart the city's recovery progress. Raymond McIntyre's Suzette was reproduced at exactly life size, with her frame, positioned on the Gallery's south east corner on Worcester Boulevard (shown here on the day the 'red zone' officially ended and the army exited stage left out of town). The wall is now hidden behind the white-painted hoardings that surround the Gallery, and that later this year will receive a generous new assortment of faces from the collection. We're claiming the people focus back for this space, and want to clearly stake out that this is where the locus of activity will be.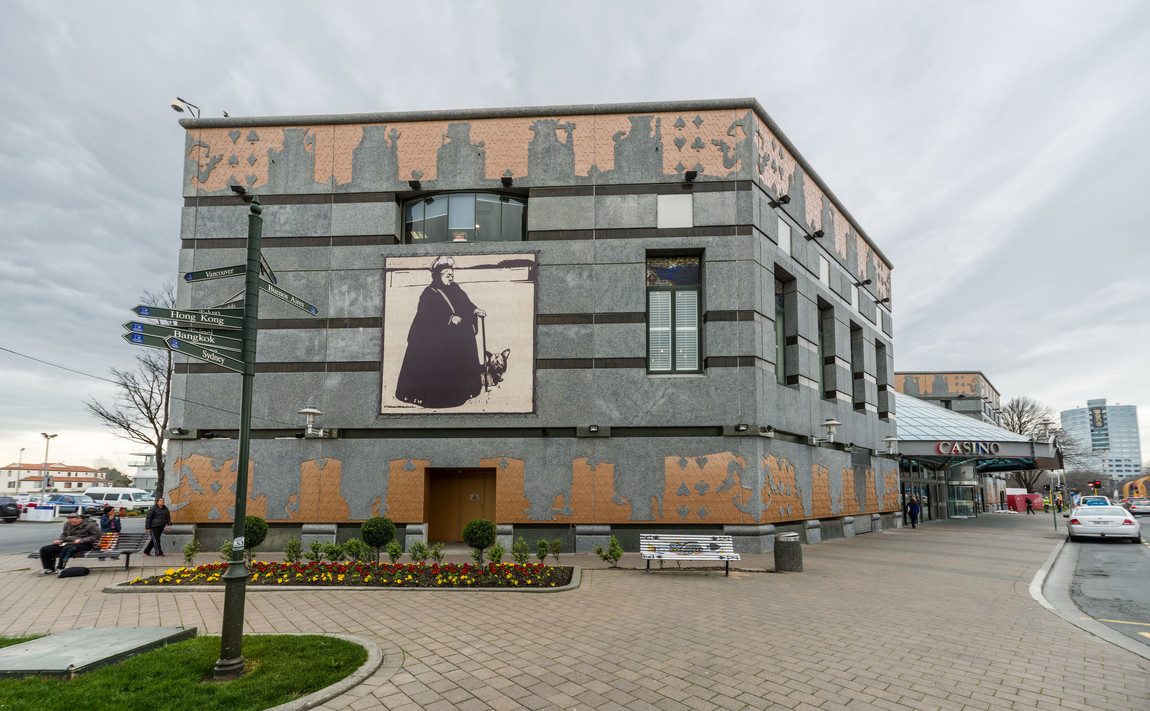 Faces from the Collection was installed as part of the POPULATE! programme throughout the city from 10 May 2013.