B.
Earthquake Momento
Behind the scenes
22 February 2014. Posted by Peter Vangioni
The latest issue of Photoforum's MoMento journal (issue 14, January 2014) focuses on the work of three photographers with strong ties to Christchurch and their haunting images of this battered city post February 22, 2011.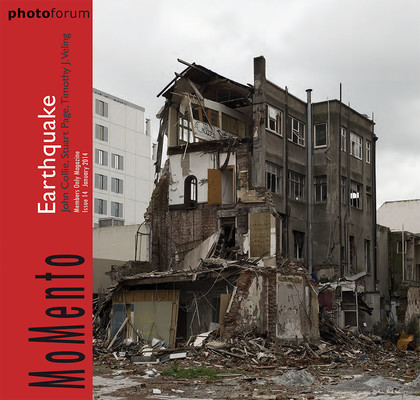 Three photographers, three quite different views of Christchurch post the earthquakes, three years on since the 22 Febraury earthquake. I found the photographs in this publication quite moving and the title of PhotoFoum's journal, MoMento, appropriate as this issue makes a most welcome memento of those fricken earthquakes and the devastation of the city that resulted.
The choice of photographers is spot on. From John Collie's war zone like images of Christchurch's inner city streets that once thrived with people, Stuart Page's images of people on the street getting on with life amidst all the ruin, destruction and at times infuriatingly chaotic traffic flow and Timothy J. Veling's seemingly post apocalyptic images of abandoned and decaying suburban Christchurch. In Febuary 2014, three long years on since the big shake I find this issue of MoMento a a timely reminder of what this town has been through.
Related reading: Earthquake