B.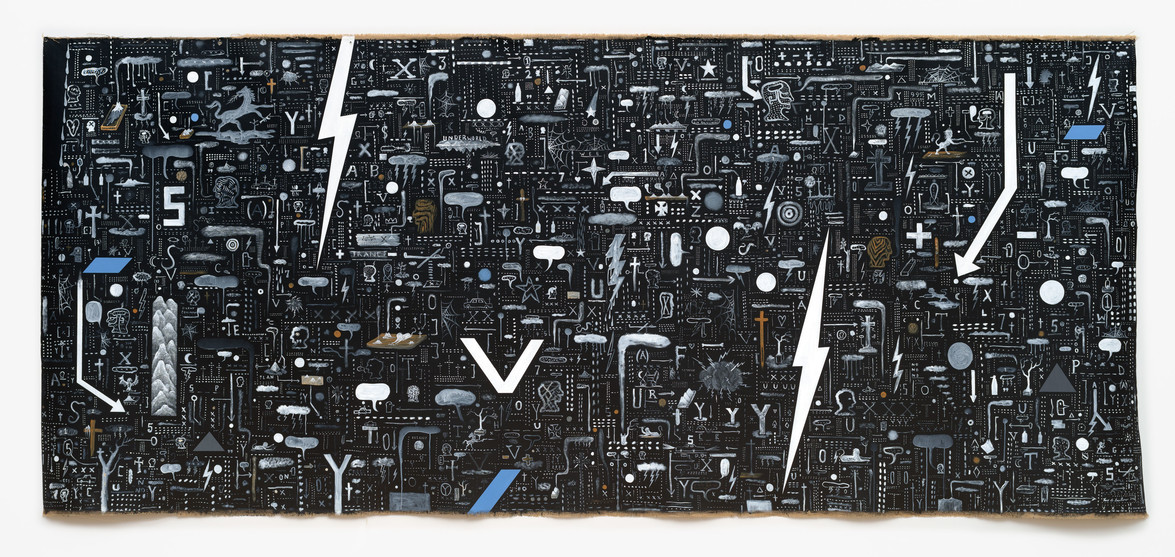 Underworld 2 by Tony de Lautour
Collection
This article first appeared as 'Painting offers a multiverse of symbols' in The Press on 21 June 2017.
Underworld 2 was painted in Tony de Lautour's central city studio, a converted office building in pre-quake High Street, Christchurch that he used for a couple of years. The monumental painting was very nearly the same size as the wall on which he painted it.
'It was the weirdest and most uncomfortable studio I've worked in, all brand new carpet and white walls that I had to cover with plastic, and surrounded by people paying huge rent to sit in those doomed-to-fail small businesses…'
De Lautour started painting in the top left corner, and worked from left to right, down and along, gradually filling in the five-metre-long canvas with what looks like a mind map or a complex diagram of related motifs. A giant flickering screen of digital code, perhaps, in which every line is of equal importance. He used a similarly methodical approach for several works of the time: 'It seemed more factual to do it like handwriting; it also took away some of the compositional decision-making that can hinder a work.'
One of the largest paintings in Christchurch Art Gallery's collection, Underworld 2 is a vast lexicon—a visual index—of the forms that have populated de Lautour's works over the past 25 years. Lightning bolts, human heads, lions, empty speech bubbles, trees, mountain ranges, cobwebs, stars, smoke plumes, letters, numbers, crucifixes, and dollar signs float freely in black space. De Lautour's multiverse of symbols is drawn from both ends of the visual register, from prison tattoos to modernist abstraction by way of colonial landscapes.
His work has never been linear in its development, instead looping and swirling back and forth, picking up old ideas and deploying them in new contexts, reworking recent concepts in the light of earlier enquiries.
'I tend to paint things to find out what I'm doing,' he says. 'I have an idea of what I want to do, but I have to paint it to find out what it is, or what it's going to be, whether it's going to work; I work my way through an idea by painting it, which is sometimes good and sometimes bad. I also tend to work it out and then go on to the next thing. Sometimes, you feel like you should stay with something a bit longer. But using those found images, it becomes a bit cyclic anyway. Ideas from 10 years ago come back again.'
Underworld 2 is effectively a stocktake of de Lautour's pictorial inventory, a collection humming with the energies of an immense cultural network.
Underworld 2 is one of the last paintings he produced in this series; recently de Lautour has been painting in a more abstract mode. His interest in early 20th century modernism is revealed in his gigantic outdoor painting on the Gallery's Bunker building on Montreal Street, where he has used the Dazzle shipping camouflage developed by the Vorticist artists in WWI, to 'hide' the building in plain sight. Other recent works have explored the relationship between Christchurch's post-quake rezoning maps and the utopian dreams of modernist abstraction.
De Lautour – a New Zealand Arts Laureate – first came to national prominence in the mid-1990s, with an exhibition called Bad White Art. He was part of an extraordinary peer group of artists who graduated from the University of Canterbury's School of Fine Arts within a few years of each other, including Shane Cotton, Peter Robinson, Séraphine Pick and Saskia Leek. Underworld 2 is featured prominently in the Gallery's current exhibition, Your Hotel Brain, which brings together major works from the collection by this generation of artists.