B.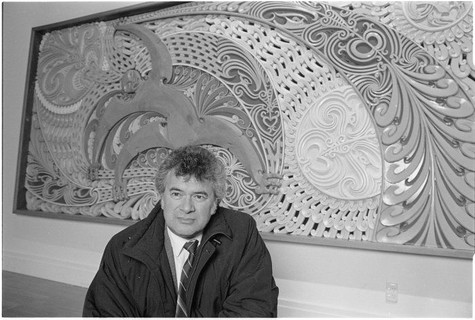 Te Puna o Waiwhetū remembers Cliff Whiting
Note
He whare whakairo ki te tohunga, he whare kōrero, he whare rangatira.
'The master carver's house becomes one that is treasured and is revered.'
Te Puna o Waiwhetū Christchurch Art Gallery remembers Dr Cliff Whiting, NZOM as a rangatira among artists. Whiting worked nationally and internationally to develop a presence for Māori modernist art that along with others of his generation, moved through into the contemporary Māori art period while remaining principled in tikanga Māori, the Māori way of doing things.
From the early stages, and throughout his career, Whiting worked among artists, educators, iwi and artworld professionals throughout Aotearoa. He wore many hats, variously as an artist, educator, and conservator, and in all areas he was a practitioner and enabler for Māori cultural and New Zealand bicultural advocacy. In 1993 Whiting was appointed as the first Kaihautu of Te Papa Tongarewa, the National Museum of New Zealand.
As an artist Whiting sought to understand a given place and its people in order to fulfil his commissioned obligations to them. In doing so he built a reputation for leaving fine work and bubbling kōrero around identity and cultural memory, specific to those he worked with. Simultaneously these kōrero were embedded into the completed projects themselves, holding that knowledge steadfast in carving, weaving, tukutuku, kowhaiwhai—all the aspects of Māori art—for the generations to come.
Whiting is also remembered for his role as teacher, mentor and carrier of a potent knowledge of Māori artistic tikanga. His extensive research into traditional Māori concepts and values in art, design and architecture is paramount, and was always underscored with humour and humility.
Cliff Whiting (6 May 1936 – 16 July 2017) was born in a whare raupō beside the Kereru River, inland from Te Kaha on the east coast of the North Island. He was affiliated with Te Whānau ā Apanui. At a young age he revealed in his actions the artistic qualities of his whakapapa. He went on to study with master carver Pine Taiapa of Ngāti Porou, a relation on his mother's side, and Gordon Tovey who had the backing of the Government to see Māori art and culture developed into a solid presence in the New Zealand education system. Taiapa had a vision that would be invested into many significant artists, from whom we see the development of the Māori Artists and Writers wānanga, which led to the development of Nga Puna Waihanga. It was from here we see the foundations laid for what became known as the Māori Renaissance and the Māori modernist art movement.
From a distinctly Ngāi Tahu perspective Cliff Whiting is also significant. He is remembered for his contribution to Ngāi Tahu visual culture, art and architecture. In 1964 Whiting and Para Matchitt completed the maihi for Ōtākou Māori School, Dunedin. The connection between the Whiting whanau and Ōtākou Marae remains through his son Dean, also a member of Historic Places Trust, who was charged by his father to oversee the restoration of the original carvings.
Around 1970 Whiting met Ta Tipene O'Regan. Their lifelong friendship saw numerous marae and public art projects produced throughout Te Waka o Aoraki, South Island, including two significant marae projects, Maru Kaiātea wharenui, at Takahanga Marae, Kaikōura which opened in 1991, andTahu Potiki wharenui and Te Rau Aroha wharekai at Awarua, Bluff which were opened in 2001.
Cliff Whiting's commissions within Te Waka o Aoraki include:
1964 – Ōtākou Māori School
1982–3 – Six Tukutuku panels for the Ngāi Tahu Māori Trust board. Typical of Whiting's working practice, the panels were discussed in great length, resulting in a think about the traditions being represented and a 'reworking of tribal memory'. Once the tikanga and kaupapa were established the panels were enthusiastically taken to marae all over the motu for completion, from Kaikōura to Awarua until the works were installed in 1983.
1988 –Te Ao Ngā Atua, Te Ara Institute of Canterbury, Ōtautahi Christchurch.
1990 – The tomokanga, entrance way at Otago Museum, Ōtākou Dunedin; Ngā kete Wānanga, which is made up of six pou in the foyer of the Christchurch Law Courts building, Ōtautahi Christchurch; two carved pou standing in the Albatross Centre at Pukekura, Ōtakou, Dunedin.
1991 – Maru Kaiātea wharenui, Takahanga Marae, Kaikōura; Aoraki, mixed media mural, Department of Conservation Visitors Centre, Aoraki Mount Cook.
2001 –Tahu Potiki wharenui and Te Rau Aroha wharekai at Awarua, Bluff.
Whiting was awarded many accolades, including the Alan Highet award for excellence in the arts, 1986. He received an Honorary Doctorate of Literature from Massey University 1996, became a Member of the Order of New Zealand in 1999, and was granted an honorary life membership by the New Zealand Historic Places Trust in 2004.
Mihia te mahi a te rika whero, nāhana te ara I para,
kia kawe ai aku taoka tuku, kit e ao mārama e
Admire the work of the Chief, it was he who cleared the path,
that I may carry my treasures into the world of light.
The tender lines above are taken from a poem by Hana O'Regan for Cliff Whiting, acknowledging his influence both on her and on the communities he worked with in the South Island.