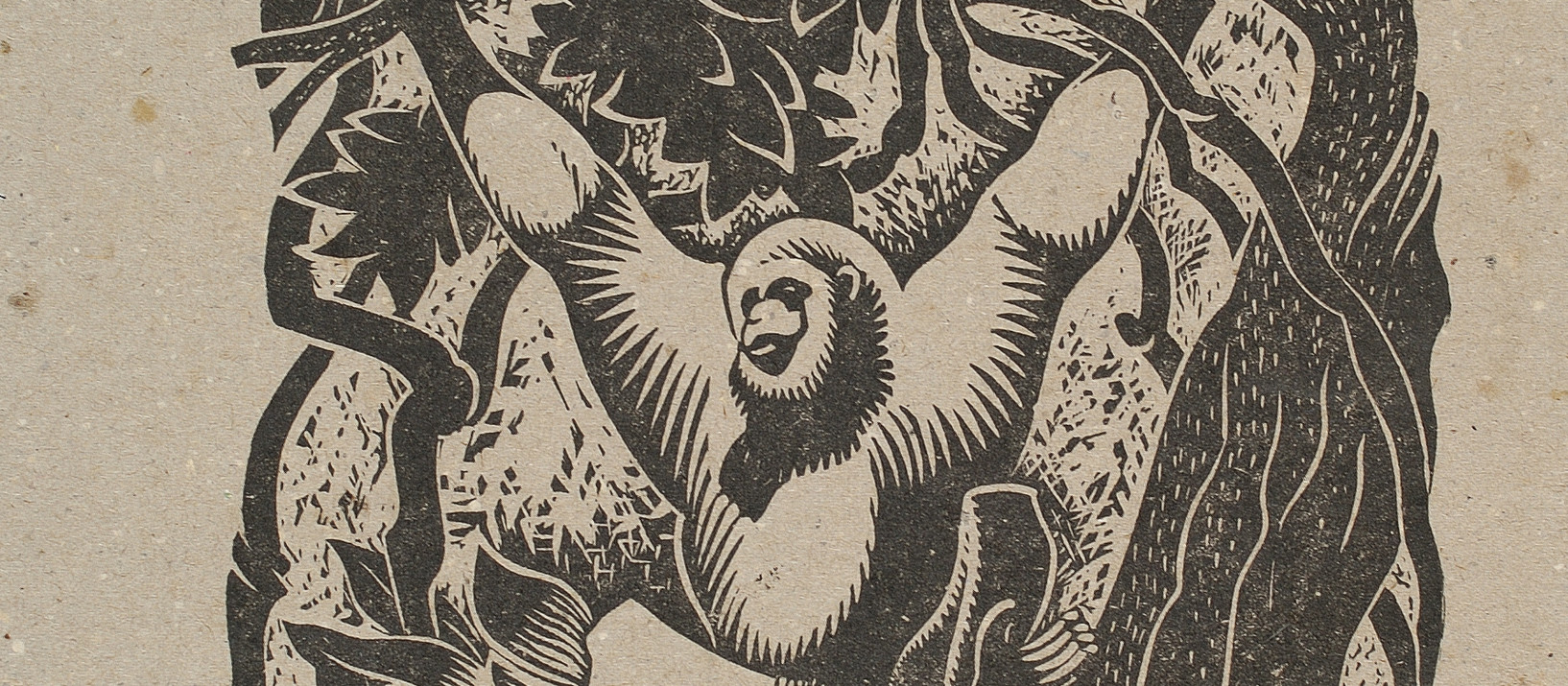 This exhibition is now closed
A light-hearted art alphabet adventure bringing together a curious assortment of artworks in an exhibition designed to captivate the young and the young at heart.
A light hearted art alphabet adventure designed to captivate younger audiences (and the young at heart), Ape to Zip brings together a curious assortment of artworks from the Gallery's collections.
Opening with Ape, a wonderful, little known woodcut by New Zealander E. Mervyn Taylor, the selection ends with expatriate Frances Hodgkins's enigmatic Zipp, painted during her later years in wartime England. Most of the artists are New Zealanders (with genders equally represented), with works in a broad range of styles and media – from paintings and prints to ceramics and sculpture.
Running in alphabetical order, many of the words connected to artworks are obvious and easy to find. There is no talking down here, however – it is promised that some words will be new territory, even for older viewers! For children, the exploration becomes an achievable task and a lively, educational experience. It also makes a refreshing introduction to (Capital A) Art in the (often perceived as sacrosanct) gallery setting. Many playful and unlikely associations exist here between works, and there is plenty to delight viewers of all ages.
Michael Smither's Large Kitchen Composition, for example, as B for Baked Beans, becomes an educational game as children are invited to search for other words beginning with B from within the painting. Lucy Kemp-Welch's tender study in oils of a mare and her F for Foal, In the Orchard [Sunlight through the leaves], is another popular work from the collection. An interesting aside is that Kemp-Welch loved studying and drawing horses since her childhood, and became the most famous horse painter of the day, later being commissioned to complete paintings and drawings for an illustrated version of the children's classic Black Beauty.
Among the most exciting inclusions in this exhibition are five small works on paper by Dame Eileen Mayo, which are part of a large group of treasured recent additions to the collection. Several months ago, in relation to another project, serious attempts were made to locate Mayo's original gouache designs for a commission she received in the late 1970s from W. Gregg & Co. Ltd of Dunedin to illustrate a set of thirty-five collectible jelly cards (Rare and Endangered Birds of New Zealand, 1977). The search ended with the regretful conclusion that this remarkable portion of her oeuvre had not survived. Several weeks later, from completely out of the blue (and unrelated to this search), the Gallery received a telephone call from a person who for a number of years cared for thirty of these paintings, and was now looking to find them an appropriate home.
For this exhibition, the letter K is delighted to introduce five of these exquisite works to the public: Kakariki (Red crowned parakeet), Kotuku (White Heron), Kiwi, Kakapo and Karerea (New Zealand Falcon). As commissioned artworks originally intended to enter a large number of New Zealand homes, these works display extraordinary artistic integrity and commitment, while at the same time holding both environmental and social significance.
Ape to Zip's splendid array brings together Baked Beans with Carrots and Dirty Dishes, painful experiences (O for Ouch!) with Pistol-Packing Pirates and Sea Monsters, precious wildlife and much more. With works gleaned from both historical and contemporary collections, school groups and children of all ages are predicted to find this exhibition lively and accessible (and only slightly irreverent).
Ken Hall
Ken Hall is Curatorial Assistant (Historical Art) at the Gallery.
(Extract from Bulletin 140, March-May 2005)
See all the works that were in this exhibition.
Date:


13 May 2005 – 8 October 2006

Exhibition number:
736
Collection works in this exhibition
29 items