1991
Mixed media
Purchased 1996
1590 x 1390 x 400mm
96/68.1-3
The New Plymouth-based Don Driver worked from the mid-1970s until the 1990s on sculptural assemblages made from found materials. Echoing the work of American pop artist Robert Rauschenberg, whose work Driver had experienced while visiting New York in 1965, Energy Triad makes assertive use of familiar, locally sourced items, placing pioneering farming tools alongside advertising and road signage, all with a meticulous eye to formal balance and arrangement.
earlier labels about this work
Although many of Don Driver's assemblages can be interpreted as witty comments about our throw-away culture, Driver's concerns lie purely with the formal arrangement and juxtaposition of colour, texture and shape. Energy Triad contains specific references to New Plymouth where the artist lives. 'Taranaki Colours', 'Jim's Foodtown' and 'Tip Top' – made from elements such as plastic tyres, scythes and road signs – all interact, contrast and reinforce each other in much the same way as the work of American assemblage artist Robert Rauschenberg. As such, Driver's sculptures are not haphazard arrangements, but the result of considered selection and meticulous placement.

Driver has lived in New Plymouth since 1943. His first job was with a dental technician learning how to mould, shape and cast materials. He took night classes in drawing and later learned woodwork, welding and pottery. He has been exhibiting his work since the 1950s and has travelled widely, including time in North America, Asia and India. 'With spirit: Don Driver a retrospective' toured New Zealand in 1999.

(Label date unknown)
Related reading: Op + Pop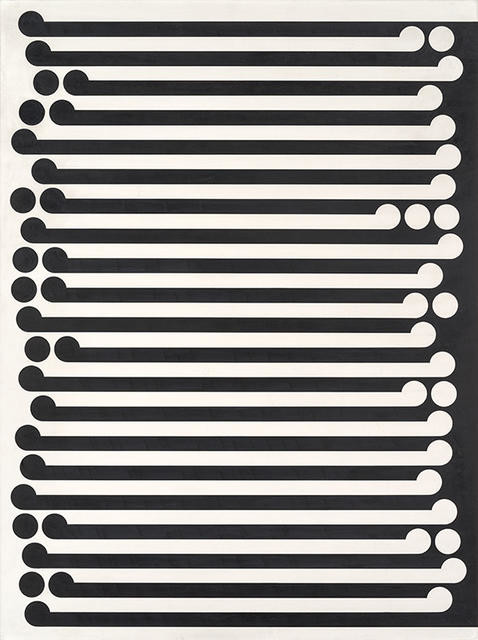 Gordon Walters is best-known for work that fused the influence of European modernist art and Māori and Pacific art forms, particularly the koru motif of painted kōwhaiwhai rafter designs. Walters' influences from European modernism included the hard-edged geometric abstractions of Victor Vasarely and Auguste Herbin, seen while in Europe in 1950–51. Walters made his first optically charged 'koru paintings' in 1956, but didn't show them until 1966 when he first exhibited this painting in Auckland.
Walters' adaptation of the koru has been both admired and criticised by cultural commentators. Walters himself, when discussing the motif, increasingly focused on the fine mechanics of abstraction:
'What I've done to the form is push it more in the direction of geometry. So that I can have in my painting not only a positive/negative effect of black and white, but I can also have a working of vertical and horizontal, which is equally important.' (Op + Pop, 6 February – 19 June 2016)