Purchased, 1970
Oil on canvas
1829 x 1219mm
70/40
1970
Along with his contemporaries Michael Smither and Robin White, Don Binney was part of a new generation of realist painters in New Zealand during the 1960s and 1970s. Renowned for his paintings of birds, during his teenage years he kept sketchbooks of them and they were to be a constant source of imagery for him throughout his career. While many of his birds soar through the sky, the plump pīwakawaka in Canterbury Garden Bird has settled on a branch. In 1970 Binney was invited as a guest artist to contribute works to The Group Show exhibition in Christchurch. He exhibited this painting, which was duly acquired by Muir for the Gallery's collection. (1969 Comeback Special 27 August – 6 November 2016)
Related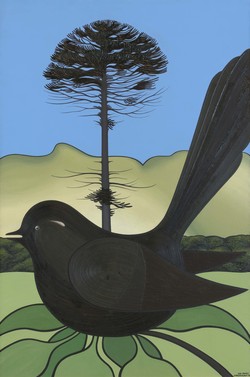 Don Binney's Canterbury Garden Bird
I have chosen Don Binney's Canterbury Garden Bird (1970) as my favourite painting in the Christchurch collection. This painting was a major work that my husband, Brian Muir, bought for the Robert McDougall Art Gallery when he was director in the 1970s. Don came down to Christchurch in an old Kombi van specifically to paint the work. The painting shows a very solid black bird in the foreground, a fantail, resting on large green leaves. In the background are the Cashmere hills.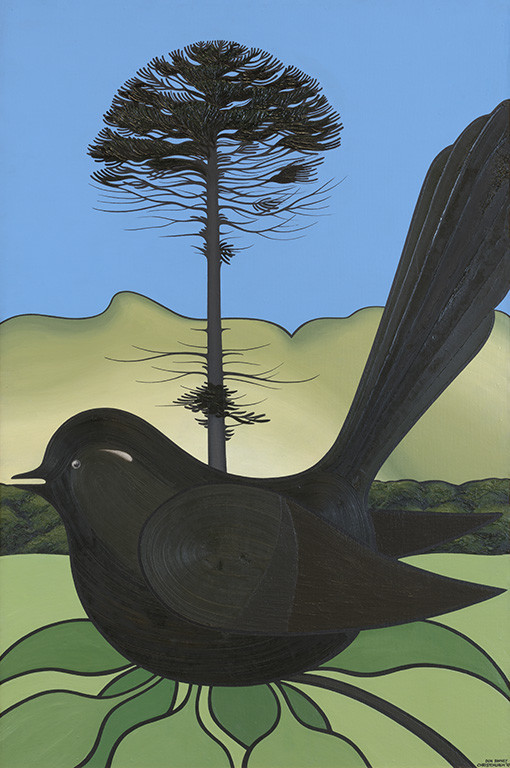 Menagerie: Animals from the Gallery's Permanent Collections
Menagerie brings together 17 historical and contemporary paintings, prints, photographs and sculpture from the Gallery's Permanent Collections, all of which feature an animal of some description, from cats, dogs and birds to horses, bulls, fish and even a hippopotamus!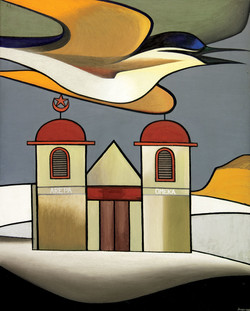 It was a shock to read of Don Binney's sudden death over the weekend and our thoughts go out to his family.