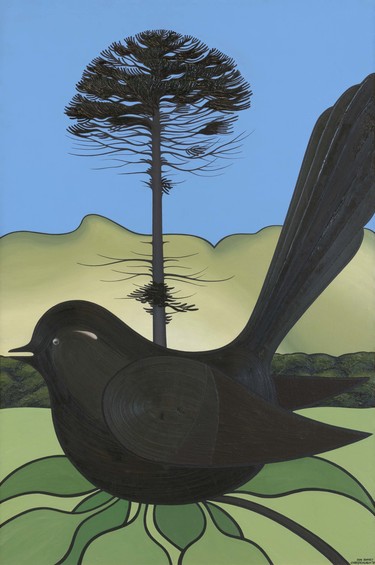 Don Binney's Canterbury Garden Bird
I have chosen Don Binney's Canterbury Garden Bird (1970) as my favourite painting in the Christchurch collection. This painting was a major work that my husband, Brian Muir, bought for the Robert McDougall Art Gallery when he was director in the 1970s. Don came down to Christchurch in an old Kombi van specifically to paint the work. The painting shows a very solid black bird in the foreground, a fantail, resting on large green leaves. In the background are the Cashmere hills.
To me this is a very formal painting compared to the elegant flowing lines and shapes of another Binney Brian bought for the Manawatu Art Gallery – Pond Bird (1970) – or the painting we bought for ourselves on the eve of our departure from Christchurch entitled The Entrance to the Manukau Harbour.
These three paintings that I have loved and lived with over the years gave me an insight into Don's ability to study and then capture the essence of each subject that he chose to work on.
An environmentalist and conservationist, Don's love of painting the New Zealand landscape, with or without birds, was an interesting choice as New Zealand was inhabited mostly by birds before humans came here. I would like to quote Don's own words from 1971 – I feel they say it all about his lifetime love of our country:
New Zealand's remote and isolated ecology was one of the most sensitive and integral in the world. Remarkably specialised birds filled the roles more usually occupied by mammalians elsewhere. Their whole existence was reciprocal to a delicate and specialised forest system. I think a characteristic of this, and a lot of work from this period is the structural coordination of bird and land form – what I think of as resonance really. A physical resonance between one shape and the other. Why? Because as an ornithologist I've always been thoroughly involved in the way in which the land, the environment, the creature lives in, modifies the creature. The creature of course also modifies the land: it's symbiosis really, isn't it?
My last memory of Don was when I attended the opening of the new Christchurch Art Gallery. Don was there, elegant with his walking stick. He invited me to accompany him through the new galleries. Of course everyone knew who he was, so it was very special for me to be given the VIP treatment by one of New Zealand's major artists, who produced paintings from the 1960s onwards. Thank you, gentleman Don.