Charles Meryon: Nouvelle Zélande, Presqu'île de Banks, 1845...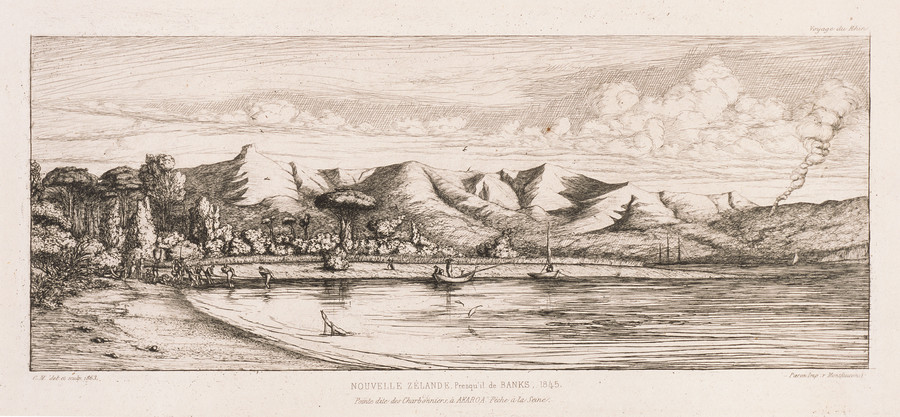 1957 was a big year for me – transitions from a middle- sized hometown to life in a major city, and from high school to university, with an emphasis on courses in French language and literature. And late in that year a new display in the Canterbury Museum allowed my rudimentary interest in New Zealand history, my unstructured interest in the visual arts, and my commitment to things French, to come together around the work of an artist I had never heard of, but who had lived briefly at Akaroa in the 1840s – Charles Meryon.
I later learned Meryon had trained at the French naval school in Brest, and that his formal training had included drawing lessons. During the cruise of the Rhin from 1841 to 1843 when it was supporting French interests in the region, he drew his way across the Pacific from Tasmania to Tahiti and from Micronesia to Banks Peninsula – landscapes, seascapes, portraits of members of the Indigenous communities he met, and their buildings and carvings.
After his return to France Meryon slowly extended his active interest in the visual arts, eventually resigned from the Navy, and began etching. His earliest prints date from 1848 and by late 1849 he had begun what would grow into a major series of views of Paris, some of them devoted to townscapes and major historical buildings, frequently emphasising verticality and often showing sinister streetscapes. What other major artist has chosen to illustrate a morgue? And how perverse am I to feel oppressed by his 1862 view of a narrow street, the Rue des Chantres, on a plate 30cm tall but only 14.9cm wide?
In contrast, how do we respond to his Pacific landscapes, often with low horizons and sometimes wider than they are tall? Does it colour our reading of those landscapes to know that Meryon supported France's colonialism as a positive strategy to combat urban poverty and urban crime?
Another thing to consider is his combination of Pacific memories and Parisian realities. To give only one example, how outrageous was it to show a Māori canoe flying above the Place de la Concorde? Instead of being shocked, we should read those hybrid images as interpretations of the city in which he lived filtered through his memories of a better world.
So, why is Meryon's 1863 etching Pointe dite des Charbonniers my 'favourite'? Well, certainly not for its full title – Nouvelle Zélande, Presqu'île de Banks, 1845, Pointe dite des Charbonniers, à Akaroa. Pêche à la seine, that is: New Zealand, Banks Peninsula, 1845, the place called Charcoal Burners Point, at Akaroa. Seine- net fishing – but I'm parochial, having a particular fondness for his Banks Peninsula landscapes, and this one is so rich. In a landscape of beach and rounded hills he evokes a peaceful community – some settlers on the beach, fishermen, diverse watercraft, a stream of smoke from a fire – and his choice of an exceptional format, a surprising 32cm long, emphasises the idealism that imbues this image.