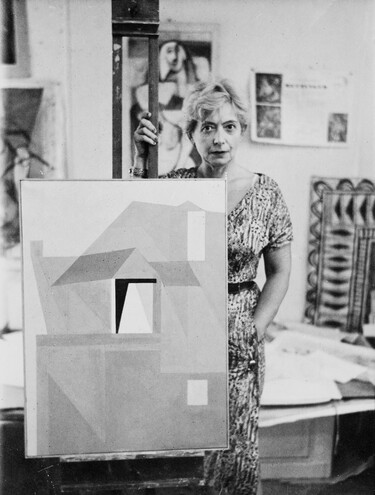 Lessons with Louise Henderson
I first met Louise Henderson in May 1990. I'd recently returned from living in the UK, and moved into what had been her house and studio at 62 Gillies Avenue, Newmarket. The owner, Ross Stevenson, was still in regular contact with Louise at her new home nearby in Sarawia Street, and asked me if I'd like to meet her. I remember being quite nervous at the time and standing at the front door waiting. She didn't open the door at first, but pulled back the old curtain on a nearby window to see who it was. She recognised Ross so all was well. She was very polite, and more than happy to let me look through the dozens and dozens of paintings that leant four or five deep against the wall in the two front rooms of the old villa.
I can remember feeling slightly taken aback at the complete lack of domesticity on display. Louise herself was in full painting mode, hair dishevelled, old grey slacks, sloppy sweat top and no make-up. Her furniture was minimal and nothing gave any sense of having been chosen for any other reason than that it held together and would 'do'. After I got to know Louise well enough to have frank and honest conversations with her, I asked her about the house one day when she had someone in to fix some door handles. She told me that she fiercely resented anything that asked for her attention at that time in her life, especially if it involved making creative choices. She saw even the smallest of domestic decisions as robbing her of energy that needed to be channelled into her art. If she had to choose door handles she would lose time and energy as an artist. In her day-to-day life she hated refined living and having to be careful in an environment other than the studio. She would come back from visiting people complaining of how she had to behave as though she were living in a museum, afraid she would get paint on something.
Louise was interested in what I was doing as an artist, and so our relationship started when she suggested I bring my work to her each morning for her to see. And then in the afternoons I could help her in the studio. At that time she was not well; leukaemia, the effects of a slight stroke and cataracts, all things that would stop most of us were simply annoyances to Louise. She treated them with typical French pragmatism and shrugged them off. They were things that she couldn't deny though, and her working life revolved around the blood transfusions she needed once every three weeks. Straight after a transfusion she was fully functioning and desperate to work all the hours she could. By the end of the three weeks she was low on energy – some days she stayed in bed and we drew and chatted.
In many ways 1991 was a big year for her, and her output was huge. I remember not getting much done on my own work because her sense of urgency doubled, her energy doubled, and I needed to be there twice as many hours as I was normally used to. I'm lucky enough to still own a couple of her paintings from that year but there were so many good ones. Two that I remember working alongside her with in particular were Suddenly a lake appeared among the trees and Memories – a large Middle-Eastern marketplace scene full of figures and fruit sellers. An extraordinary tour de force that I regret not buying at the time – it's one of those regrets that haunts me to this day. I'd love to see it again. Hell, I'd love to own it!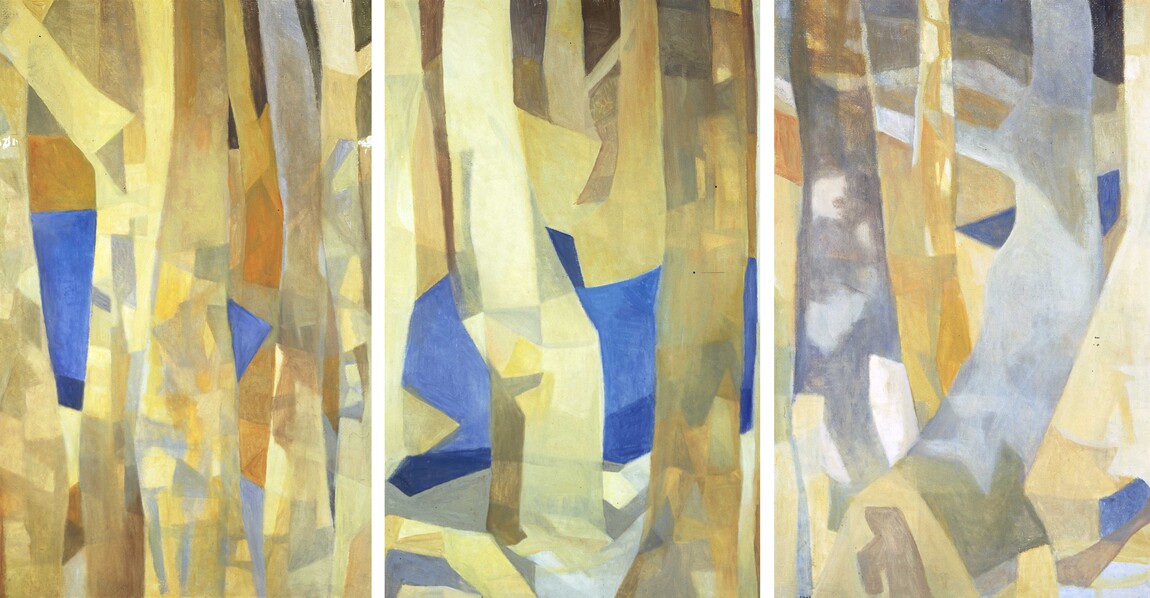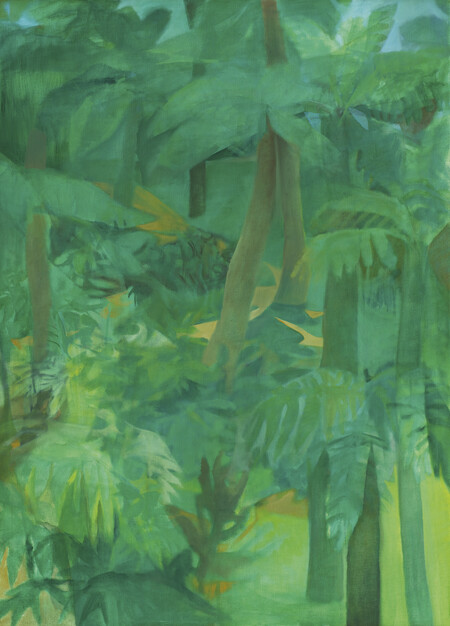 At the end of each working day I'd scrape off any muddy paint from the glass palettes Louise favoured. The colours had to be pristine and in order to keep them that way I'd have to draw up a grid on white paper that was placed under the transparent glass. The colours were then placed on top of the glass in their correct sequences according to the grid underneath. Yellow and all its family was always kept separate owing to the fact it's perhaps the hardest of all the colours to keep clean. Canvases were then gridded up according to the scale or dimensions of any particular drawing, and Louise would sketch in with either charcoal or a light turpsy wash. We'd tackle one colour at a time and plot its journey through the image. This is when Louise would be the most absorbed. We only spoke about the process of the painting as it was happening, much the same way I imagine a surgeon might ask for equipment during surgery. I'd watch and try to anticipate what she'd need to have happen and when exactly she would need it. Louise did not suffer fools gladly and her disapproval was harsh. She expected total concentration and dedication to art. As to my own work, I remember being asked to be at her studio for full days but also being chastised for not putting the hours at my own.
The Lake triptych was sketched out on sheets of paper and then the process was the same as the others. I'd grid the canvas and Louise would take over. Always starting at the right side of the image with her weaker left hand (because of the stroke she found her right hand harder to control) and moving her way across to the left of the image. This meant that most of her paintings from those last years are strongest and most fully actualised on the right-hand side and progressively underpainted towards the left. However, that being so, I'm still in awe of what Louise could do with paint and colour and design. I'm quite prepared to stick my neck out and say that she was so in charge of her craft that whatever she lost due to failing health was still more than most of us could ever hope to master in a lifetime. Design was so integral to who she was, even her so called 'shortfalls' were masterclasses in image making. I think among all the things that I learned from Louise, the greatest, and still most elusive, is the beguiling way she merged colours, overlapping them and creating movement in the most unexpected places. Each day in the studio was like seeing the mysteries of the universe revealed to me. Thin veils of colour overlapping and dancing with each other. She still takes my breath away even after all this time. Louise firmly believed that no one should exhibit until they'd worked for ten years as a full-time artist, that you simply didn't know what you were about till then. The older I get the more I believe she was right. Not what you want to hear when you're young and desperate to launch a career.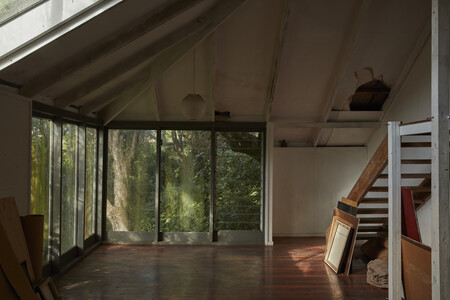 There were few visitors from the art world as far as I can remember. Louise was showing mainly through Warwick Henderson Gallery – no relation – but it was magazine editors and journalists, television producers and people wanting to have interviews. And her friends from up in the Hokianga; they were the ones she loved the most – farmers, Māori neighbours from the land she was longing to move to with Thomas. She adored their informality and ease, their lack of pretence. She'd long since stopped going to other people's gallery openings. She went to her own exhibition openings when health permitted, but she really thought again that they were a waste of her own much-needed concentration and focus, things that were rationed for her own work. Before she died Louise asked me to move up north with her and Thomas to help her continue. For various personal reasons I said no. The last time we saw each other I had helped her to bed and we were just talking in the half-light of evening when she took my hand and asked me what would do when I got home that night. "Draw" I said. She squeezed my hand and said "Good!"
I continued working in the Gillies Avenue studio for another twenty years after her death. It was a magical place of shifting light and dappled greens. Louise actually had Venetian blinds fitted so that the light could be controlled a little more, and also for privacy; vagrants would sometimes slip down from Gillies Avenue to Broadway via the garden and Louise became increasingly frightened of being there alone, especially at nights. She loved the full moon and would go out into the garden at night to draw it, falling and breaking ribs at least once. But it was a beautifully designed working space. So much so that I really had to force myself to work rather than just sitting in silent awe of the 'rightness' of it. Like all buildings of its age it was very very hot in the summer and freezing in the winter, damp too. So while it was spatially beautiful, it was not practical in modern terms. None of that stopped some of the most beautiful art in New Zealand's history from being created there though. It will always be my turangawaewae. It formed who I am as an artist, who I am as a gardener, and who I am as New Zealander. And I suppose having said those things, I can say that Louise did the same. I am who I am because of those four years with Louise.
At present I'm working on a new series of paintings in a new studio on the other side of the world – Jersey in the Channel Islands. A completely new start again. I'm always drawn to the human form, but in a way that owes all its visual depth to the time I spent with Louise. I found I could never work the same after those years, and I always start a painting in the exact same way Louise did. My work looks nothing like hers, but I see her hand in it where others wouldn't at all. I start doing something that would feel right to Louise and then I hear her voice scolding me and pushing me to break through her influence and try harder. Always try harder. She once told me that if I find myself in too much of a problem painting-wise, throw some paint at the canvas and change the problem. A good lesson that has done me well in all areas of my life!