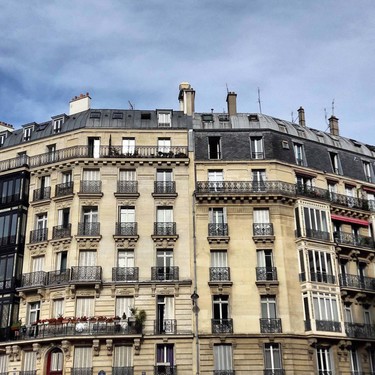 Postcard From...
Margaux Warne, Paris
I moved to Paris in December to join my French partner and pursue my art history research and writing. We live in Rueil-Malmaison, west of central Paris, where there is an abundance of boulangeries and patisseries (many of which were even open on Christmas Day!), fruit and vegetable markets, cheese shops, and parks including the Parc de Bois-Préau and the lovely Parc des Impressionnistes which is situated beside the Seine. However, the area is most famous for the Château de Malmaison, the former private residence of Napoleon Bonaparte and Empress Joséphine. The château dates from the seventeenth century and displays Jacques-Louis David's masterpiece, Napoleon Crossing the Alps.
Since I arrived here I have attended several music recitals, seen two very good films, and experienced Montparnasse's famous crêpes, all while adjusting to a cooler climate and navigating the public transport system. My other highlights have been visiting the Louvre and seeing a wonderful Degas exhibition at the Musée d'Orsay, a Gauguin exhibition at the Grand Palais and an exhibition at the Palais de Tokyo that featured the work of French-born contemporary artist Camille Henrot.
Along the way I have discovered a number of smaller museums which are relatively calm in comparison to the often frenetic Louvre and Orsay. The Musée Marmottan Monet is a must-see destination for lovers of impressionism and has the world's largest collection of Monet paintings, as well as rooms devoted to one of my favourite Impressionists, Berthe Morisot. And located near the Avenue des Champs-Élysées the
splendid Musée Jacquemart-André, whose decorative scheme is reminiscent of some of the rooms at Versailles, features paintings by Botticelli, Rembrandt and Élisabeth Vigée Le Brun. The museum also hosts wonderful temporary exhibitions and I am already looking forward to its Mary Cassatt retrospective later this year.
Visiting house museums is a favourite pastime of mine and there are two notable ones not far from Montmartre. Musée Gustave Moreau features the apartment and studios of the prolific nineteenth-century Symbolist artist, in which his large-scale paintings, watercolours and studies are displayed in the dense salon-style. Nearby is the Musée de la Vie Romantique, the former home of Ary Scheffer, a Dutch-French Romantic painter. Delacroix, Chopin and George Sand were all hosted there and today the museum is dedicated to nineteenth-century French art and literature.
Living in Paris can be overwhelming at times and I am spoilt for choice when it comes to choosing a gallery or museum to visit.
I hope to write regular exhibition reviews from Paris on my blog and you can find me at margauxwarneblog.wordpress.com