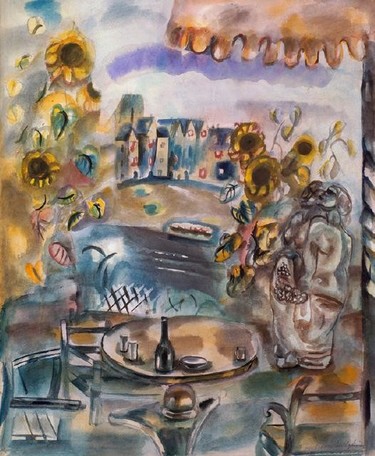 Frances Hodgkins's Pleasure Garden 1932
I see pumpkins floating through the air.
I see apples, or maybe they are pears?
A lampshade, looking worn and rubbery,
Casting shadows over statues snogging in the shrubbery.

Frances Hodgkins's Pleasure Garden (1932) is not my favourite painting, but of the permanent collection it is the one that has interested me the most – so much so, that I have written a short opera and a stage musical about it. While the opera still awaits its Christchurch premiere, the stage musical, with script by Stuart Hoar, is currently running at The Court Theatre.
The story behind the painting is so quintessentially Christchurch that it is timeless. Two factions, an old guard and an avant-garde, lock horns in a battle to have the painting admitted to the permanent collection of the Robert McDougall Art Gallery (the forerunner of the Christchurch Art Gallery). The conservatives win the first round, voting down a proposal for the Gallery to purchase the work. Round two goes to the modernists following a successful public subscription to purchase the painting with the intention of donating it to the Gallery.
Round three goes to the conservatives when, on the advice of its Arts Advisory Committee, the Christchurch City Council declines to accept the donation on the grounds that the painting is artistically unworthy of acceptance. Round four… well, to reveal that might spoil the experience of readers wishing to catch the show at The Court Theatre before it closes on 14 September. Suffice it to say, the painting is now in the permanent collection, but how it got there is both a triumph of trickery and a testimony to the perversity of human nature. Much like modernism itself, some might say.
For the record, Pleasure Garden, part still-life, part landscape, is an example of expressionism, in which the depiction of objects is subordinate to the portrayal of feelings and ideas about those objects. At the time Pleasure Garden was first advocated for purchase, 1948, Dunedin-born Frances Hodgkins (1869–1947) had established a reputation in Britain but was little known at home. Today, the reverse is closer to the truth.
Also for the record, the list of subscribers who purchased the painting reads like a who's who of the wider 1940s Christchurch arts world, and includes Rita Angus, Colin McCahon and Olivia Spencer Bower (painters), Douglas Lilburn (composer), the Caxton Press (printer and literary publisher, including Landfall), J.H.E. Schroder (broadcaster), Winston Rhodes (English professor and left-wing intellectual), Ngaio Marsh (author, painter, theatre director) and Heathcote Helmore (architect). Ah, those were the days… when Christchurch was the cultural capital of New Zealand.