Aspirin, light bulbs and instant coffee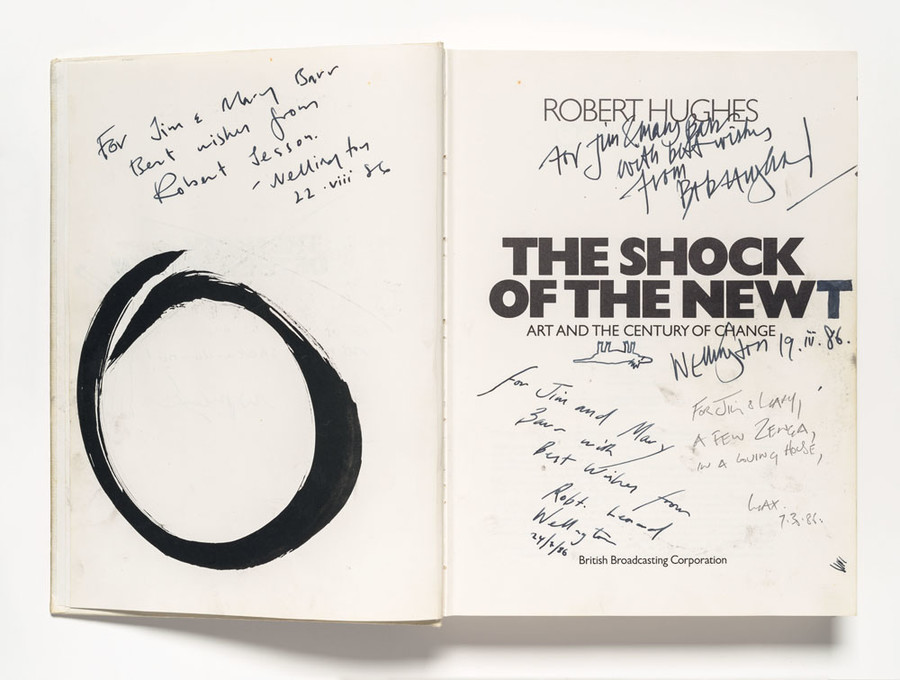 Robert Hughes's canonical text The Shock of the New was first published in 1980 following a successful television series that aired in the UK that same year. In this book, Hughes provided a lively and challenging account of the development of modern art and design in the twentieth century. That this volume should find its way onto the bookshelf of New Zealand art collectors Jim Barr and Mary Barr is no surprise. But the Barrs' copy of the book subsequently became the site for a series of interventions and adaptations that have altered its meaning and significance.
Upon visiting the Barrs in their Wellington home, artists including Neil Dawson, Marie Shannon and Julian Dashper were invited to annotate, cut-up, collage and doodle on the pages of the book. Dashper's mediation, for example, was a playful gesture in which he removed van Gogh's ear from a reproduced self-portrait, revealing the lines of typed text on the following page. Other interventions include the addition of a silver-foil strip of extra-strength aspirin taped beneath one of Bridget Riley's disorienting Op Art compositions, and the obscuring of the nude models' eyes in Picasso's Les Demoiselles d'Avignon. Another equally mischievous intervention saw the book's title amended to the nonsensical The Shock of the Newt.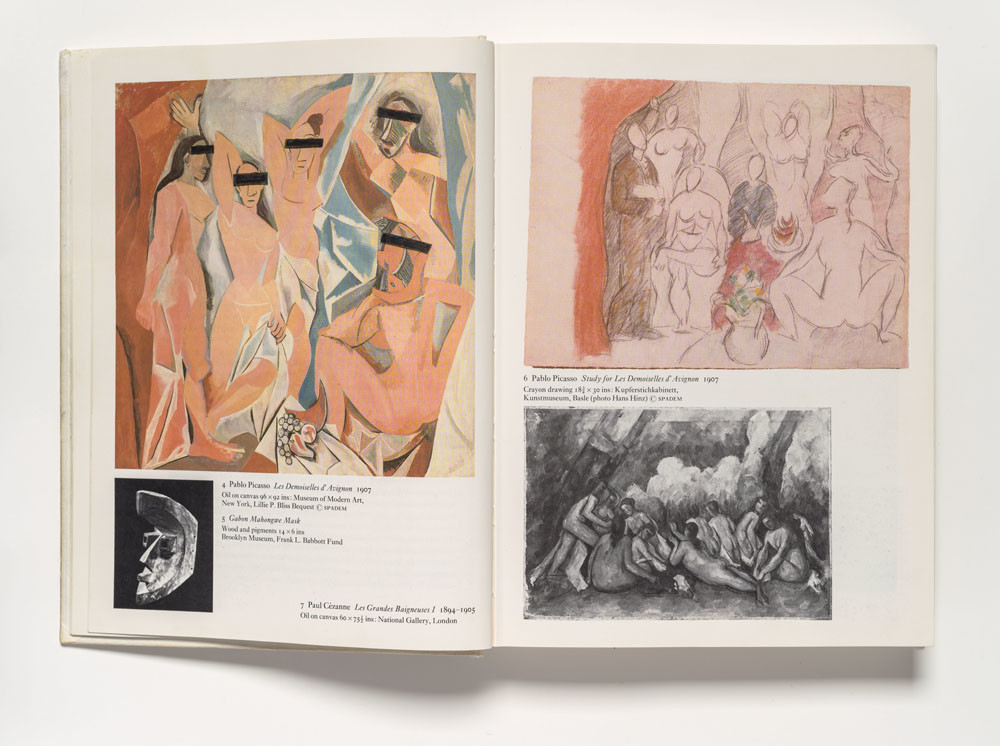 The Shock of the Newt, along with forty other books by significant New Zealand artists, was gifted to Christchurch Art Gallery's Robert and Barbara Stewart Library and Archives in 2011. The collection reflected the Barrs' relationships with artists such as Dashper, Giovanni Intra, Richard Killeen, Ralph Hotere, Simon Denny and Ronnie van Hout. In their new home at the Gallery, these works support and extend the existing artist books collection. The Gallery frequently acquires artist books that relate to its exhibition programme or other areas of the collection – acquisitions that demonstrate the Gallery's commitment to the art of the book. As well as collecting these objects or publications, curator Peter Vangioni has also recently mounted a suite of book-related exhibitions that have been successful in giving these items greater visibility. In 2013, for example, The Shock of the Newt was shown in Face Books, an exhibition of books from the Gallery library that featured portraiture by New Zealand artists.
Books are a ubiquitous element in most of our lives – from school textbooks to bedside novels; cookbooks and travel guides to private journals – but artist books are more enigmatic objects, and notoriously difficult to define. Put simply, they can be understood as works made or conceived by an artist that take the form of the book as a point of departure. In this sense, artist books are distinct from exhibition catalogues, monographs or books of illustrations. They can be produced as one-off objects, as part of a limited edition, or as inexpensive mass-produced items; they can use a variety of different materials, formats and sizes; they can consist of text, images, or a combination of both.
The contemporary artist book is generally considered to have first emerged in the 1960s. During this period, artists began to work with printed matter to explore some of the possibilities and difficulties posed by conceptual art. However, until very recently, critical discussion of artist books has been preoccupied with establishing the book as a legitimate art form in itself, and attempting to pin down a definition for the artist book that considers its complex relationships with other creative practices.
Over the past fifty years, critics and art historians have emphasised this ability to resist easy definition. As Clive Phillpot, former director of the library at MoMA, has pointed out, artist books are in fact 'distinguished by the fact that they sit provocatively at the juncture where art, documentation and literature come together'.1 Johanna Drucker, one of the most prominent writers on contemporary artist books, considers them as a 'zone of activity ... made at the intersection of a different number of fields, disciplines and ideas, rather than at their limits'.2 The possibilities of the book-as-artwork are expanded through these intersections with other creative practices like independent publishing, graphic design and literature, which can be exploited by cultural practitioners wishing to experiment with different mediums and formats in their work.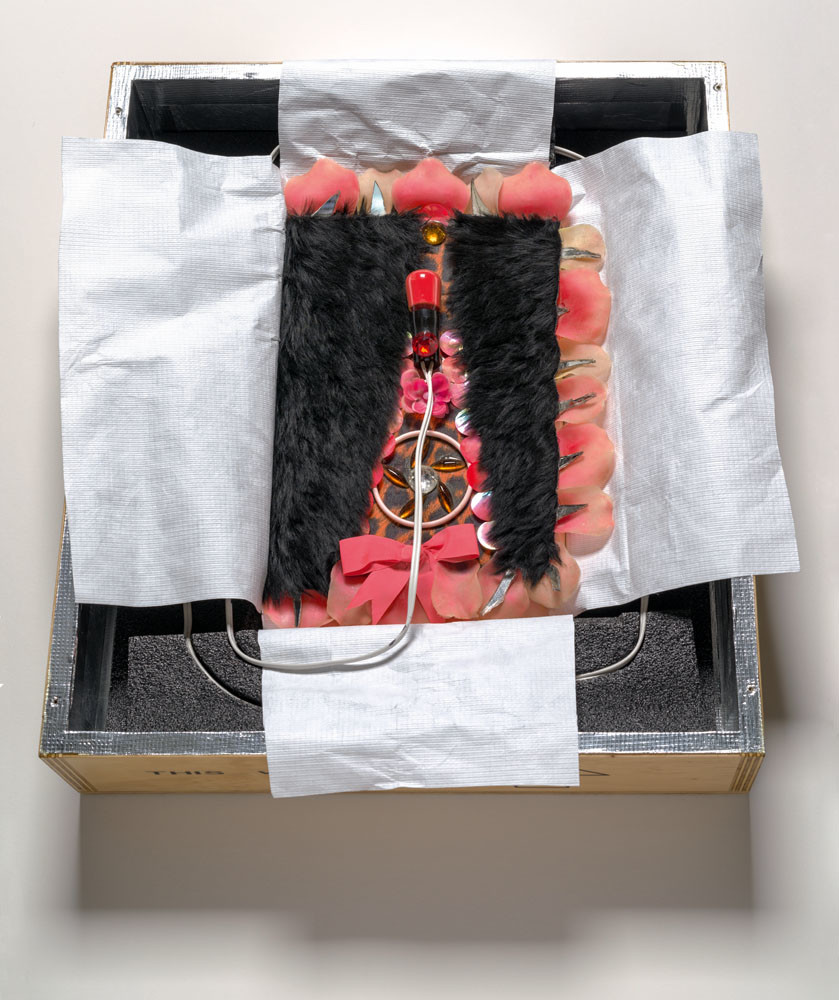 One commonality that many artist books share is an emphasis on the material properties of the book. Conventionally designed as a series of flat pages bound into a fixed sequence, the book engenders a one-on-one relationship between reader and text. It also elicits a certain tactile allure; its very 'objectness' necessitates the turning of pages, feeling the texture of paper and the weight of the volume. These characteristics are often played on, but also subverted, by makers of artist books, producing objects that stretch and challenge entrenched ideas about the book both materially and conceptually. Form, structure and content are reimagined in ways that ask us to radically rethink the cultural, historical and political economies in which the book is embedded.
However, these types of books can present a range of problems to collecting institutions in terms of storage, conservation and display. Not only do artist books resist easy classification – making them difficult to place within collections – but the fragile and often rare nature of many of these objects also means that they cannot be displayed on library shelves or borrowed as conventional books. As book artist Annie Herlocker writes:
Artists' books have become a dichotomous experience in that they are valuable art objects, but unlike most traditional forms such as painting or sculpture they need to be handled by the viewer to be experienced fully. As such, artists' books straddle the space between the world of museums or art galleries and that of library special collections.3
The Gallery's collection illustrates some of the ways that artist books can be integrated into public art gallery holdings, and how they might fit within institutional practices of archiving, conservation and exhibition. Merylyn Tweedie's 1988 MA thesis, another work gifted by the Barrs, emphasises certain tensions inherent in collecting artist books. With a cover by Judy Darragh, the thesis flouts academic convention. Decorated with the inexpensive found materials typical of Darragh's work, including artificial flower petals, paua shell, leopard-print fabric, synthetic fur and diamantes, the cover also features a working mini light bulb that can be plugged into the wall – perhaps a play on the assumption that a thesis or academic text should somehow illuminate its reader.
Tweedie's thesis is stored in its very own handmade case, carefully crafted by the Gallery's technician Martin Young. The cover is very fragile, so much so that attempting to read its contents is a delicate exercise that could not feasibly be allowed in the gallery. As a result, exhibition would likely require it to be presented as a more rarefied art object: in a display case, no touching – or reading – allowed.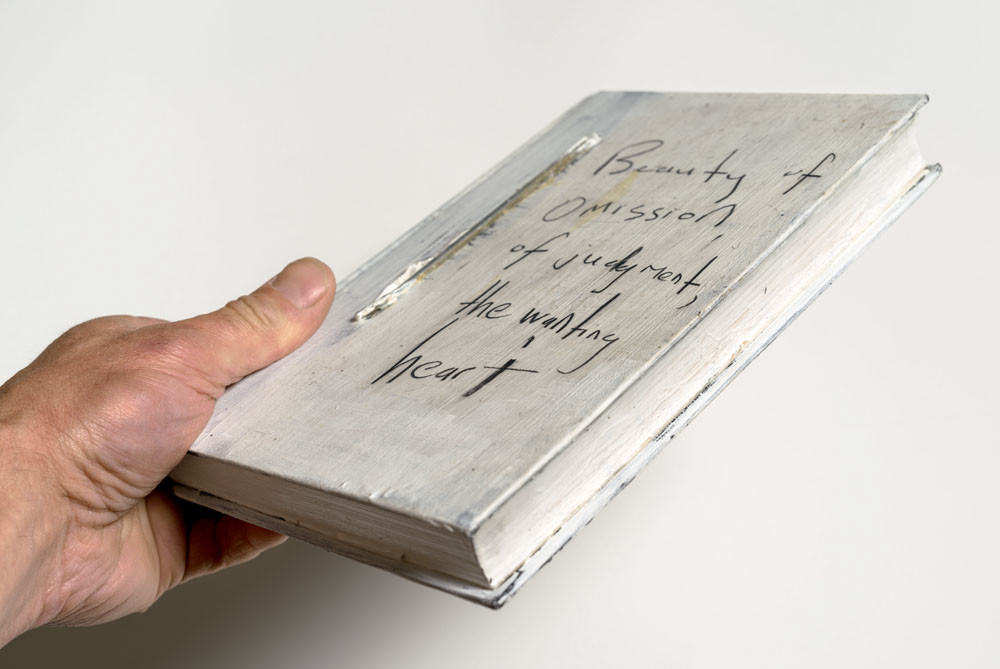 Paradise (c.1997) by L. Budd is another artist book in the form of a treated text. Taking a found copy of Wendy Haley's pulp Gothic novel This Dark Paradise (1994), the gold embossed title on the spine of the book has been partially effaced and the name of L. Budd added as author. The cover is concealed beneath a layer of roughly applied white paint and the front is inscribed with a handwritten text: Beauty of omission, of judgment, the wanting heart. Budd confounds our normal expectations of the book by gluing the pages together so that the information or ideas they contain are no longer accessible. No longer does it function as a vessel for knowledge or communication; instead the book is rendered mute. This is in keeping with the artist's broader practice, which often critiques power structures and institutional systems. Here, the book is identified as a political metaphor as much as a material object; by nullifying its contents the artist gestures toward the importance of identifying and interrogating the ideologies and systems of knowledge that underpin our contemporary societies.
These examples exist as single rather than editioned objects, calling into question some of the assumptions often made about artist books, in particular what Drucker has identified as 'the myth of the democratic multiple'. She writes that:
The idea of the democratic multiple was one of the founding myths of artists' books in their incarnation as mass-produced works. Artists' books were to counter the traditions of fine press, limited edition livres d'artists, escape the institutional context of galleries, fly in the face of print and photographic protocol, and circumvent the established order of the fine art system.FTN-4
Within contemporary practice, however, the artist book has taken on such myriad forms that claims to this kind of democratic identity no longer always hold true. Artist books are frequently produced as autonomous or limited edition objects, intended to operate within the sphere of fine arts practice; like the Gallery, art institutions and libraries around the world are actively collecting, researching and exhibiting these books.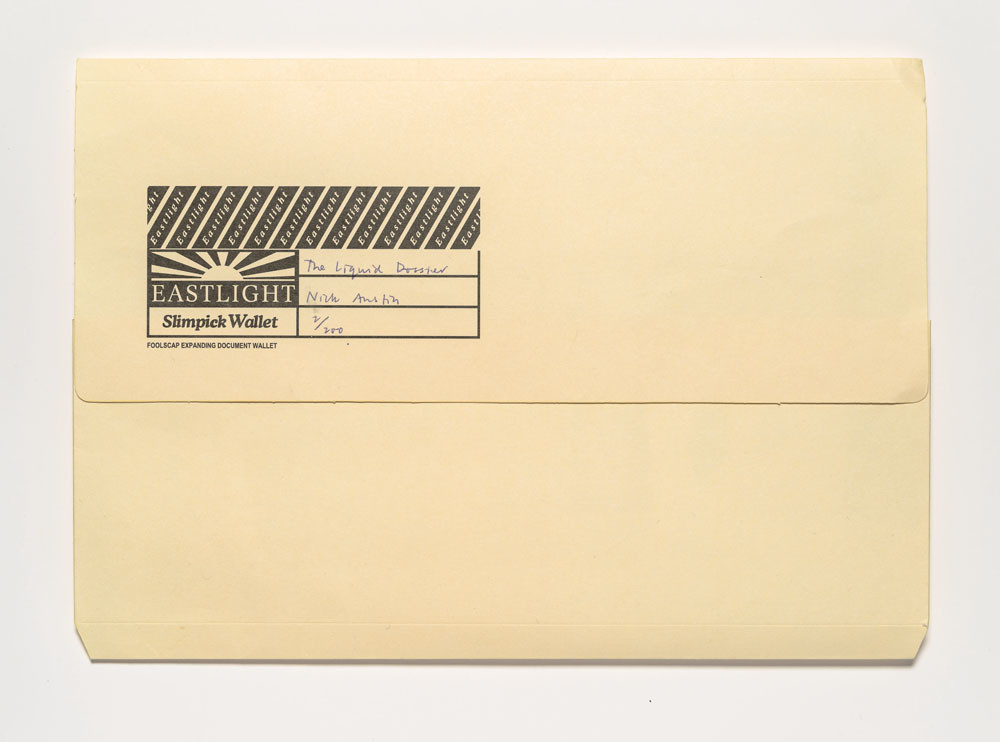 Contemporary artist books have also maintained a relationship to the gallery institution through the increasingly popular trend of producing books that document or extend an existing body of work. This type of artist book signifies the expanded role of the book in documenting and realising project-based art in the twenty-first century, as production increasingly revolves around research, writing and installation-based practices. Nick Austin's The Liquid Dossier (2013), for instance, was published on the occasion of an exhibition of the same title at the Hocken Collections, Dunedin, in early 2013.
Austin's publication explores the gallery system, anticipating and responding to processes of cataloguing, collecting and filing that take place within the library and archive following the exhibition cycle. Inside the folder is the cheaply printed ephemera associated with various stages of the exhibition process: a postcard invitation to the exhibition opening, a reproduction of an etching by Giorgio Morandi, a text by Jon Bywater entitled Powernap, a list of works and a foldout poster featuring a reproduction of Austin's acrylic painting Homesick (2012). Also included is a sachet of Gregg's Red Ribbon Roast instant coffee stapled to a piece of A4 paper, a wallet of photographs printed at Warehouse Stationery, and a DVD titled Dentists on Holiday.
The Liquid Dossier is filed between fine press publications in the library's rare books cabinet. Yet the bleached paper and throwaway qualities of these materials are in stark contrast to the heavy, luxurious stock, careful binding and letterpress of other items in the cabinet. The loose contents of the folder provide various familiar tactile experiences, several of which – pieces of copy paper, staples, the crunch of freeze dried coffee granules within a foil pouch – recall an everyday office environment.
To exhibit the materials in Austin's publication would be to restage the exhibition in a different form. The Liquid Dossier is like a folder in a gallery archive, drawing attention to the accumulation of printed materials generated by an exhibition and the way these items are stored and documented.
These examples represent only a glimpse into the collection of contemporary artist books held by the Gallery, but they touch on a number of problems that these hybrid objects present for collecting institutions. From storage to display, the multiple forms of the artist book challenge the divisions between library, archive and art collections. They also ask to be handled and 'read' in order to be fully experienced, provoking a series of negotiations and compromises for curators and conservators alike.
The problems encountered in engaging with artist books, however, are precisely the points of tension that they often seek to exploit, and in relation to which they become most resonant. These productive antagonisms provide fertile territory for different types of projects and exhibitions that seek to contribute to an ongoing conversation around the artist book and its many possibilities.