B.
A Barn in Picardy by Frances Hodgkins
Collection
This article first appeared in The Press on 30 March 2005
In the spring of 1914, Frances Hodgkins looked out from the cool interior of a barn in Picardy, northern France, and shaped vigorous black lines into wandering hens, the corner of a farm wagon, rustic beams, the outline of a wall. Transparent watercolour wash covered the light-filled centre, while splashes of colour defined potted geraniums, fresh green leaves and pink blossom. Hodgkins had arrived in May at the tiny cliff-top village of Equihen, Boulogne-sur-Mer, to paint and teach from an artists' studio cottage perched high above the roar of the English Channel. While the setting of her studio - on the edge of the village by rolling farmland - delighted her, she had reached here with little will to paint, and very much in a state of shock.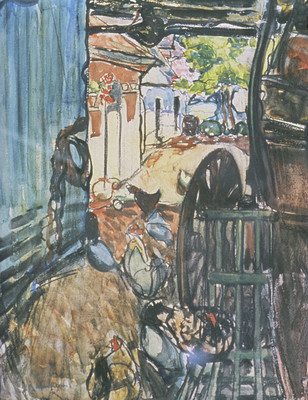 Seven months earlier, in October 1913, Hodgkins had made her third and final departure from New Zealand, and was returning to her successful European career. As the first female staff member at the Académie Colarossi in Paris, teaching watercolour technique from 1908-12, she had been strongly influential for many younger, especially female expatriate artists. Arriving in Europe in late November, Hodgkins had headed first for the isle of Capri. Two months later, she began her leisurely course northwards towards Paris. From Siena in March she wrote of "getting a nice lot of work together to bring out to Australia next year" (as an intended follow-up to recent sales and critical success in Sydney). Florence she found "a treasure house" with "deep draughts of beauty & inspiration" on every corner. Later she described this time as "the first, absolutely the first time I felt happy & secure & sure of myself. I was in full flight & full aspiration."
In April while heading for Verona, however, her train stopped briefly at Modena, and she left the overcrowded carriage for a cup of coffee. Two minutes later she returned to find her travelling case, with five months worth of rolled up watercolours, gone. In the days that followed, every attempt at recovery was made, including searching lost luggage offices and help from the British Consul. Other setbacks met her when she reached Paris, but with students clamouring for her teaching skills, she left to run the summer class in Picardy. In June she wrote to her mother of the loss: "It is very disheartening. I am trying to face it like a man but it [is] rather a staggerer. I don't feel much in heart to begin all over again. The money loss is so great." Two weeks later she wrote of having placed advertisements with offers of reward: "I think about it day & night & sometimes I wake up at night & my subconscious mind almost projects clues & messages on to the white wall so intensely am I willing & directing my energies towards their recovery..."
Hodgkins' classes in Equihen were marred by recurring bad weather, and she was persuaded by students to relocate to Concarneau in Brittany. Shortly after arriving there in mid-July, the class began to fall apart through rumours of pending conflict and mobilisation. Two weeks later Germany declared war, and France was thrown into turmoil. After several weeks of anxious wandering, Hodgkins reached England in late September, to base herself at St. Ives in Cornwall until the end of the war.
A Barn in Picardy was exhibited on 22 October 1918 (three weeks before the war ended) at a large solo show at Horderns' department store in Sydney. Priced at 30 guineas, and one of the more expensive works, it remained unsold. While Hodgkins continued to make great leaps in her work, the painting was next offered in 1927 at the New Zealand Academy of Fine Arts in Wellington (for £25-0-0), then at the Canterbury Society of Arts in 1928 (greatly reduced and snapped up by an astute Wellingtonian for £6-6-0). A Christchurch reviewer felt the work to be representing "Some of the more revolutionary movements of Europe", discerning in it "the influence of the wild genius of Van Gogh". 22 years later in 1950, Christchurch was ready for such radicalism, when the Canterbury Society of Arts purchased the work as a kind of olive branch in what is now known as "The Pleasure Garden controversy". In 1973, having been in storage for some years, the painting gained new prominence through reproduction on a postage stamp. Today this work is fully recognised for the treasure it is, and one of Hodgkins' only known works dating from this period.
While appreciation for Hodgkins' work is sometimes obscured by the sustained interest in her life, she is someone whose life can speak into her work. Far too often at the mercy of circumstances, Frances Hodgkins was a bold, uncompromising and original artist. This painting, as a reminder of the changes of location she would experience throughout her life, also displays the determination that enabled her to produce dynamic work during a time of such intense pressure and discouragement.
Ken Hall