B.
Waterworks
Behind the scenes
The waters that infiltrate Hannah and Aaron Beehre's new installation at our NG space are mysterious and poetic, owing more to mythmaking than reality.
The title of the exhibition, Waters Above Waters Below, alludes obliquely to an idea promoted by some Creationist theorists that Earth was once surrounded by a canopy of water vapour. The source for this is the following statement in Genesis: 'And God said, Let there be a firmament in the midst of the waters, and let it divide the waters from the waters. And God made the firmament, and divided the waters which were under the firmament from the waters that were above the firmament; and it was so. And God called the firmament Heaven.' (Genesis 1:6-8, King James Bible).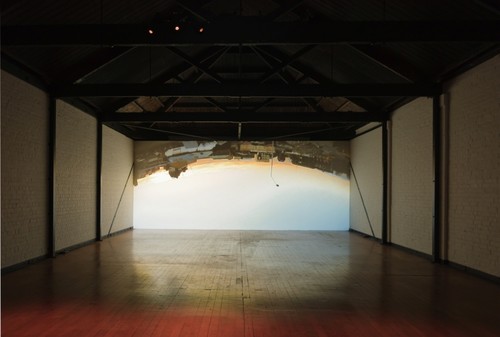 In case you haven't seen it yet, the installation turns the view outside on its head, creating a beautiful and dislocating image that changes moment by moment. When I was there yesterday, an excavator was clearing the ground over the road, birds were flying across the sky and the tops of trucks slid into and out of view at the top of the image. At the opening last Friday night though, the view was much more meditative, with the darkening, star-lit sky taking on the quality of a vast terrestrial ocean.
As well as reminding me of the meaning of the Gallery's Maori name, Te Puna o Waiwhetū - the spring of star reflecting waters - it also made me think about other water-inspired works in the Collection, such as Chris Heaphy's moody Untitled (Bleu) how projection, accompanied by Gregorian chanting and sacred music by the 16th-century Italian composer Claudio Monteverdi. For more, see my Waterworks set at My Gallery.