Exhibition
Ata Wairere
18 December 2015 – 21 August 2016
Contemporary works that create subtle openings for connection and contemplation.
The Māori words ata and wairere combine to suggest a reflection glimpsed in a gently moving body of water. This exhibition unites three artists, Chris Heaphy, Lonnie Hutchinson and Kentaro Yamada, whose works draw on elemental forms from the natural world to create openings for contemplation and connection.
Related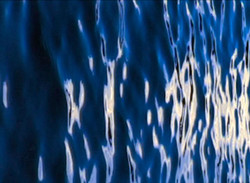 This DVD is one of an edition of five. The projection is of water (Lake Taupo, near the mouth of the Hinemaia River) It has been turned onto its side to create an enigmatic image suggesting ghostly figures. The soundtrack is a mixture of Gregorian chanting and sacred music by the 16th century Italian composer Claudio Monteverdi.