Christchurch Art Gallery Trust Collection
Watercolour
255 x 355mm
L86/93
1909
About the artist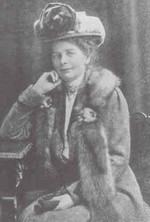 Margaret Stoddart, from The Weekly Press 9 June 1909
For the exhibition Picturing the Peninsula (21 April - 22 July 2007), this work was displayed with this label:
Diamond Harbour lies on the South side of Lyttelton harbour across from the town of Lyttelton between Purau Bay and Charteris Bay. It was named by the artist's father, Mark Stoddart, from "the glitter of the sun-track on the water, always very noticeable from that side of the harbour." This view chosen by Margaret Stoddart looks out across Diamond Harbour from above the wharf and is in the artist's mature style being completed soon after her return home in 1907 after studying art abroad.
Stoddart was born and grew up in Diamond Harbour where her father had settled in 1851. She regularly painted in the region and often incorporated flowers into the landscape such as the blossoms seen in this work.
Related reading: Margaret Stoddart: Nature's Artist