B.
The Watercolour Collection
Collection
The Gallery's Watercolour Collection had modest beginnings, but over the past 70 years it has grown steadily by gift and purchase and, of all the Collections, still maintains a largely traditional emphasis. When the Gallery opened in June 1932, just 28 of the 128 paintings on display were watercolours and, of these, 11 were by British artists and 17 by New Zealanders. Among the mostly nineteenth century British watercolours were those by Helen Allingham, Edgar Bundy, Matthew Hale, Laura Knight, William Lee Hankey and Ernest Waterlow. In contrast, the New Zealand watercolours were by mostly contemporary or early twentieth century artists and included works by James Cook, Olivia Spencer Bower, Margaret Stoddart, Maude Sherwood, Eleanor Hughes and Alfred Walsh. The foundation Watercolour Collection included two paintings of larger than usual dimensions. William Lee Hankey's We've been in the Meadows all day (1184 x 878mm) and Charles N. Worsley's Mount Sefton (996 x 1105mm) are still greater in scale than any other work in the Watercolour Collection.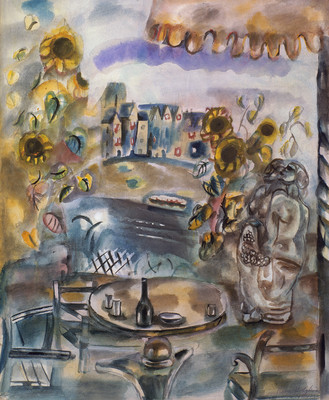 Later in 1932, a further seven watercolours were added as part of the James Jamieson Bequest, which included a work by Australian artist Hans Heysen and expatriate Owen Merton. Throughout the 1930s and 40s no purchases were made and the growth of the Watercolour Collection depended on gifts and bequests, such as the Robert Bell Bequest of 1943, which gave the Gallery a work by Henry S. Tuke and Sunlit Estuary (1897) by James Nairn. However in 1949, with a Picture Purchase fund having been established, there was the greater opportunity to begin to structure the Collection. The first watercolours purchased through this fund were West Coast Wellington by Nugent Welch and Wellington Coast by Thomas A. McCormack. These purchases were made at a time when the acquisition of the most celebrated watercolour in the Gallery's history, Frances Hodgkins' Pleasure Garden, was being hotly debated. It was not until 1951 that the work would be accepted into the Collection.
In that year, the Gallery purchased two watercolours by Eric Lee-Johnson and through the remainder of the 1950s and most of the 1960s, watercolours by other New Zealand artists were added, including works by Juliet Peter, Esther Hope and Russell Clark, whose work The Gathering was an important purchase in 1958. Gifts and bequests of watercolours were also accepted during the 1950s and 1960s. Most of these were by British artists, among them George Cattermole, Charles Dixon, Samuel Prout and John Nash. Perhaps the most important gift of that period was the gouache Farmyard by Frances Hodgkins, which was presented in 1964 by the Contemporary Art Society of London.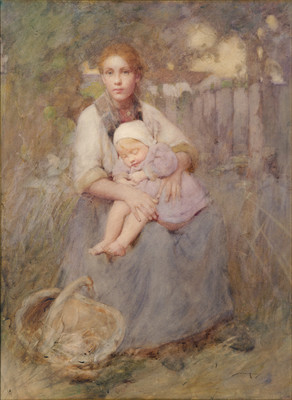 With the implementation of a collection policy in the 1970s, attempts were made to fill gaps in the Watercolour Collection and works by a number of colonial artists including William Fox, John Kinder, John Barr Clarke Hoyte and John Gully, as well as contemporary practitioners in the watercolour medium such as W. A. Sutton. Olivia Spencer Bower, Gretchen Albrecht and Rosemary Campbell were sought and acquired. From the 1980s until the present this policy has continued and attempts have been made to strengthen the representation of artists already featured in the Watercolour Collection and to introduce others who have hitherto been unrepresented. Works by artists such as Nicholas Chevalier, John Kinder, M. T. Woollaston, James Fitzgerald, R. A. Oliver and Rita Angus are just six of a large number that have been added in recent years.
In 1998, the Gallery was given the opportunity to purchase 20 watercolours by Olivia Spencer Bower from the Olivia Spencer Bower Foundation and, since then, the Foundation has generously archived several hundred further watercolours for the future benefit of researchers on this artist. Similarly, with the W. A. Sutton bequest in 2000, the Gallery received a number of watercolours by other artists that had been in Sutton's private collection. This gift was the culmination of ongoing generosity by an artist who stands as one of Canterbury's foremost watercolourists. Other gifts by Sutton included 116 works from his magnum opus in the watercolour medium, made in Italy during 1973 and 1974. In 2002, although the Watercolour Collection is still not large in comparison to other collection areas and traditional practitioners of the medium are still collected, there is now a resolve to focus also on works by contemporary New Zealand watercolour artists.