British, b.1885, d.1957
The Golden Age
Presented by Rex Nan Kivell, 1953
Wood engraving
235 x 568mm
94/154
1937
Tags: animals, birds (animals), boats, books, buildings (structures), deer, dogs (animals), horses (animals), landscapes (representations), lutes (chordophones), musical instruments, rivers
One of Britain's most celebrated printmakers, Gwen Raverat was a formative figure in the wood-engraving revival in Britain during the first half of the twentieth century. In Raverat's arcadian vision of a golden age, figures exist in harmony with nature and each other. With its rich hand-colouring Raverat's large wood-engraving draws parallels with medieval tapestries, detailing a country life in which the trials and tribulations of living in a town are left behind.
Related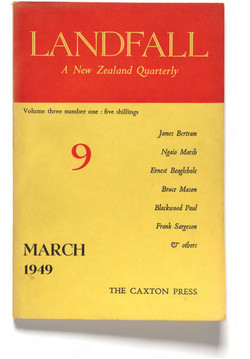 Tomorrow, Book, Caxton Press, Landfall
In the decades before and after the Second World War, Christchurch experienced a remarkable artistic efflorescence that encompassed the visual arts, literature, music, theatre and the publishing of books and journals. And the phenomenon was noticed beyond these islands. For instance, in his 1955 autobiography, English publisher and editor of Penguin New Writing and London Magazine, John Lehmann, wrote (with a measure of exaggeration, perhaps) that of all the world's cities only Christchurch at that time acted 'as a focus of creative literature of more than local significance'.